Liriano caps historic stretch for Pirates' rotation
Bucs get three straight double-digit K games from starters for first time since 1969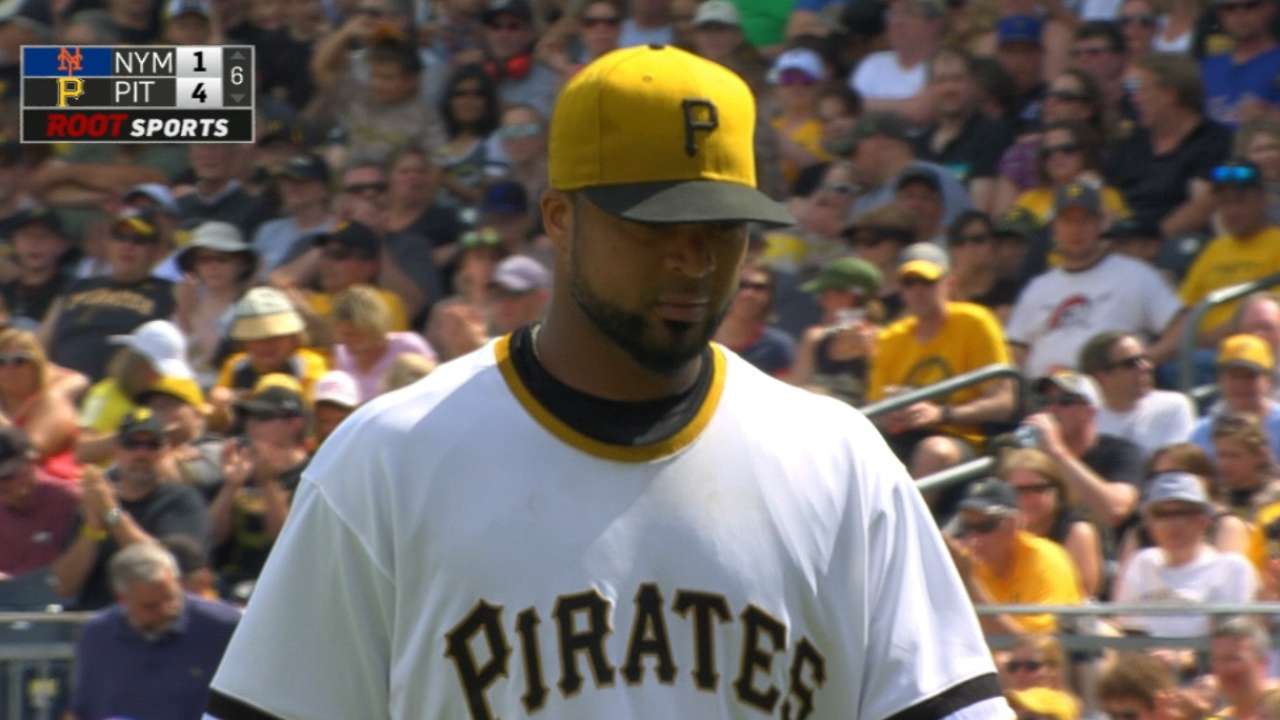 PITTSBURGH -- When his pitchers are piling up strikeouts, Pirates manager Clint Hurdle likes to say they're just playing catch. There might as well be nobody else on the field -- just the pitcher and catcher, throwing the ball back and forth as opposing hitters walk to and from the dugout.
This weekend, the Pirates swept the Mets behind three pretty good games of catch.
Left-hander Francisco Liriano capped off a dominant series for Pittsburgh's starting rotation in a 9-1 win Sunday at PNC Park, striking out 12 and allowing only one run over six innings.
Liriano followed right-handers Gerrit Cole, who struck out 10 and fell two outs short of a complete game in Friday's 4-1 win, and A.J. Burnett, who fanned 10 over seven innings in Saturday's 8-2 rout.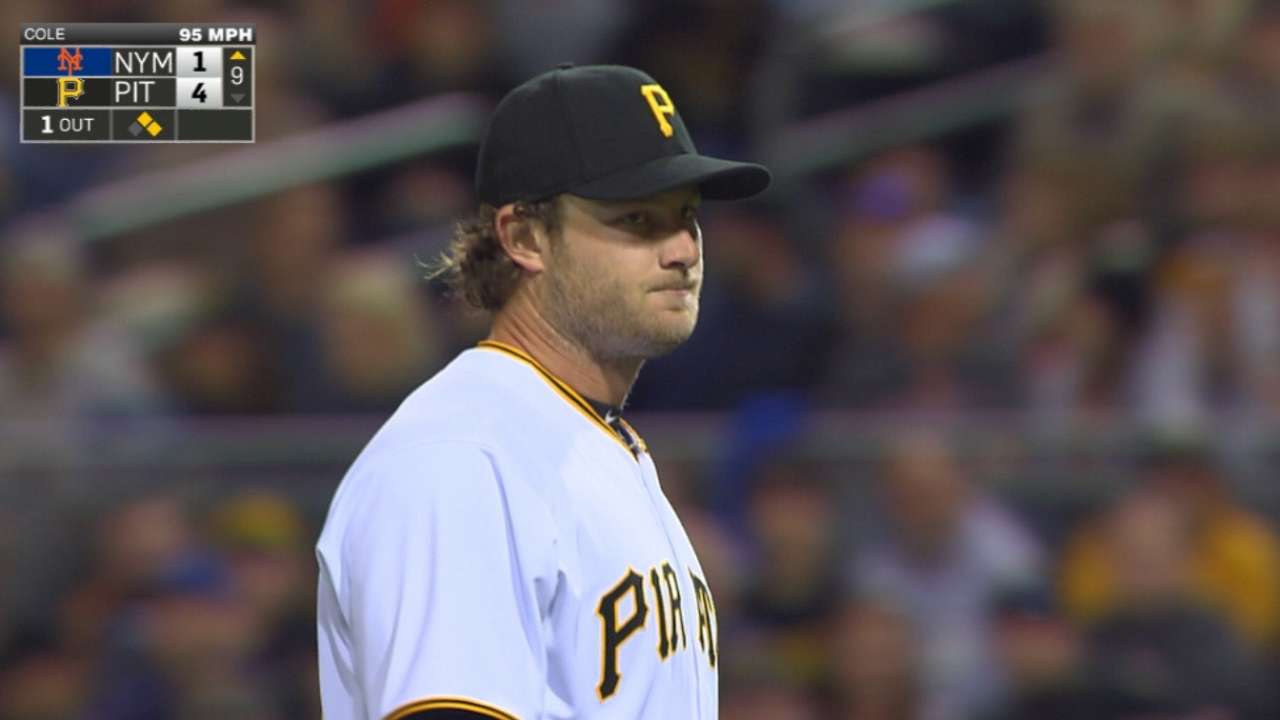 All told, the Pirates' top three starters struck out 32 Mets over 21 1/3 innings. In other words: Cole, Burnett and Liriano recorded 64 outs this weekend, and half of them were strikeouts.
"That's guys playing catch," Hurdle said.
Cole, Burnett and Liriano became the first trio of Pirates starters to compile three straight double-digit strikeout games since Sept. 11-12, 1969, when Bob Veale, Bob Moose and Dock Ellis accomplished the feat. It's only the third time since 1900 that Pittsburgh has put together such a stretch.
"It makes it pretty easy for us to go out and do our jobs," center fielder Andrew McCutchen said. "They're starting it, and good thing we're able to finish it."
Liriano got things started Sunday by forgetting his last start. The lefty struggled to command his pitches Tuesday against the Twins and gave up seven runs in two innings as a result.
"Just put it behind me, learn from my mistakes and try to move forward," Liriano said.
Liriano had to dance out of trouble in the second inning, putting two runners in scoring position with nobody out. But he promptly struck out the next three hitters to escape unscathed.
Burnett joked after his start that he wanted to strike out more batters than Cole. They tied, with 10 each. Liriano said strikeouts weren't the focus heading into his start, but he wound up setting the Pirates' season high with 12.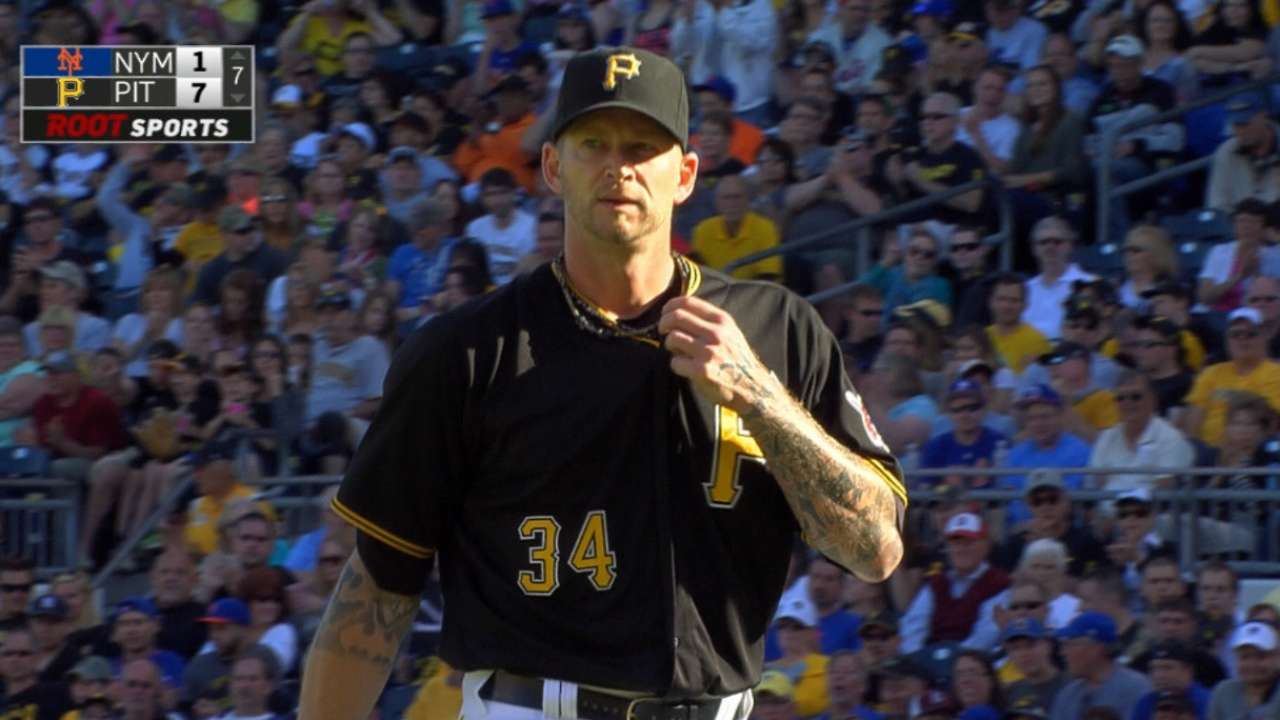 The Pirates had a tough decision to make this spring when it came to naming an Opening Day starter, one of those "good problems" most teams would prefer to have. Would it be Liriano? Cole? Burnett?
The day they gave the nod to Liriano, Hurdle said the Pirates couldn't have made a bad decision, that all three were qualified to pitch at the top of the rotation.
This weekend, the Pirates saw what it looks like when all three pitch at the top of their game.
"We've got a pretty good staff. That can happen," McCutchen said. "That's what we're capable of doing."
Adam Berry is a reporter for MLB.com. Follow him on Twitter at @adamdberry. This story was not subject to the approval of Major League Baseball or its clubs.