Masterful Miley in command for Red Sox
Lefty continues strong May with eight innings of one-run ball vs. Angels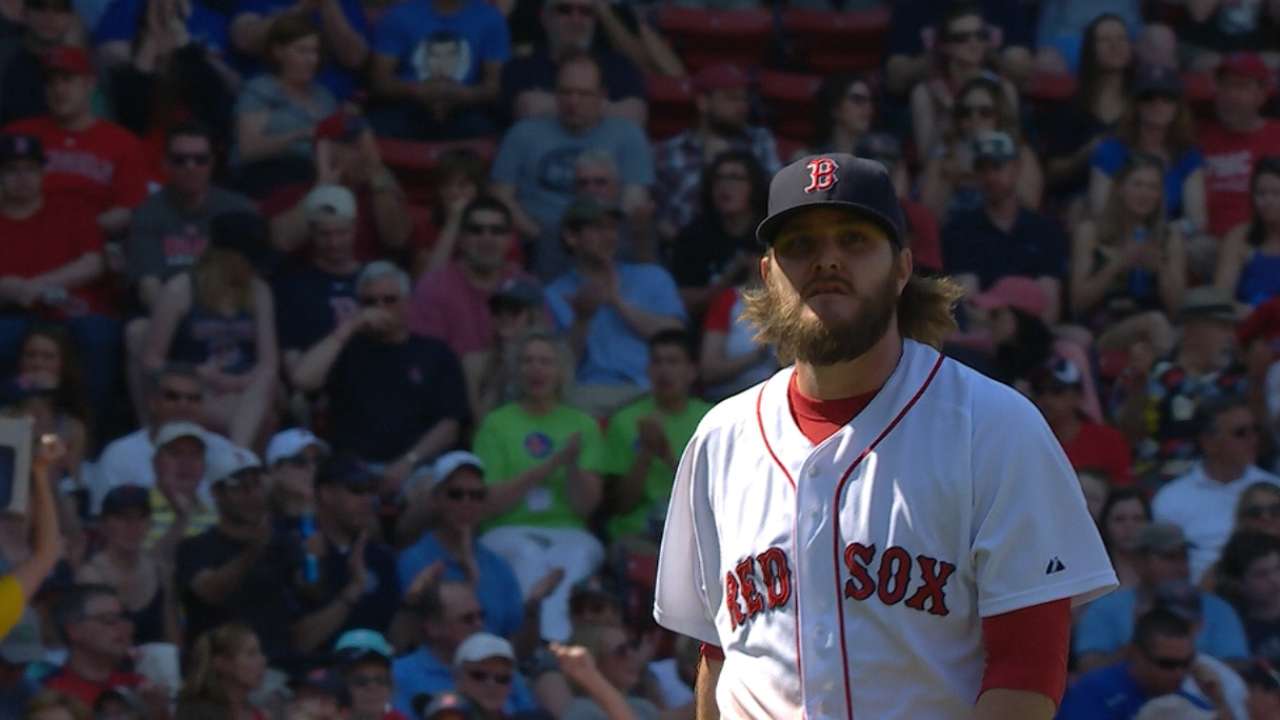 BOSTON -- For 4 2/3 innings on Sunday, Wade Miley was flawless. And though he lost bids at perfection and a no-hitter in the fifth inning, the left-hander's dominance on the mound never wavered as the Red Sox cruised to a 6-1 victory over the Angels at Fenway Park.
Miley allowed only one run on four hits and a walk over eight exceptional innings. The southpaw retired the first 14 batters he faced -- all on groundouts or flyouts -- before Chris Iannetta drew a five-pitch walk in the fifth. Miley then allowed his first hit in the next at-bat when C.J. Cron knocked a single to left field.
"Miley today was unbelievable," first baseman Mike Napoli said. "His tempo was awesome. It's fun playing defense behind him when he's working real quick and getting outs."
Miley needed only 35 pitches to work through the first four innings, and he finished with over 60 percent of his 97 pitches thrown for strikes. The Angels' lone run came in the sixth when Erick Aybar singled and Mike Trout drove him in on a hard double to right. After that, Miley clamped down.
Much of the success came on the back of Miley's fastball, which he used to attack an aggressive group of Angels hitters on pitches inside the strike zone.
"That was the biggest thing, being able to throw the fastball," Miley said. "What [catcher Sandy Leon] did, I feel like every time he put down a finger it's what I wanted to do. We were on the same page from the first inning on, so it's good."
Since Miley stumbled through his first month in a Boston uniform, the Red Sox have welcomed a bevy of strong performances from him in May. Over five outings, he lowered his ERA from 8.62 to 4.47 while recording four quality starts.
"Well, it comes down to fastball command," Red Sox manager John Farrell said. "Even when he's gotten a couple of guys on base, he hasn't overthrown as we saw maybe back in April. He's turned things around personally this month, that's pretty clear. He's back to a quick pace, but a comfortable one for him, and he's commanding his pitches."
Not one for looking back, Miley has done his best to move on from his rocky first month.
"The beginning of the season, it's over, it's behind me," he said. "You just got to look in the future."
Alec Shirkey is an associate reporter for MLB.com. This story was not subject to the approval of Major League Baseball or its clubs.