Hammel's adjustments too late vs. D-backs
Cubs starter doesn't give up a hit after third inning, strikes out nine
PHOENIX -- It was a tale of two pitchers, Jason Hammel said.
The D-backs were aggressive against the Cubs right-hander early in the game, and he finally changed his approach and shut them down after the third inning. It wasn't quick enough as Arizona posted a 4-3 win over Chicago to take the series. Hammel took the loss, his first since April 22.
"The first three innings, I couldn't get the ball over the plate," said Hammel, who gave up four runs over seven innings. "Too many pitches up in the zone."
Paul Goldschmidt carried the D-backs, hitting an RBI single in the first and a two-run homer in the third.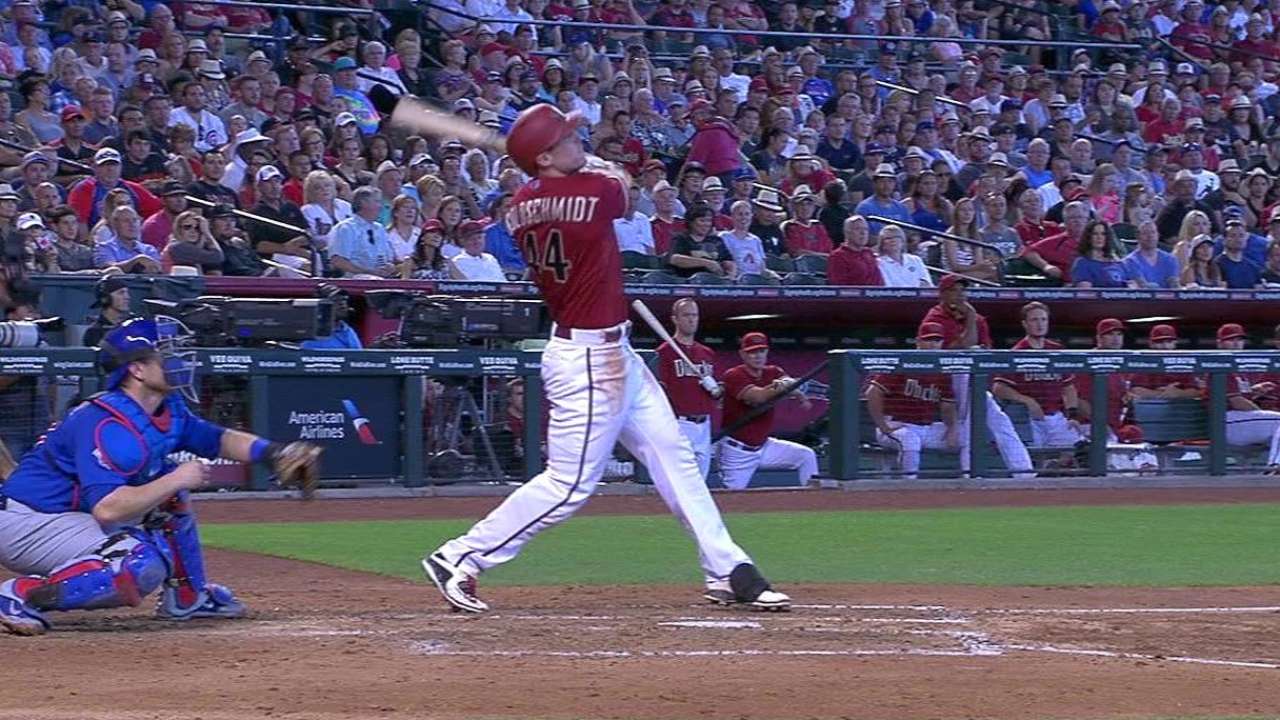 "Obviously, Goldy, when he's locked in, he's not going to swing at too much bad stuff," Hammel said. "If you're all over the place, he'll probably hurt you. I was shocked at how many first-pitch swings they had today. I made the adjustment and that's how I could get through seven."
Hammel did not give up a hit after the third inning and finished with nine strikeouts. What was the adjustment he made?
"It wasn't mechanical," Hammel said. "I adjusted where I was throwing [the] first pitch. They're a very first-pitch-fastball hitting team, they ambush a lot. I started throwing sliders, and the results were better."
The Cubs finally figured out the best way to deal with Goldschmidt was to intentionally walk him, which Hammel did in the fifth.
"We were really not trying to pitch to him," Cubs manager Joe Maddon said of Goldschmidt, who went 5-for-10 in the series with two home runs. "We had to take it to the next level and just walk him. We were trying to stay away from him and didn't do a good job."
With the loss, the Cubs finished their road trip to San Diego and Phoenix at 3-3.
"Go .500 on the road and take care of business at home, you'll end up in a pretty good spot," Hammel said. "We keep playing these tight ballgames and sooner or later, they'll go our way. We continue to battle. You really can't shake your head. We played good baseball."
Carrie Muskat is a reporter for MLB.com. She writes a blog, Muskat Ramblings. You can follow her on Twitter @CarrieMuskat and listen to her podcast. This story was not subject to the approval of Major League Baseball or its clubs.