Brewers left to ponder potential double play
Nelson nearly escapes 6th-inning jam on H. Gomez's diving attempt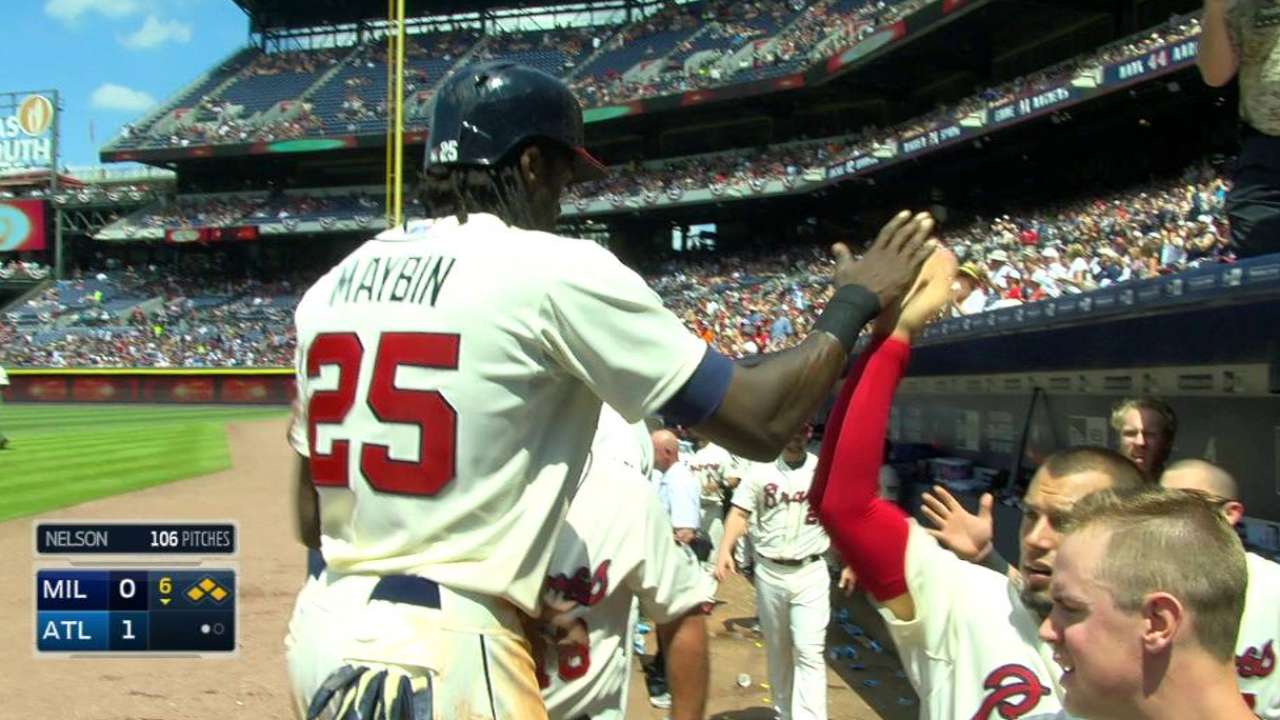 ATLANTA -- Baseball is a game of inches. When things aren't going your way, every ball seems to be just inches away from you.
The certainly came up inches short in the bottom of the sixth inning Sunday afternoon, as Milwaukee dropped a 2-1 decision to the Braves at Turner Field in the finale of a four-game series.
With the bases loaded and one out, Atlanta catcher A.J. Pierzynski hit a soft liner toward second baseman Hector Gomez on a 1-2 breaking ball from starter Jimmy Nelson. Gomez dove to his right but couldn't hold onto the ball. Shortstop Luis Sardinas grabbed the ball as it rolled toward second, stepped on the base then threw to first attempting to turn two, but his throw was late.
A run was in and the scoreless tie was broken.
The next hitter, shortstop Andrelton Simmons, followed with an RBI single, making it 2-0, which proved too steep a climb for the Brewers.
"I think we had a chance at [the double play]," said Milwaukee manager Craig Counsell. "It was knuckling pretty good."
Sardinas' decision to throw to first rather than going to third in an attempt to get the slow-footed Freddie Freeman -- who'd gotten a late start with Gomez attempting to make the catch -- added to the frustration. Replays showed catcher Martin Maldonado yelling toward Sardinas and pointing to third base.
"It's tough," said Nelson, who had retired seven straight heading into the sixth but walked back-to-back hitters to load the bases. "A couple of pitches there that jammed a couple of guys and would have been some big double plays. But after it leaves my hand, I can't do anything about it. So, I just kind of move on to the next batter, the next pitch."
"We came close to getting out of it," Counsell said. "The ball off the end of Hector's glove."
The inches between turning a double play and not on Sunday were similar to what happened in the 11th inning Saturday night to reliever Brandon Kintzler. They're the inches between winning and losing two one-run games and a series.
Jon Cooper is a contributor to MLB.com. This story was not subject to the approval of Major League Baseball or its clubs.