Panda abandons switch-hitting for one at-bat
Red Sox third baseman hits RBI single batting left-handed vs. southpaw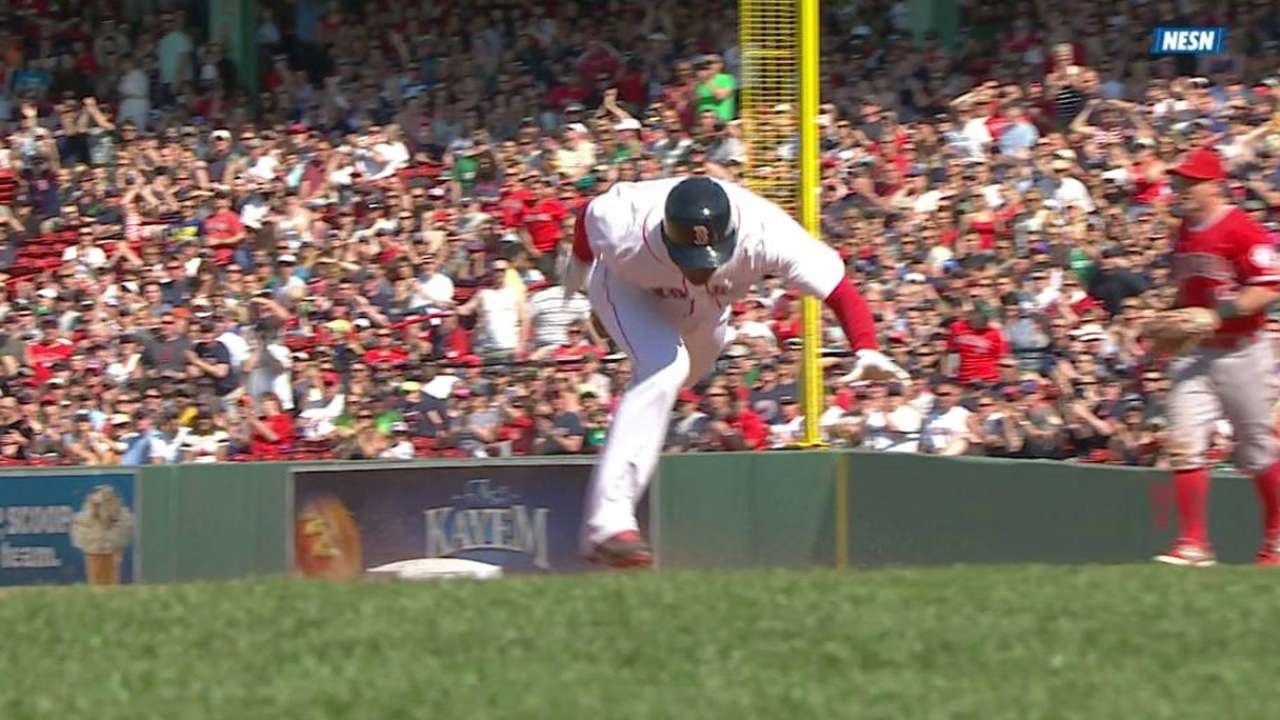 BOSTON -- Pablo Sandoval's left knee has been hurting. And his right-handed bat has been slumping. So what better time for the Red Sox third baseman to give up switch-hitting for an at-bat than in the eighth inning of Sunday's 6-1 win over the Angels?
Thrust into action after Brock Holt had to leave with soreness in his left forearm, Sandoval surprised everyone by stepping to the plate left-handed against Angels lefty reliever Cesar Ramos.
Sandoval wasn't shy. He offered at the first pitch and raked an RBI single to right.
Last time Sandoval hit left on left?
"I don't remember," said Sandoval. "Just one time, and it was to bunt. I don't know. It feels kind of weird, but I got the job done. It's one of those things, I'm going to try to help the team, no matter what. I don't feel great hitting right-handed because of my knee, so I'll just try to keep the momentum going hitting left-handed."
David Ortiz was amused by the whole sequence.
"You know what I call that at-bat? Gambling at the casino. You always win the first one," Ortiz said. "I didn't even know that guy threw a fastball."
Sandoval was also surprised -- and pleased -- that Ramos came after him with a fastball instead of one of his usual offspeed offerings.
"It was weird, especially in that situation, to see a first-pitch fastball," Sandoval said. "I'll take the mistake he made."
After missing the last five games due to the left knee soreness, Sandoval hopes to be back in the lineup for Monday's game at Minneapolis.
Though Sandoval might take some more left-on-left at-bats while his knee recovers, he doesn't sound keen on abandoning being a switch-hitter.
For the season, Sandoval is a .367 hitter from the left side, and 2-for-41 righty.
"It was just because of my knee," said Sandoval. "If I'm OK, I'm going to keep hitting right-handed."
Ian Browne is a reporter for MLB.com. This story was not subject to the approval of Major League Baseball or its clubs.