Burns crushes game's first pitch for first career homer
Center fielder's dinger sparks two more A's home runs vs. Rays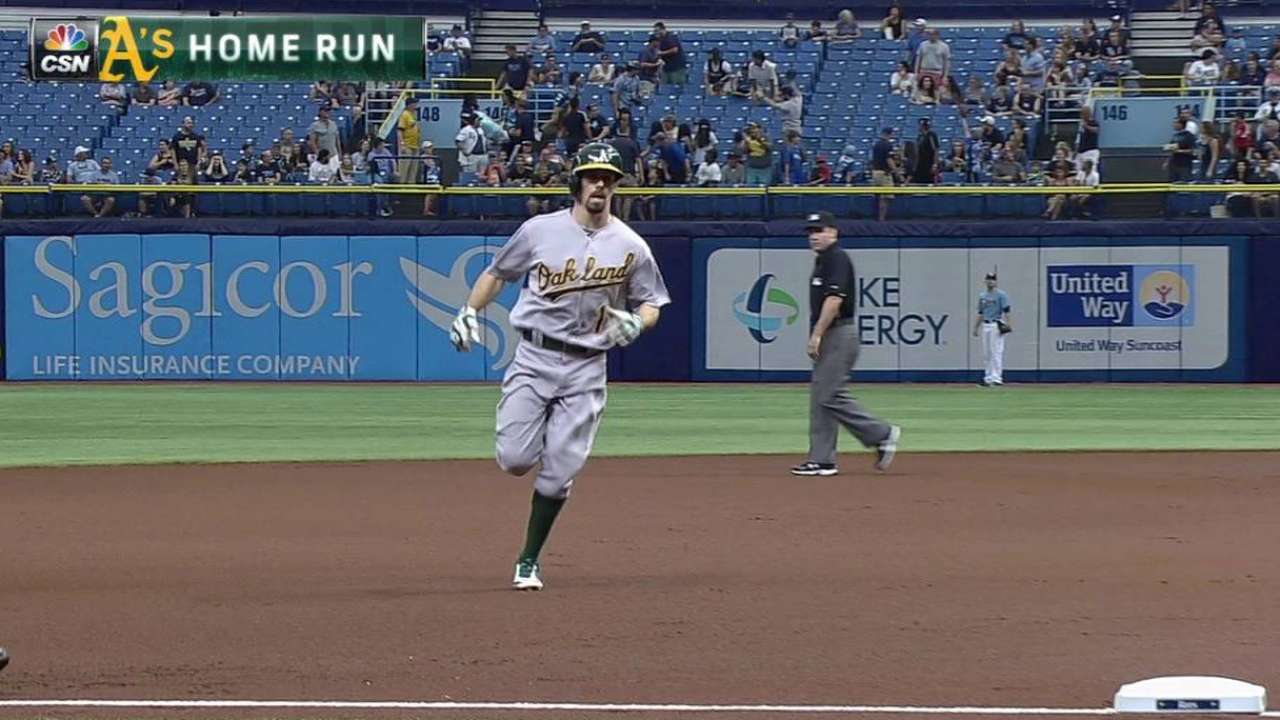 ST. PETERSBURG -- Billy Burns did not have the ball waiting for him at his locker, but he understood how special it was.
"I hope [I get the ball] because I want to save that one," Burns said. "That one might not happen again, but we'll see."
If it never does happen again, the Athletics outfielder will have quite a story for his only career Major League home run.
Shortly after stepping into the batter's box to begin Sunday's 7-2 Athletics win against the Rays, Burns watched as Erasmo Ramirez wound up and fired an 89-mph fastball and decided to take a hack at it, sending the ball into the seats beyond the wall in right field.
"I was kind of shocked honestly," Burns said. "I never really do that in BP or anything. The ball just took off a little bit off the bat, right on the barrel, I guess. The pitcher just provided all the power. It was a good feeling. … It was a good way to start the game, and I'm glad we could get the win overall."
The leadoff home run was the first for the A's since Coco Crisp launched one against the Angels back on August 22, 2014.
In his five seasons at the Minor League level, the switch-hitting Burns only hit two home runs, both from the right side of the plate, but his first Major League home run also proved to be the first of his professional career from the left side, from where he entered the game batting just .208 (5-for-24).
"He continues to work on what he needs to do, and he works on it at the big league level, which is difficult," Athletics manager Bob Melvin said. "He has been really consistent as far as his at-bats."
The home run helped spark the A's offense, as they would go on to score seven runs -- five of which came off the home runs hit by Burns, Josh Reddick and Mark Canha -- and pick up the victory over the Rays at Tropicana Field to give them two consecutive wins for the first time since April 13-14.
"We needed that, obviously," Melvin said. "Against a team that's hot playing in their ballpark, we should take something away from that."
With so much excitement surrounding the first-pitch bomb, Burns did not receive the silent treatment like so many other home-run rookies do -- at least not fully.
"I don't think we knew what to do," A's catcher Stephen Vogt said. "Some guys said, 'Hey, let's ignore him!' And other guys said, 'No, man, that was awesome!' It was kind of a half-y tunnel."
Troy Provost-Heron is an associate reporter for MLB.com. This story was not subject to the approval of Major League Baseball or its clubs.