Late home runs spoil turnaround for Sanchez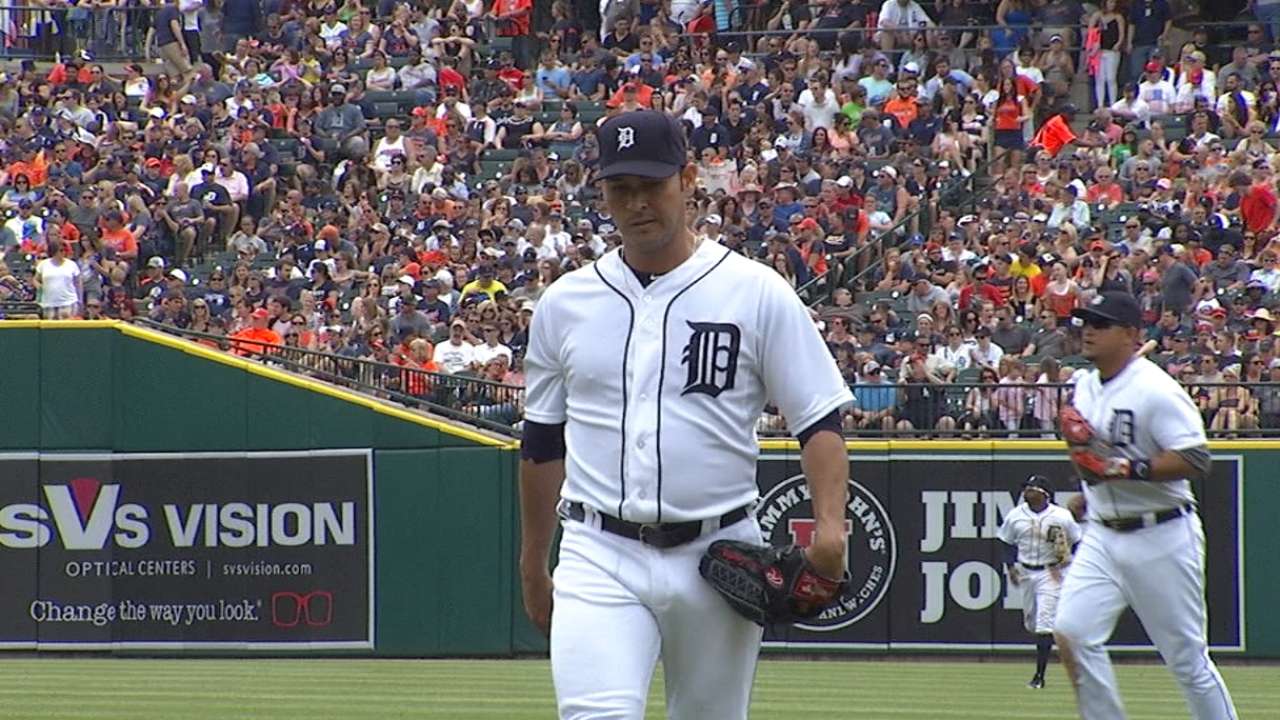 DETROIT -- Anibal Sanchez got a first-inning mound visit not from his pitching coach, but from his manager. That's how his Sunday afternoon was going after four Astros batters, three hits and two runs.
"I just tried to remind him … it wasn't as bad as it seemed," Brad Ausmus said. "I didn't want him to think things were unraveling."
By the time Sanchez's afternoon was over, after 115 pitches and 5 2/3 innings, the question was whether Ausmus waited one batter too long.
"No, I didn't. This is where we are in this day and age," Ausmus said after Preston Tucker's game-tying home run helped send the Tigers to a 10-8 loss and a series split against the Astros. "If it doesn't work, then it was the wrong move. If it does work, it was the right move."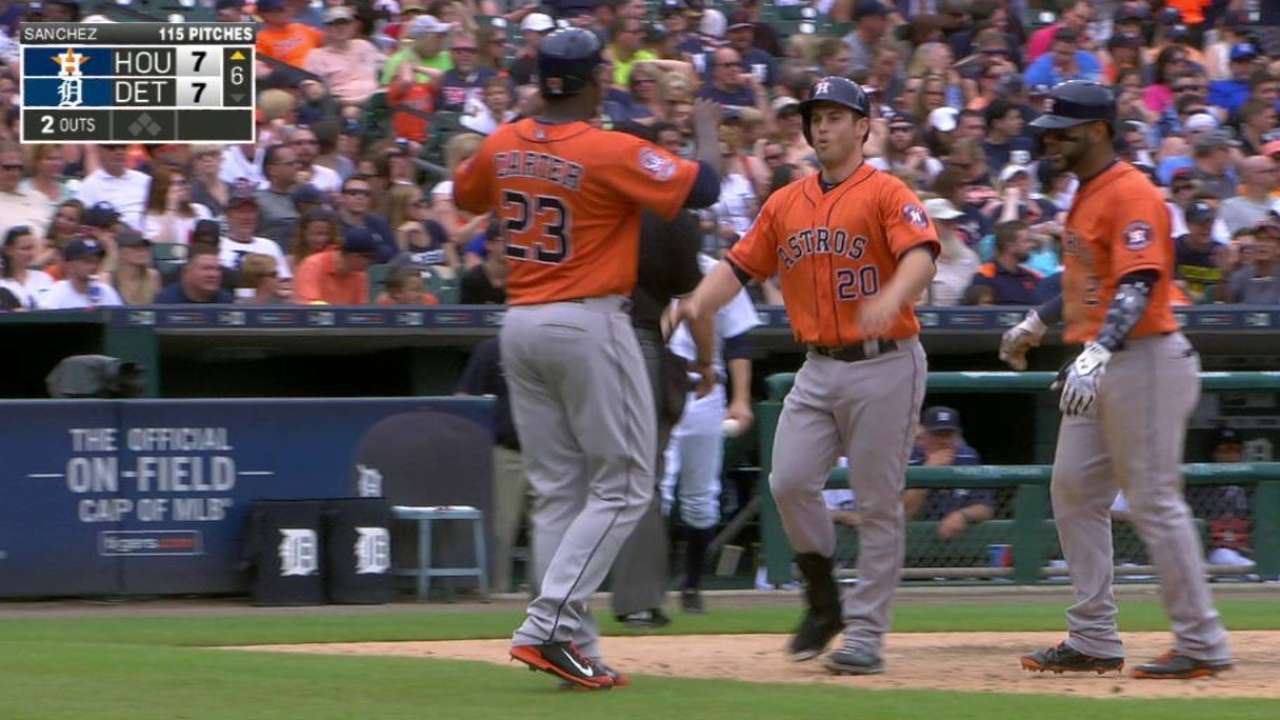 In between the damage, Sanchez looked like the front-line starter he has been in the past. The ending was a jarring reminder it remains a work in progress.
"I need to keep working hard," Sanchez said. "I never felt down. I've gone through a lot of things my whole career, and I'm still here. So I'm going to keep working hard."
Statistically, Sanchez's outing was a dichotomy. He struck out 11 of 27 Astros batters, but 10 of the other 16 reached base safely, and seven of them scored.
Virtually all the damage came on the bookends -- three runs in the opening inning, then four in the sixth. He retired 14 of 16 batters between a run-scoring balk in the first and Evan Gattis' home run leading off the sixth.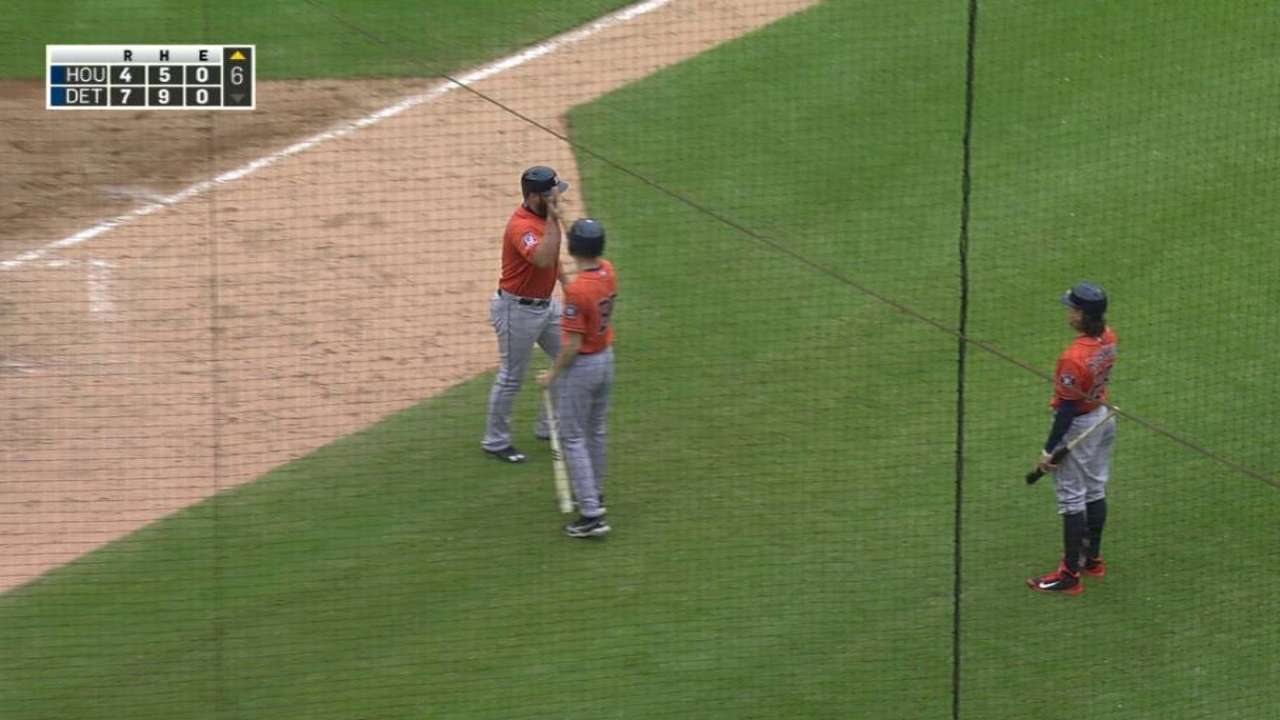 The latter came on a Sanchez pitch that dropped out of the strike zone. Gattis golfed it out to left field to bring the Astros within a 7-4 score with the bottom half of their lineup coming up.
The batters that followed essentially alternated ground-ball singles and strikeouts, including a two-out hit through the right side from Jonathan Villar that brought up the ninth batter as the potential tying run, and brought Tucker up to pinch-hit for Jake Marisnick.
It was more a question of pitch count than matchup. Sanchez entered the day allowing a .234 average (26-for-111) and .707 OPS to left-handed hitters this season, compared with .293 (29-for-99) and .826 to righties. Tucker, despite batting left-handed, had put up better numbers against left-handed pitchers than righties over the last year-and-a-half between three different organizational levels.
"Sanchie against lefties with his changeup is very effective," Ausmus said.
That was the pitch Sanchez threw on his 2-1 delivery. It was down, but not out of the strike zone.
"I tried to go soft and down," Sanchez said, "but I left it a little bit up, and that's why he put a good swing on it."
It was the 11th home run Sanchez allowed over 60 1/3 innings this season. It's not a big total for all pitchers, but it's a big issue for him.
"It is," he said, "especially when you're working hard and try to put your best effort on the mound, keep the score the way it was before the homers in the sixth inning. Like I say in baseball, everything changes with one pitch."
Jason Beck is a reporter for MLB.com. Read Beck's Blog and follow him on Twitter @beckjason. This story was not subject to the approval of Major League Baseball or its clubs.