Foltynewicz shines with 'dominating' outing
Rookie attacks Brewers in 7 2/3 innings, fans 7 for 4th straight start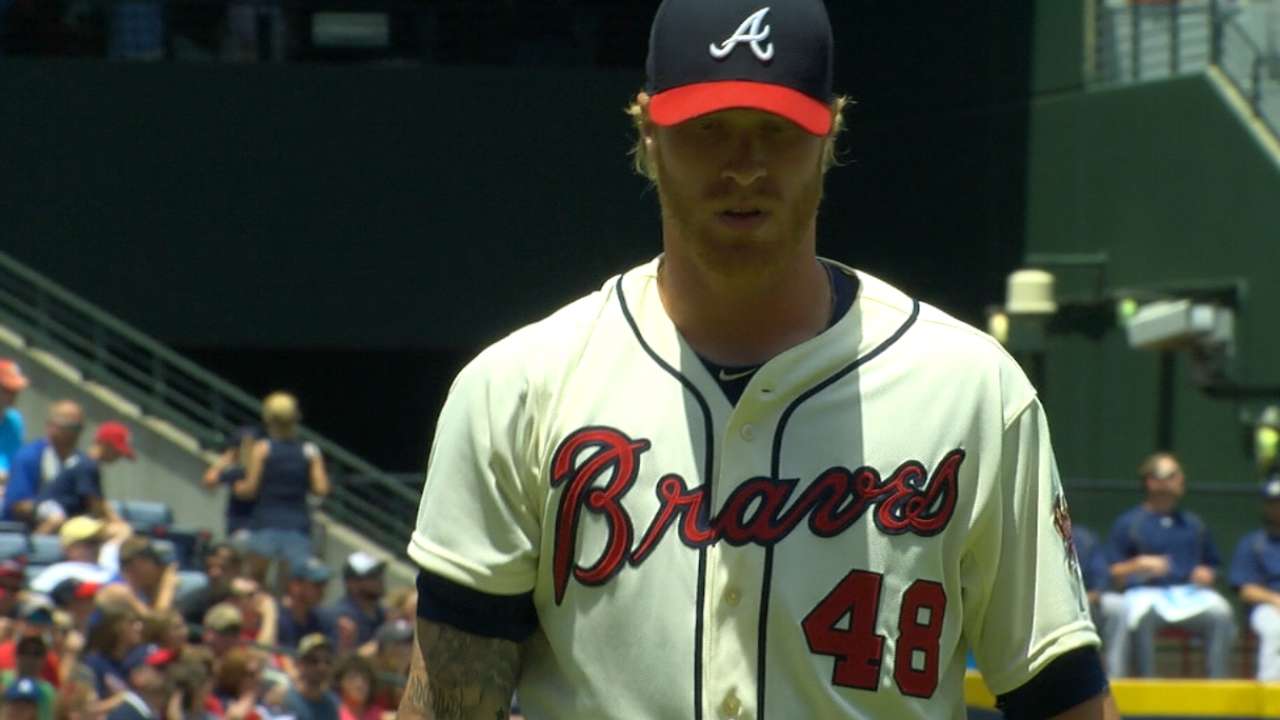 ATLANTA -- Braves starting pitcher Mike Foltynewicz left his last outing against the Rays searching for consistency, and in the Braves' 2-1 win over the Brewers on Sunday afternoon, he took a big step toward finding it.
The rookie right-hander threw his longest game of the season, going 7 2/3 innings while striking out seven batters for the fourth straight game, and limiting a lineup (without slugger Ryan Braun) to one run and three hits.
"He was dominating really the whole game," said Braves manager Fredi Gonzalez. "It's a good start to build on for the next one."
Foltynewicz attacked the zone with his mid-90s fastball, which led to a low pitch count (he needed only 66 pitches to get through six innings and finished with 98) and also set up his curveball and slider.
Gonzalez approved Foltynewicz's aggressive strategy, saying that he has the stuff to attack the zone effectively.
"You can do that when you're throwing 95-97 miles per hour," Gonzalez said. "He got his breaking balls over for strikes. I thought [catcher A.J. Pierzynski] did a terrific job handling him."
Despite the performance, Foltynewicz said he wasn't feeling as strong on the mound as in previous outings.
"I've felt better in previous starts, but overall this is a good game for me," he said. "I kept the walks down and just tried to get guys out in the first couple pitches of the at-bat, so it was working well for me."
The only trouble Foltynewicz ran into was during the seventh inning, after sitting on the bench for his longest stretch of the game in the bottom of the sixth as the Braves rallied for both of their runs.
He hit the leadoff man, outfielder Carlos Gomez, who came around to score on Elian Herrera's sacrifice fly after a one-out Khris Davis single. Foltynewicz then got Hector Gomez to fly out to center fielder Cameron Maybin and recorded two outs in the eighth inning -- inlcuding a lineout from Braun to third base -- before allowing his third hit and giving way to the bullpen.
"Man, he's impressive," said Maybin, who was responsible for starting the Braves' decisive two-run rally and also extended his hitting streak to nine games. "I've got a really good view, and since he's been here, it seems like every outing gets better and better. He did a great job of controlling the strike zone, going right after guys."
Brewers manager Craig Counsell had a decent view as well, and warned his team of Foltynewicz's talent.
"I said before the game, this guy reminds you of that [Noah Syndergaard] guy with the Mets," Counsell said of the Mets' prospect, who threw six innings of one-run ball against the Brewers on May 17 in a 5-1 win for New York. "It was a pretty similar offensive day. We just couldn't get anything going."
Carlos Collazo is an associate reporter for MLB.com. This story was not subject to the approval of Major League Baseball or its clubs.