Angels break even, but expect more
Struggles on offense keep club from sustained success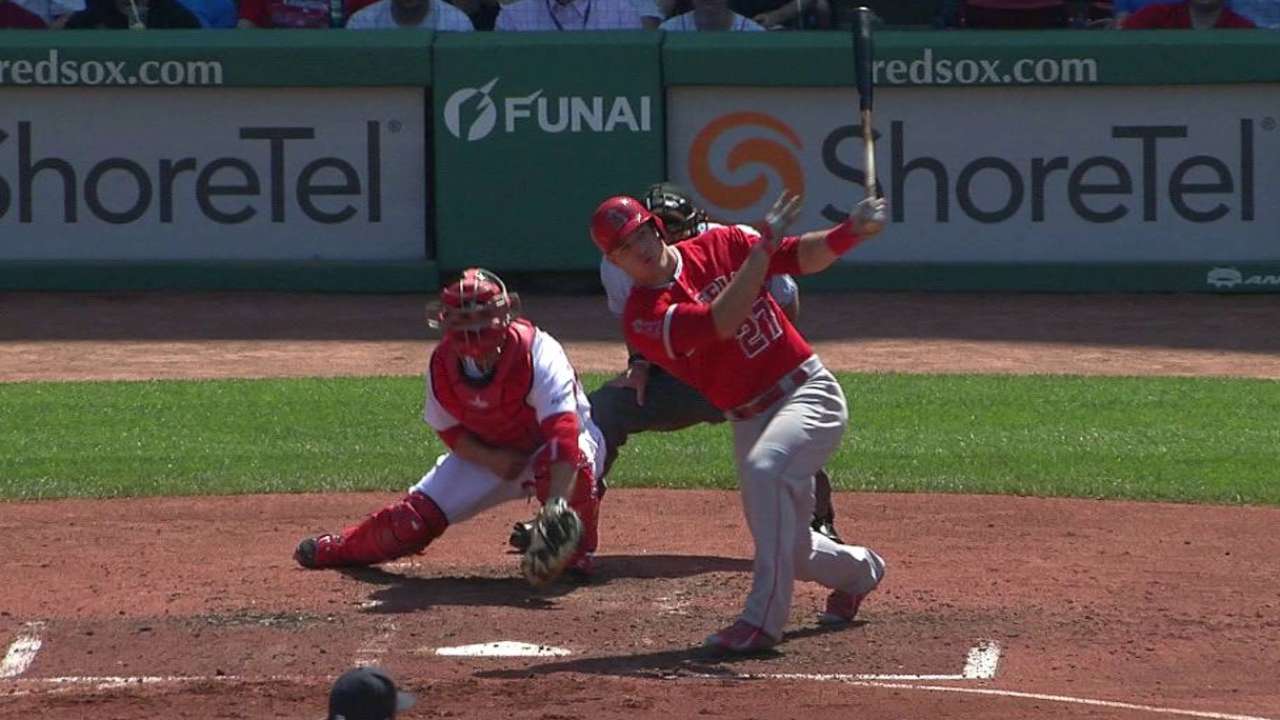 BOSTON -- The Angels believe they're a great team, and they proved as much throughout the regular season last year. But seven weeks into 2015, they're average. That's no assessment; it's fact. They split their 10-game road trip on the East Coast and are now 22-22.
"We're playing at .500," Angels catcher Chris Iannetta said, "and we haven't played anywhere near our potential."
Iannetta was referring mainly to the offense. The Angels had the most productive lineup in baseball last year while reeling off a Major League-leading 98 wins, but they entered the weekend series at Fenway Park with the lowest OPS in the game. They scored 12 runs in Friday's opener -- and nine in an eventful top of the fifth -- then plated just four over the next 18 innings.
Red Sox lefty Wade Miley entered Sunday's finale with a 5.10 ERA, then retired the first 14 batters in order and finished giving up just one run in eight innings of a 6-1 victory.
"What do you think," Albert Pujols said, "that we're playing Nintendo and we're going to score 13 runs every night?"
The Angels' most recent loss encapsulated their entire season thus far. They got a solid start, as Hector Santiago gave up three runs in 6 2/3 innings for his sixth quality start in nine outings. They got a shoddy performance from a middle reliever (in this case, Cam Bedrosian, who served up a game-changing two-run double to Mike Napoli in the eighth). And they got very little offensively besides Mike Trout, whose sixth-inning RBI double accounted for just one of four hits.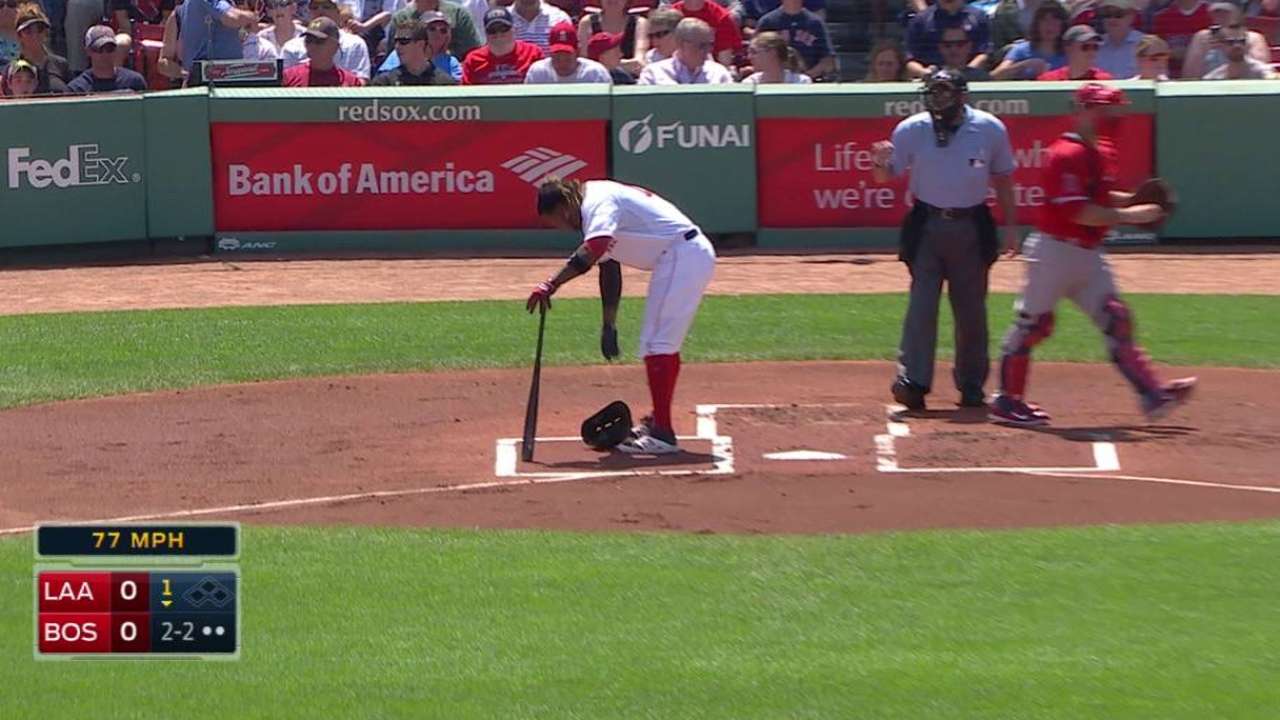 "It was a long [road trip]," Trout said. "A tough one."
What the Angels need, manager Mike Scioscia said, "is very evident."
"We've talked about it all year," Scioscia went on. "The depth of our lineup, the offensive continuity, all the things we need to create offense isn't there on a consistent basis."
Scioscia was asked if he's starting to wonder whether he has that in-house.
"We have confidence in the guys on our roster and some of the guys on our depth chart," Scioscia said, "but they haven't performed."
Pujols (.229), Iannetta (.169), David Freese (.224), C.J. Cron (.204) and Matt Joyce (.165) make up five regular contributors whose batting averages are still below .250, a big reason why the Angels currently sport a run-differential of minus-four.
It's a cause for concern -- but perhaps also a reason to take solace in the fact they nonetheless have a .500 record.
"We'll take that," Pujols said. "We aren't even playing that good."
And a lot of season is still left -- 72.8 percent, to be exact. Guys will get hot, trades will be made. And perhaps the Angels -- just two games off their pace from last year -- will one day shrug at the offensive troubles that plagued the early part of their season.
But the Angels are already 6 1/2 games back of the first-place Astros.
"For the most part, if you look at the amount of wins it takes to win a division, it's really in the 90s," Iannetta said. "So your goal is to take care of yourself and win more than 90 games. If you do that, you can write your own ticket after that and see what happens."
Alden Gonzalez is a reporter for MLB.com. Read his blog, Gonzo and "The Show", follow him on Twitter @Alden_Gonzalez and listen to his podcast. This story was not subject to the approval of Major League Baseball or its clubs.