Move to Diekman backfires against Harper
Lefty entered with strong stats vs. outfielder, but Nats win matchup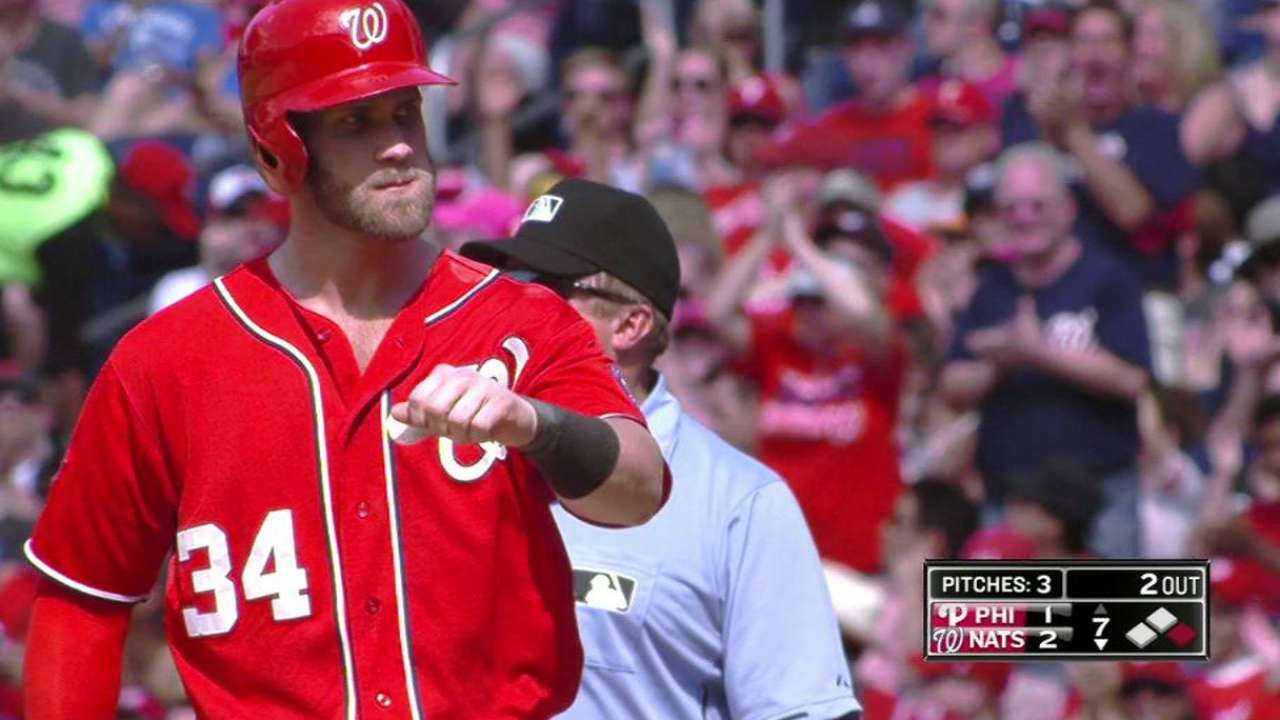 WASHINGTON -- Based on one set of numbers, Phillies manager Ryne Sandberg's decision made sense. There were two outs and a runner at third in the seventh. Philadelphia already trailed Washington, 2-1. Left-handed reliever Jake Diekman was ready in the bullpen. He had retired the lefty-swinging batter due up seven of eight times previously.
That next batter? He goes by the name of Bryce Harper, otherwise known as the National League leader in home runs. Based on what the entire baseball world witnessed over the last month, find any excuse to avoid pitching to the feared slugger when possible.
In this case, Sandberg could have stuck with right-hander Justin De Fratus, who helped put his manager in this spot by surrendering Denard Span's leadoff double. Span took third on a sacrifice bunt, but remained there after De Fratus induced Yunel Escobar's ground out.
That left the option of intentionally walking Harper with first base open and having De Fratus face Ryan Zimmerman.
"There were some thoughts about all that," Sandberg said postgame.
There was surely some intense thinking about Harper's prowess and Diekman's struggles. The reliever allowed at least one run and three total in consecutive appearances earlier in the week at Colorado.
"He's our late-inning, left-handed guy," Sandberg stated.
Regardless, the manager called for Diekman. With a 1-1 count, the lefty threw a pitch inside as desired. Harper swung, but this time, the ball didn't soar out of the park. Instead, it softly found a patch of grass in left field, allowing Harper to reach and Span to score. Harper drove in two of Washington's runs in their 4-1 win.
"It means a lot," Diekman said of Sandberg's continued faith in him during late innings. "You either pitch through it or you're just going to sit down there. It shows he has a lot of confidence in me, which is good. I have a lot of confidence in myself. It just feels like the balls are finding holes right now."
Diekman compounded the problem by allowing Harper to score on Ryan Zimmerman's double. His ERA rose to 8.04 after allowing one run and recording only one out. Nevertheless, it was the at-bat with Harper that received primary focus postgame.
When the idea of that alternate plan was mentioned, Diekman responded to a reporter, "Do you know my numbers against Harper? 1-for-8, right? I had faith in myself to get him out."
The head-to-head numbers provided reason for hope. But things haven't been going Diekman's way of late.
"I feel that way," Diekman said of the tough breaks. "You just have to execute pitches better, I guess."
Ben Standig is a contributor to MLB.com. This story was not subject to the approval of Major League Baseball or its clubs.