Harang continues stellar May against Nats
Right-hander deals fifth straight quality start, but Phillies fall in finale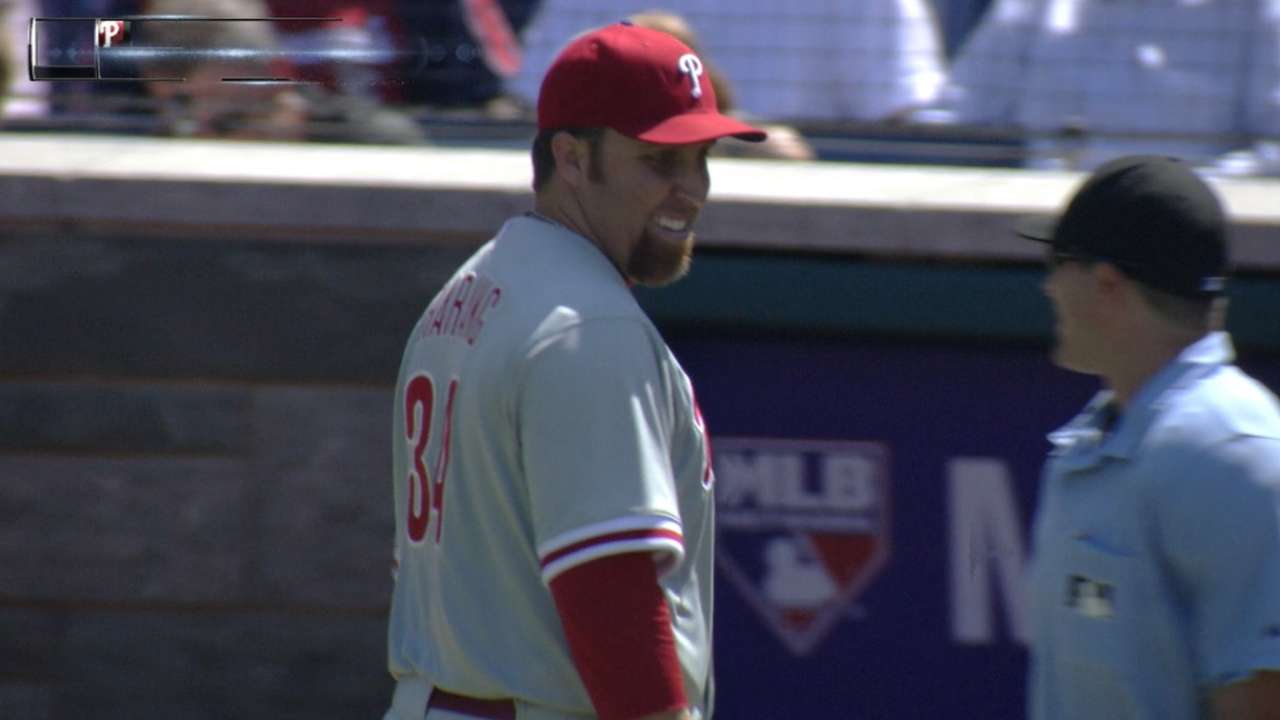 WASHINGTON -- Aaron Harang battled more than he dominated in Sunday's series finale against the Washington Nationals. He also never broke, continuing a personal stretch of nothing but quality starts in May.
The right-hander allowed two runs and seven hits over six innings. In five starts this month, he's given up five runs over 33 innings. That works out to a microscopic 1.36 ERA.
But because the Phillies bats came up short, Harang didn't rack up a victory. In fact, he lost for the second time in four starts. This time he was outdueled by Gio Gonzalez in Philadelphia's 4-1 loss. The Phillies lost two of three in the series.
"We knew we would be up for a challenge coming in here," Harang said. "They've been playing us tough all season. Yeah, it stinks to lose a game like that, but obviously they were just a little bit ahead of us."
The setback evened Harang record at 4-4. The two runs upped his ERA to 1.93.
Harang did not allow an earned run in either of his previous two starts, coming away with a win and a no-decision. He ran his streak of scoreless innings to 17 before the Nationals pushed a run across in the fourth. They also tallied one in the fifth before adding two insurance runs against the Phillies' bullpen in the seventh.
It could have been worse. Washington had at least one runner on in each of the first five innings.
"I thought Harang did a nice job," Phillies manager Ryne Sandberg said. "It wasn't his best command, but he pitched well with some men on base and left some baserunners out there. Limited the damage. He gave us a quality start and did a good job. We just came up short on the offensive side of things."
Washington opened an inning with an extra-base hit three times. Harang avoided damage in the first following Denard Span's leadoff double, though he couldn't totally evade Bryce Harper's comebacker that deflected off the pitcher's glove before striking him in the hip. Harper reached, putting two runners on, but Harang struck out Ryan Zimmerman to end the threat.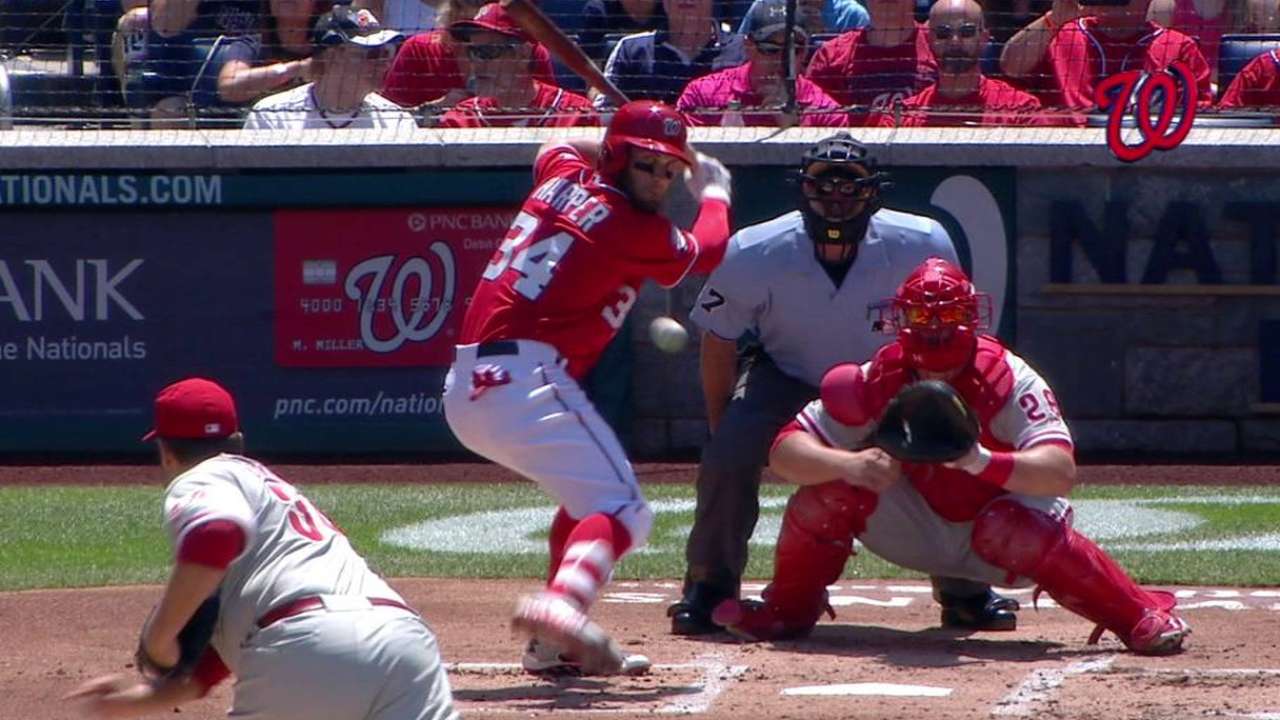 Harang couldn't escape unscathed in the fourth and fifth.
Clint Robinson scored on Jose Lobaton's single after opening the inning with a double.
Never a good time to surrender a run, but this one curtailed any possible momentum after the Phillies scored in the top of the inning. Jeff Francouer's RBI single put Philadelphia up 1-0.
Harang also avoided a big number in the inning. He immediately walked Danny Espinosa and faced two runners in scoring position following a sacrifice bunt by Gonzalez. Rather than give in, he induced ground-ball outs from Span and Ian Desmond.
"I was able to make some big pitches when I really needed to," he noted.
Yunel Escobar led off the fifth with a triple. He scored on Harper's RBI grounder for a 2-1 lead.
Philadelphia had their own chances, but finished 1-for-9 with runners in scoring position.
The Phillies seemingly always have a chance to win with Harang on the mound.
"The big thing is trying to give us a chance to win," he said of his approach. "There is only so much I can do. Once I release the ball, it's out of my control unless the ball is hit back to me or I'm in the play somehow."
Ben Standig is a contributor to MLB.com. This story was not subject to the approval of Major League Baseball or its clubs.