Butler trying to learn quickly in big leagues
Rockies righty working on how to attack hitters, getting ahead in counts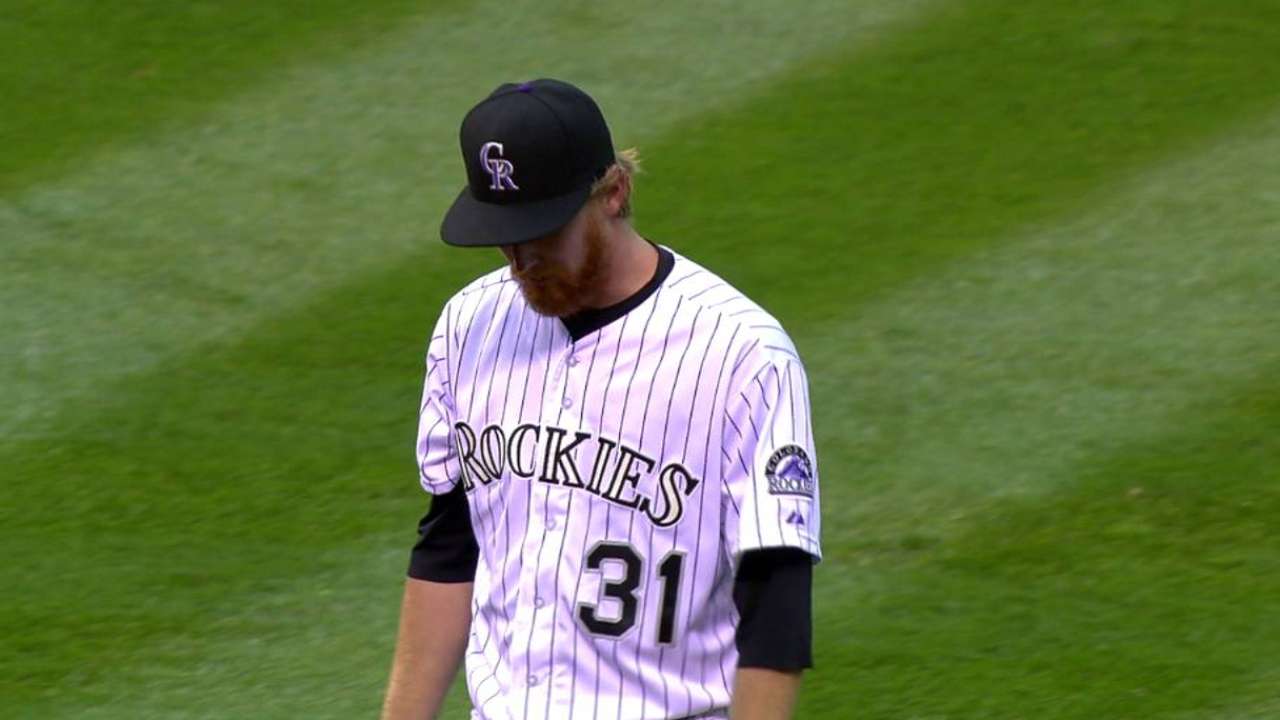 DENVER -- Pitching used to be simple for Rockies right-hander Eddie Butler.
"I used to just throw inside," Butler said. "'Here you go. Here's my fastball. Let's see if you can hit it.' That was college, high school, first couple years of pro ball."
After a year of mechanical issues and a shoulder injury -- connected maladies -- Butler is close to being the hard-thrower the Rockies drafted 46th overall in 2012 and watched strike out 143 in 149 2/3 innings with a 1.80 ERA in Class A and Double-A in 2013. But the Major League life seems so complicated.
Butler is 2-5 with a 4.38 ERA through eight starts. The last two have been alarming -- 5 2/3 combined innings with 12 hits and eight runs (five earned), six walks and three strikeouts in losses to the Dodgers and Phillies. His next start, Monday afternoon against the Reds, would be a good time for a turnaround.
Counts are a problem. In his last start, Butler was even or behind on all six Phillies hits, including Ryan Howard's towering homer.
Butler, 24, breezed to the Majors with his two-seam sinking fastball's extreme movement. The Rockies pressed him to develop a four-seam fastball to control the movement better early in counts.
But developing the four-seamer and rotator-cuff inflammation cost him the feel of his two-seamer last year, when he went 1-1 with a 6.75 ERA in three big league starts, around a lengthy disabled-list term.
Butler must learn the Majors without losing himself.
"These guys can hit a 95 mph fastball inside; I understand you can't just live doing that," Butler said. "'Let's go through the lineup and talk about how we're going to attack every single hitter, what their weaknesses are, what their strengths are.'"
Amid an injury and non-performance crisis last year, the Rockies plucked Butler from Double-A. He made one Triple-A start after the injury. This year he earned a season-opening rotation spot.
To avoid becoming another Juan Nicasio, who never blossomed after being promoted from Double-A in 2011 and now is a Dodgers reliever, Butler must match aptitude with the talent the Rockies love. Pitching coach Steve Foster said it doesn't matter whether Butler uses the two-seamer or four-seamer as long as he reaches the favorable counts that can unlock his ability.
"The quicker that Eddie learns and gets ahead in counts, the quicker he's going to be successful at this level and help this organization win," Foster said. "Two huge differences from high school, college, Minor Leagues and Major Leagues are you get a truer strike zone and you get hitters with more discipline.
"He's just learning on the job."
Thomas Harding is a reporter for MLB.com. Follow him on Twitter @harding_at_mlb, and like his Facebook page. This story was not subject to the approval of Major League Baseball or its clubs.