Koehler steps up with rotation in need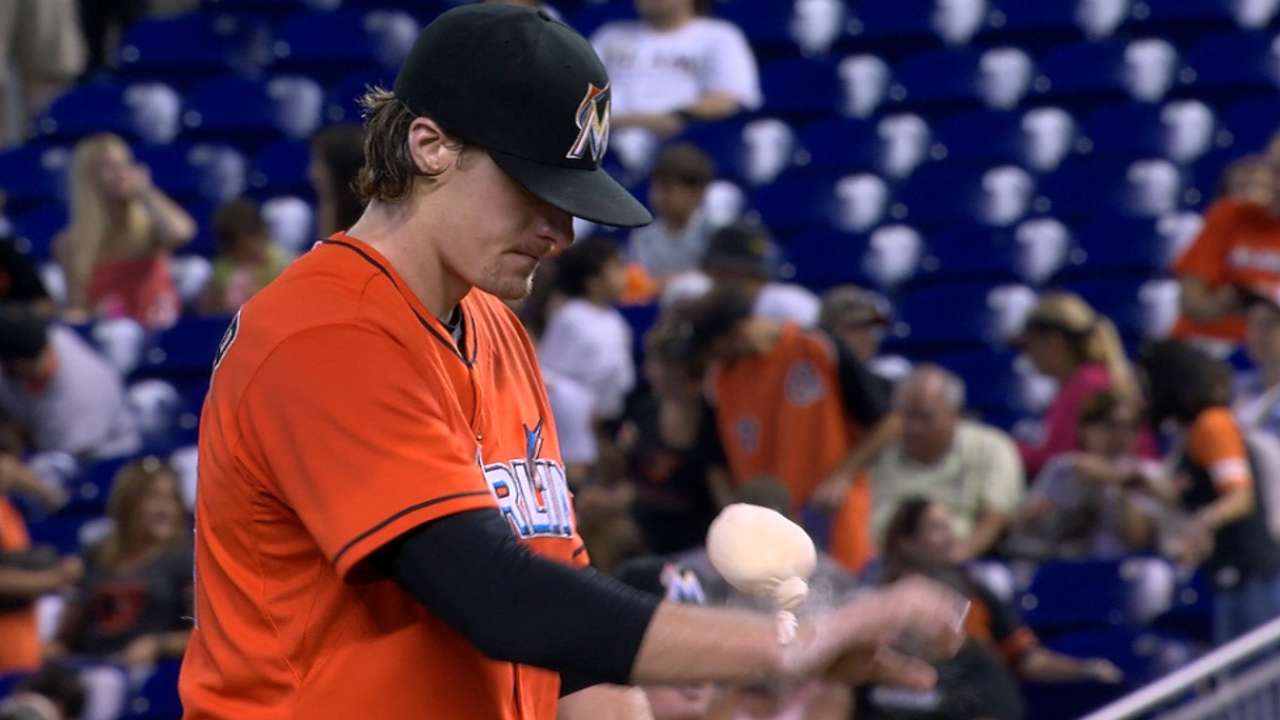 MIAMI -- If the Marlins are to climb out of the deep hole they've placed themselves in, their starting pitching will lead the way. Tom Koehler did his part to help point the club in the right direction on Sunday afternoon.
The right-hander allowed one run in 6 1/3 innings and led the way for the Marlins to beat the Orioles, 5-2, at Marlins Park, and claim their first series win since taking two of three from the Phillies on May 1-3.
By the time the Orioles had a baserunner, they were down by four runs in the fifth inning.
"This guy is a battler," manager Dan Jennings said. "You just love watching a guy leave it out on the mound. He goes and gives you everything he has, every time. He is such a team guy. That move to the bullpen, he knew it was best for the team, and he did it. Now, he's back in the rotation and he's leaving it out on the mound."
Koehler retired the first 13 batters he faced before he walked Chris Davis. Everth Cabrera followed with Baltimore's first hit.
The Marlins have scrambled to find answers in their rotation and bullpen. Koehler has stood out in both roles. At the beginning of the 10-game homestand, the right-hander was switched to the bullpen to help solidify the back end. He ended up being called upon in long relief on May 16, and he struck out four over three scoreless innings against the Braves.
Now that Miami has three starters on the disabled list, Koehler is back in the rotation.
As a team, the Marlins went 2-8 on the homestand, and they changed managers, replacing Mike Redmond with Jennings on May 17.
"It's been an interesting week, but it's been an interesting week for everybody," Koehler said. "Hopefully it's one of those things we'll look back at the end of the year and we'll be able to pinpoint that this was the homestand where we hit rock bottom and we were able to turn it around and get something going."
Miami snapped its eight-game skid with a 1-0 win in 13 innings on Saturday.
On Sunday, the Marlins sustained success. Next, they open a six-game road trip on Monday at Pittsburgh.
"It's big," Koehler said. "We have some positive energy going on the road. That's a really good lineup and a really good team, so to be able to take two out of three is huge."
Joe Frisaro is a reporter for MLB.com. He writes a blog, called The Fish Pond. Follow him on Twitter @JoeFrisaro and listen to his podcast. This story was not subject to the approval of Major League Baseball or its clubs.