Bauer's in-game changes to mechanics help in win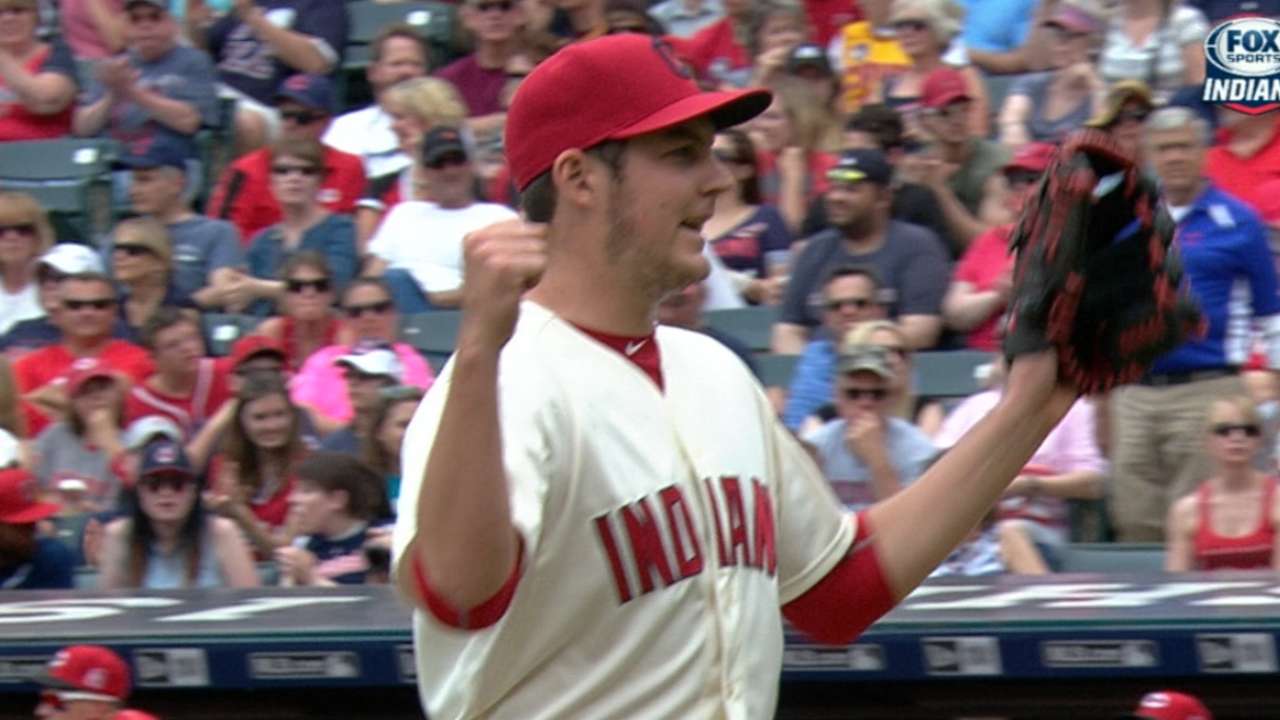 CLEVELAND -- In Sunday's 5-2 victory over the Reds, Trevor Bauer's ninth pitch of the afternoon was a changeup.
It wasn't your ordinary changeup. No, this one only traveled about 40 feet, barely making it past the infield grass before bouncing off the dirt -- plus catcher Yan Gomes' shoulder -- and trickling towards the Reds dugout.
Right away, the mechanical engineer in Bauer knew something was awry. Bauer has dedicated his life to crafting a crisp delivery, and it wasn't so he could throw pitches like that.
Pitch number 51 was a repeat of number nine. Bauer bounced an 0-1 slider to Todd Frazier, and it was likely then that the pensive pitcher decided it was time for a rewiring.
So, after the inning was over, he did something he hasn't done all year.
"I looked at my mechanics after the third inning and I wasn't doing a couple things, so I cleaned that up and was able to go from there," Bauer said. "This is the first time this year I've actually looked at my mechanics [during a] game. I knew something was off, I could tell, so I decided to take a peek and see what it was."
What was that adjustment, one might wonder? The nitty-gritty includes terms like linear distraction, hip stacking and elbow spirals. To most people who aren't Bauer, that might sound like gibberish. But the point here is this: it sure it seemed like it worked.
Bauer pitched into the eighth inning, with the only real damage coming on a solo home run by Marlon Byrd in the seventh. He struck out four over 7 2/3 innings, and allowed five hits. But perhaps the most important number was zero.
Bauer didn't walk a single batter for just the third start of his career. It was the deepest he'd ever gone into a game without allowing a base on balls.
For a pitcher who has averaged more than four walks per nine innings, and who wasn't stacking his hips, spiraling his elbow or achieving linear distraction, it was an impressive outcome.
"I love that," Indians manager Terry Francona said. "There's going to be times when you have a walk or two, maybe by design, to try and stay away from somebody. But with the way he's improved at holding runners, and he's not walking people, it certainly gives him a lot more chances of having success. Because he's not that easy to hit."
August Fagerstrom is an associate reporter for MLB.com. This story was not subject to the approval of Major League Baseball or its clubs.