Gray takes shot off ankle; X-rays negative
Righty pitches scoreless five innings before exiting with injury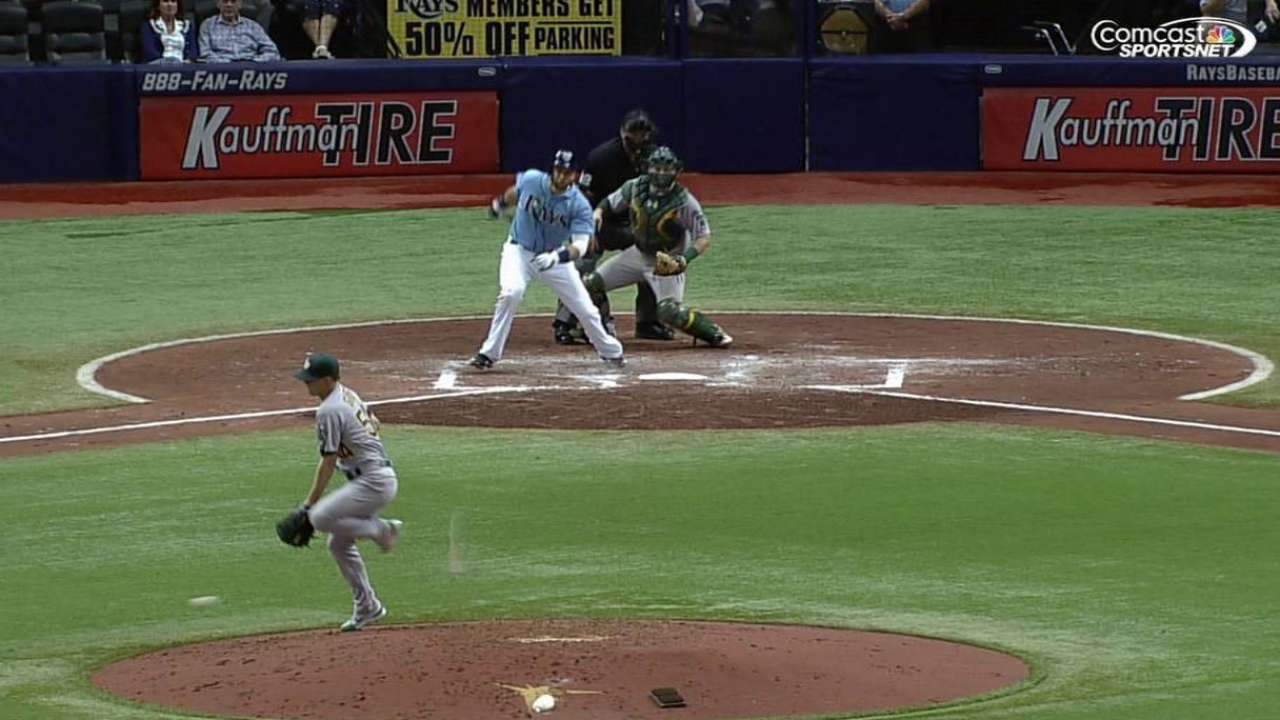 ST. PETERSBURG -- As Sonny Gray stood near his locker following the Athletics' 7-2 victory over the Rays on Sunday at Tropicana Field, there was a mix of disappointment and relief.
The right-hander was hit in the right ankle by a sharp grounder off the bat of Rays first baseman James Loney in the fourth inning, and he continued to finish off the fourth and fifth innings before being pulled at the start of the sixth.
Gray's X-rays came back negative, and both he and A's manager Bob Melvin believe that he will make his next start, which is slated to come Friday against the Yankees.
"It feels OK, not great," Gray said. " I don't think it will be something that will take more than a couple of days, with this treatment and stuff, and more than likely I should be ready to go."
The ill effects were not visibly apparent as Gray gathered himself and the ball to get Loney at first. He followed that up by striking out Logan Forsythe and fielding a ground ball by David DeJesus to strand Evan Longoria, who led off the inning with a single, at second.
Gray then came back and tossed a 1-2-3 inning in the fifth that included a strikeout of Asdrubal Cabrera, but A's pitching coach Curt Young could tell something was amiss.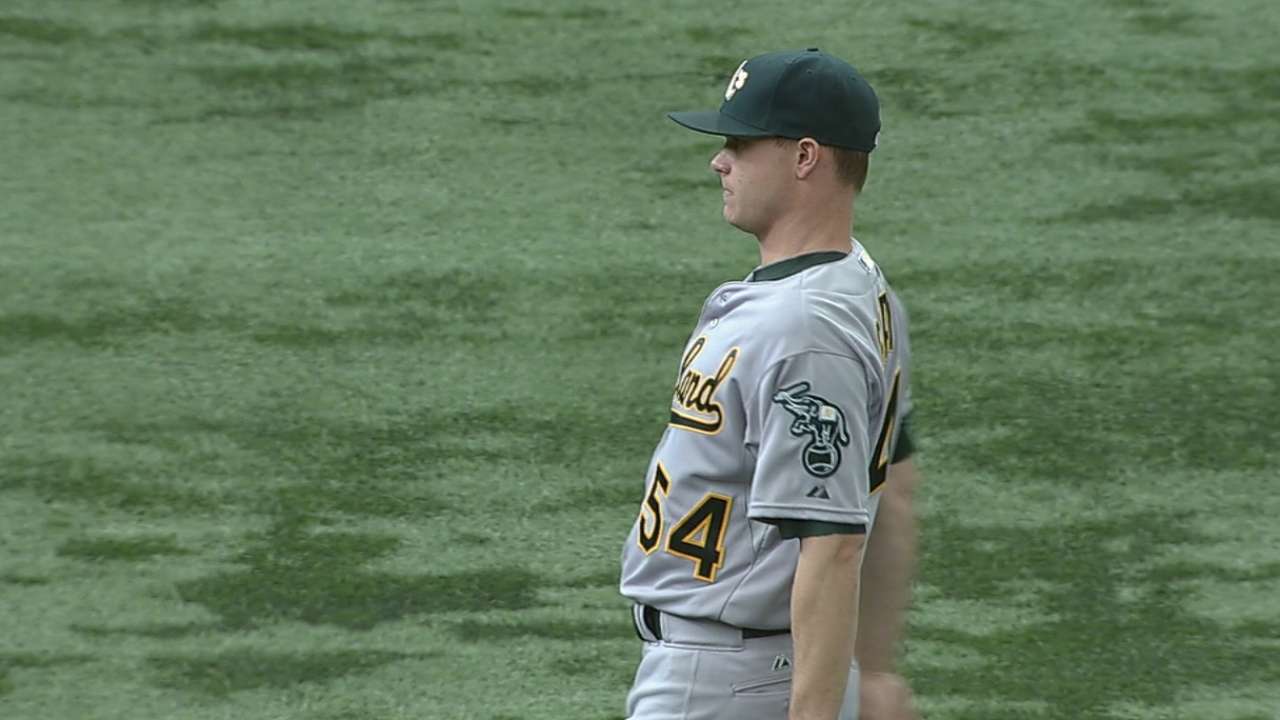 "During the fourth, the adrenaline was still running pretty high, so I was able to get out of that one," Gray said. "But sitting there after the fourth, it got really tight and really stiff, so when I went back for the fifth, I was telling Curt how I felt and how I wasn't able to push off like I wanted to, and he said he could tell from the side.
"He said it was probably better off to make the move, and unfortunately we had to."
With Gray off the mound, it was right-hander Dan Otero who was asked to come in and continue Oakland's blanking of the Rays' lineup, and he did just that, tossing two scoreless innings.
"Nobody expects Sonny to come out of the game, even when he gets hit by a ball like that, because he's as fierce a competitor as I've ever seen," Otero said. "When the phone rang, I was like, 'OK, something is up.' It happened to be my name, and I just had to go in there and eat up some innings.
"Starters are basically trying to pick [the bullpen] up the rest of the season, so when a guy goes down with a freak injury like that, you have to go in there and pick them up and pick the team up."
Before his departure, Gray (5-2) had pitched five shutout innings in just 67 pitches, allowing four hits while striking out four.
"[My stuff] was good," Gray said. "I felt really good out there, and that's why it was such a hard decision to not go back out there for the sixth, but it really wasn't worth it."
Troy Provost-Heron is an associate reporter for MLB.com. This story was not subject to the approval of Major League Baseball or its clubs.