Giants designate McGehee for assignment
Duffy assumes third-base job; Strickland stays to bolster bullpen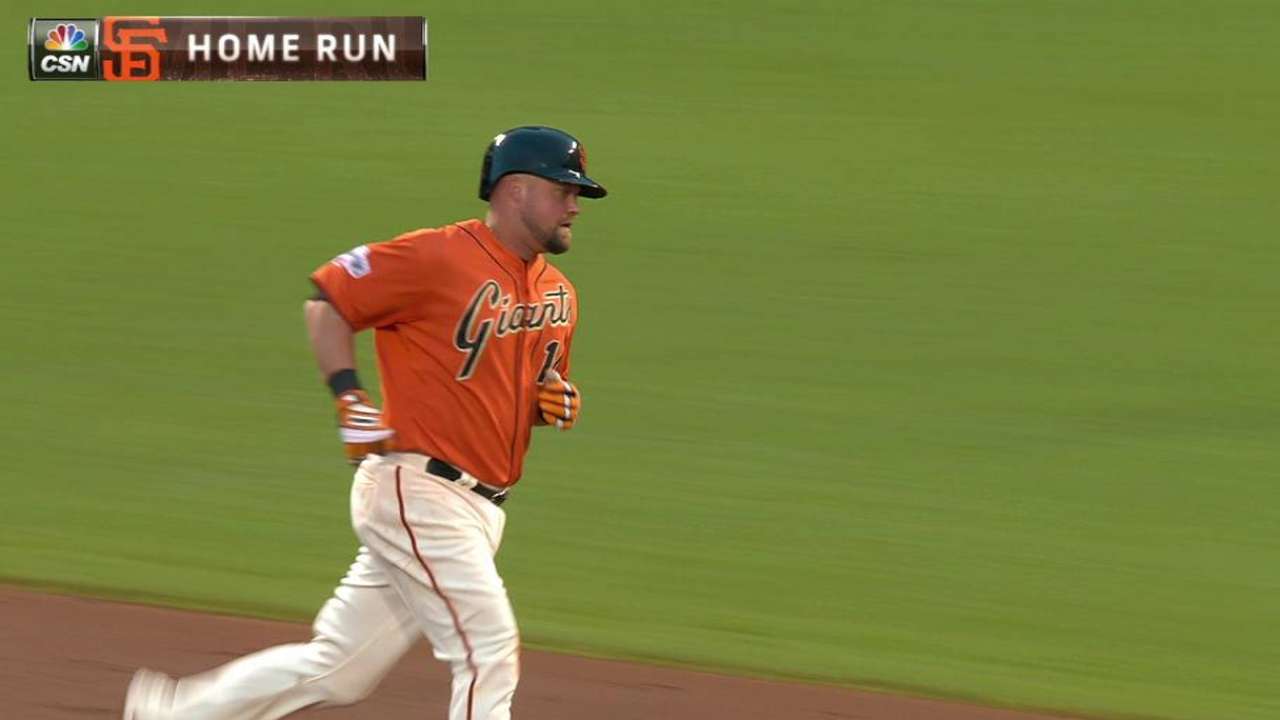 DENVER -- Intent on upgrading themselves at third base and expanding the pitching staff to 13 men, the Giants designated Casey McGehee for assignment Sunday, due largely to the third baseman's season-long batting slump.
Rookie Matt Duffy, who substantially outperformed McGehee through one-fourth of the season, inherited the everyday third-base role. Right-hander Hunter Strickland, who joined the Giants as their designated 26th man for Saturday's day-night doubleheader, will remain with the club to bolster bullpen depth.
In a poignant scene, McGehee, 32, led Duffy, 24, to an equipment room in the visitors' clubhouse at Coors Field to congratulate his successor and share some perspective. McGehee explained that he recalled feeling mixed emotions when he supplanted Bill Hall as Milwaukee's third baseman in 2009.
"I just wanted Duff to make sure he has nothing to feel bad about," McGehee said. "He's doing his job, he's doing it really well, and the rest of it I'll leave between us. ... He should be proud that he forced the issue to the point where you've got to get him on the field."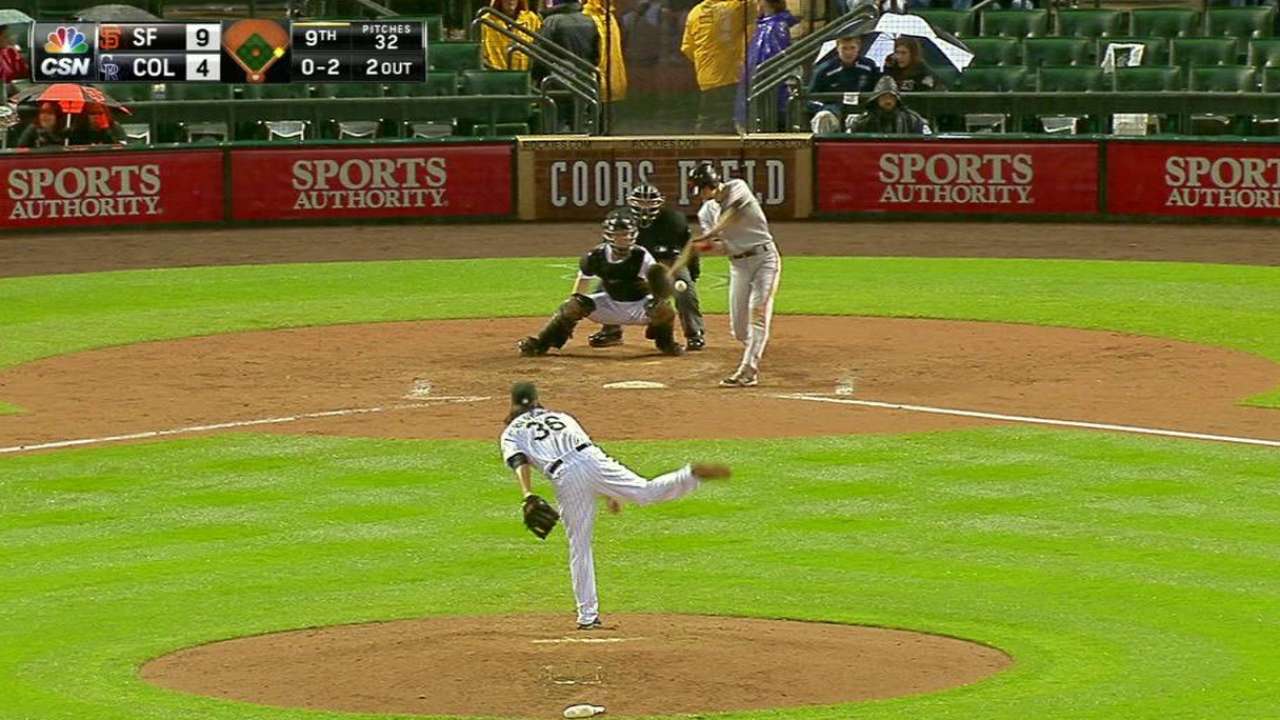 McGehee's tenure with the Giants hasn't officially ended. He has 10 days to accept an assignment to Triple-A Sacramento, unless he's traded or signs with another organization. He's unlikely to be hotly pursued, given his .200 batting average in 35 games. He also grounded into 12 double plays, tying him with Atlanta's Andrelton Simmons for the Major League lead entering Sunday.
"Our feeling is that Casey just needs to get more at-bats and will get himself going. Hopefully he'll do that for us at Triple-A," Giants general manager Bobby Evans said. "If he opts not to do that, we'll respect that."
McGehee, a .262 hitter in seven Major League seasons, said he needed at least a couple of days to contemplate his options with his family.
"I've got a lot of things to think about," said McGehee, indicating his Northern California roots could influence his decision. "... I'm pretty sure yesterday wasn't the last baseball game I played."
The Giants, who owe McGehee his remaining salary of approximately $3 million regardless of his next move, obtained him Dec. 20 from Miami for Minor League right-handers Kendrys Flore and Luis Castillo. McGehee was a consensus choice as the National League Comeback Player of the Year last season after batting .287 with 76 RBIs -- numbers that, if duplicated, would have eased free agent Pablo Sandoval's departure for Boston.
Evans believed a bruised left knee that has bothered McGehee since Spring Training upset his equilibrium. But McGehee downplayed his injury: "If I'm out there, I expect to perform. That's nice of them to make an excuse for you, but I don't need one."
While McGehee sat or struggled, Duffy excelled. He entered Sunday batting .299, garnished by a team-best .433 average (13-for-30) with runners in scoring position. As San Francisco's super-utility player, Duffy started games at every infield position, including 12 at third base.
Giants manager Bruce Bochy reiterated that Duffy earned his promotion to the everyday lineup.
"He handled himself so well with everything thrown at him," Bochy said.
The need to expand the bullpen also drove the Giants' moves. Strickland, who pitched two scoreless innings against Colorado in the first game of Saturday's day-night doubleheader, was an obvious choice to add to the roster. Procedurally, the Giants optioned Strickland back to Triple-A after Saturday's second game. But since he was added due to the doubleheader, the same genre of rules allowed the Giants to waive the 10-day moratorium on recalling players who were optioned to the Minors.
Strickland, who set a postseason record last October by allowing six home runs, will be used in the sixth or seventh inning, Bochy said.
Bochy cited the pressing need for another reliever, given his frequent calls to the bullpen of late and the Giants' lack of a scheduled off-day until June 4.
"I'm a little concerned with how much we've been using these guys," he said.
Chris Haft is a reporter for MLB.com. Read his blog, Haft-Baked Ideas, follow him on Twitter at @sfgiantsbeat and listen to his podcast. This story was not subject to the approval of Major League Baseball or its clubs.