White Sox still seeking return to norms
Offensive inconsistency stalling rise up standings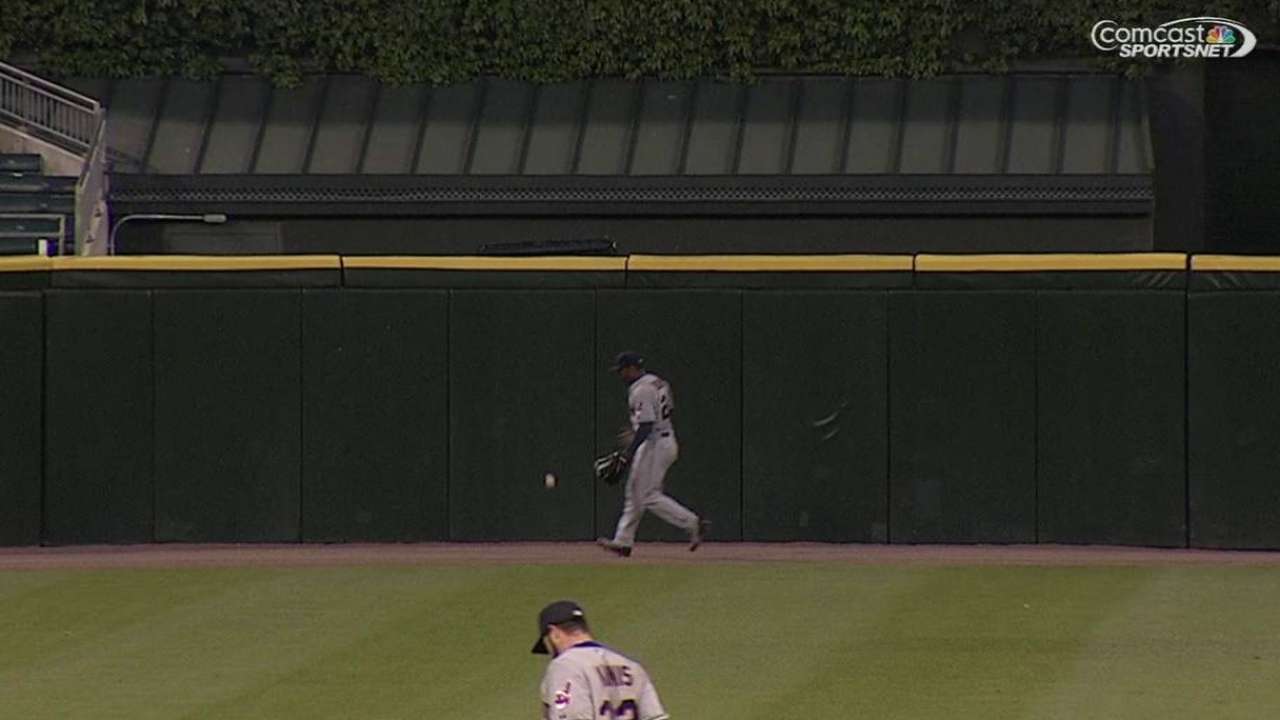 CHICAGO -- The White Sox offense has been a strange mix of inconsistency for six weeks.
The South Siders rank 27th in pitches per plate appearance at 3.68, and sit last in total numbers of pitches seen at 5,426. Yet, the free-swinging group also sits last in extra-base hits with 88, making them one of three teams in the Majors entering play Sunday with fewer than 100.
"It's not been what we wanted so far, but you're looking at guys and their track records of what they've done in their careers and you're expecting some more home runs out of them," said White Sox manager Robin Ventura, focusing on the team's 26 home runs that leave them tied for last in that category after 40 games. "Hopefully, when it warms up, we have a chance to do that. But you look around and other teams are doing it while we're playing."
Even Jose Abreu, who had a 17-game hitting streak end Saturday and was batting .283 entering Sunday's contest, had just three extra-base hits during that stretch. Ventura believes part of that power outage for Abreu is a result of pitchers offering up their best stuff in pretty much every at-bat.
"You have to be in an elite category to earn that, and he's earned that," said Ventura. "He's going to see the guy's best slider or curveball, their best fastball running him in. He's not just trying for some hitting streak and slapping it around. He's taking some healthy cuts in counts that he feels good in.
"He's a good enough hitter to continually get hits every day. And that's a hard thing to do.
• Ventura knows who will start in Game 2 of the makeup doubleheader at Baltimore on Thursday, following Chris Sale to the mound. But Ventura wasn't ready to make the announcement Sunday.
He was first asked about long reliever Scott Carroll.
"That's a good name. That's one of the possibilities," Ventura said. "But it's probably not."
Next up was Minor Leaguer Erik Johnson, who broke camp as part of the team's rotation in 2014.
"Another good name," said a smiling Ventura. "That's a really good name."
And Minor League hurler Chris Beck became the final guess.
"That is a good name," Ventura said.
Beck allowed two runs over seven innings for Triple-A Charlotte on Friday, while Johnson struck out nine in seven innings for Charlotte on Wednesday.
• Ken "Hawk" Harrelson, the White Sox television play-by-play man, will miss the upcoming 11-game, four-city road trip because of a minor surgical procedure. Chicago Bulls play-by-play broadcaster Chuck Swirsky will fill in on the trip.
Scott Merkin is a reporter for MLB.com. Read his blog, Merk's Works, follow him on Twitter @scottmerkin and listen to his podcast. This story was not subject to the approval of Major League Baseball or its clubs.