Entrance Konerko's final nod to fans in exit
Walk from center field allows everyone to feel a part of ceremony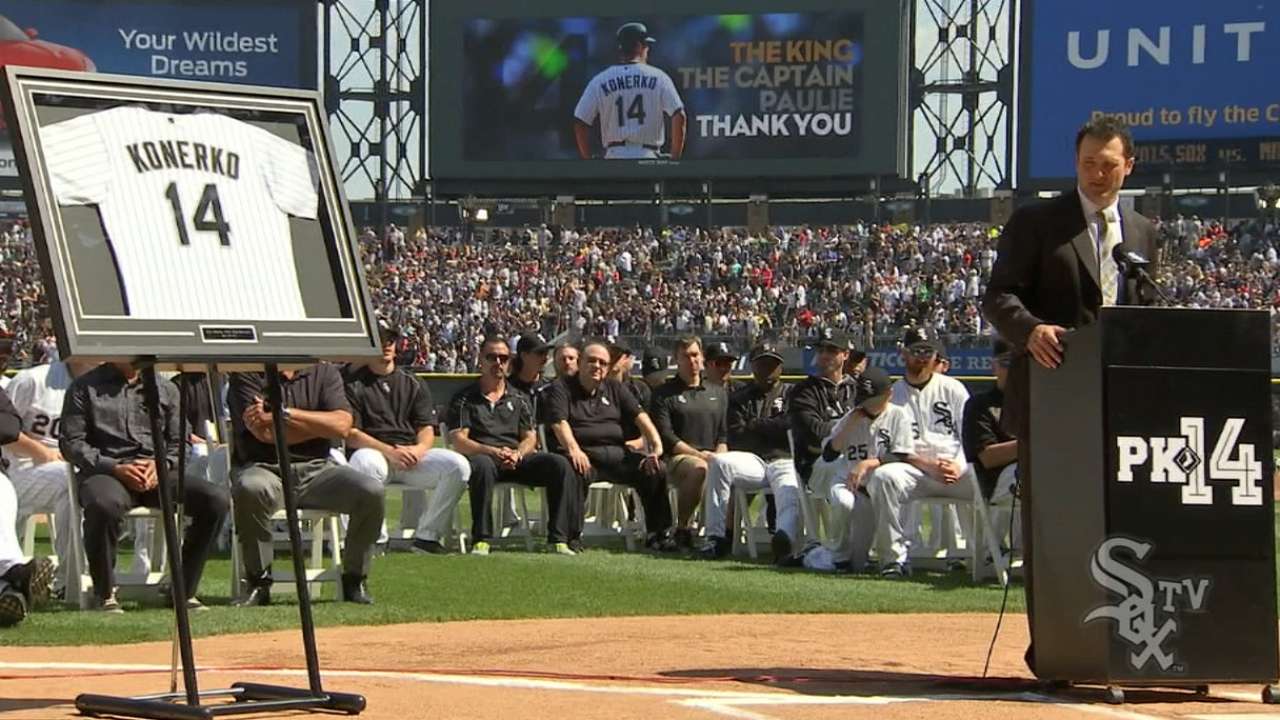 CHICAGO -- There was a definite plan behind Paul Konerko's center-field entrance during his jersey number retirement ceremony Saturday, aside from taking the longtime White Sox captain somewhat out of his comfort zone.
Brooks Boyer, the White Sox senior vice president, sales and marketing, explained Sunday that having Konerko walk in from center allowed fans situated in the outfield a chance to feel like a part of the ceremony. There was talk of using a fog machine as well, but the notion was overruled.
"It was a little Field of Dreams-ish. We didn't have corn in there," said a smiling Boyer of one of many great Konerko moments. "As he walked out, the people in the outfield, you could actually see people grabbing their phones because they got the close look."
"Being so soon after the end of the [2014] season, it was tough to come up with something that was totally different than the end of the year but still was nice and a good thing, and I thought that was accomplished," Konerko said. "I was impressed by everything they did. It was cool."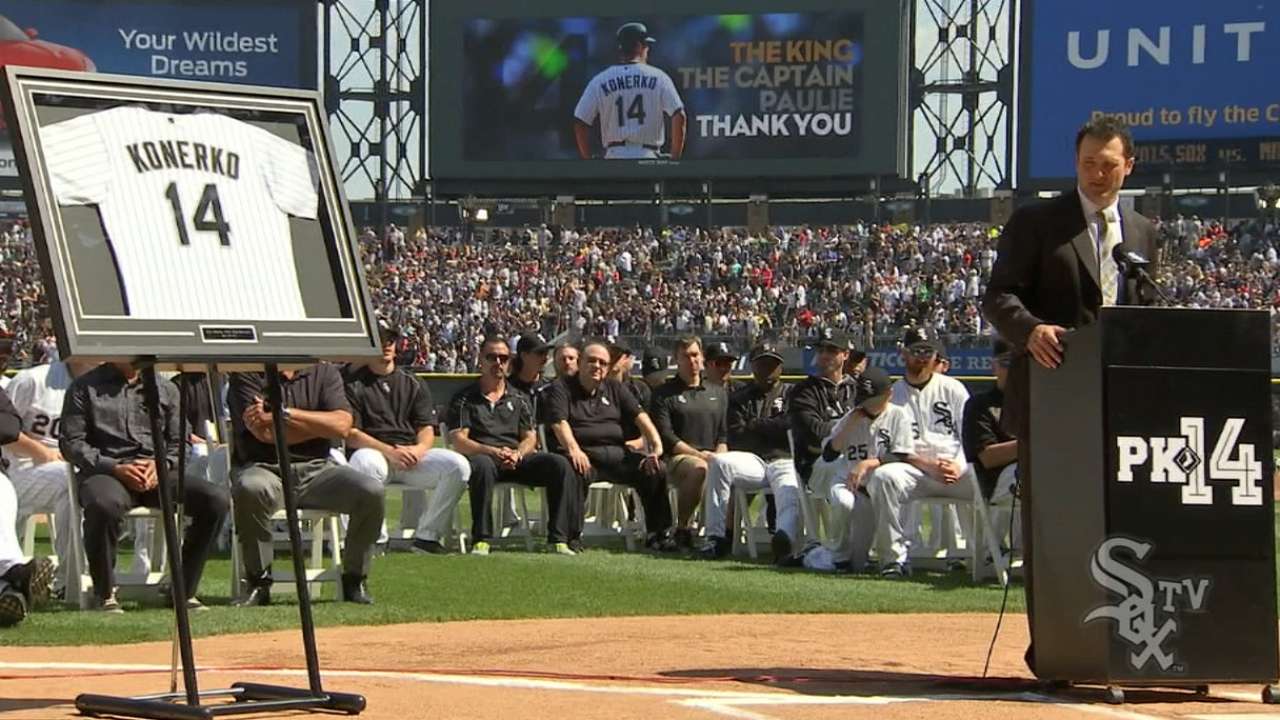 As Konerko walked in from center, he stopped behind second where "14" was stenciled in the dirt. He picked up a baseball, which was part of creating one more memory tied into Konerko's retirement in 2014.
"He was like, 'I've got to pick up the ball?' And I'm like, 'It's the memory,'" Boyer said. "I wanted to write a few select things on that ball, but digital cameras are too good. They could probably see what was written."
When asked if he enjoyed the walk in Saturday, Konerko offered up a familiar wry smile and replied, "Immensely." But according to Boyer, Konerko understood the target and was a team player. Konerko also gained a greater appreciation for the impact he had on people's lives now that he's a "civilian."
Enjoy more of the sights and sounds from yesterday's #Paulie14 jersey retirement: http://t.co/ZVqkJrfbtW pic.twitter.com/rE02xKDLwb

— Chicago White Sox (@whitesox) May 24, 2015
"You don't realize when you're playing how many people you're touching and how much it matters," Konerko said. "Nothing happens on a baseball field that's going to cure people of diseases or cancer or anything, but there are times that you touch people with what you do out there and it really matters in their life that helps them and it really matters in a human way.
"That's when it hits home a lot more and it makes you understand, especially being out of the game now. I just had my head down playing for 20 years and I'm lifting it up for seven months and you realize, 'I affected people in a lot of ways, not all for the good, but a lot for the good,' and it feels good."
Scott Merkin is a reporter for MLB.com. Read his blog, Merk's Works, follow him on Twitter @scottmerkin and listen to his podcast. This story was not subject to the approval of Major League Baseball or its clubs.