Lucroy, Segura close to returning from DL
Rehab assignment likely for catcher; shortstop targeting Friday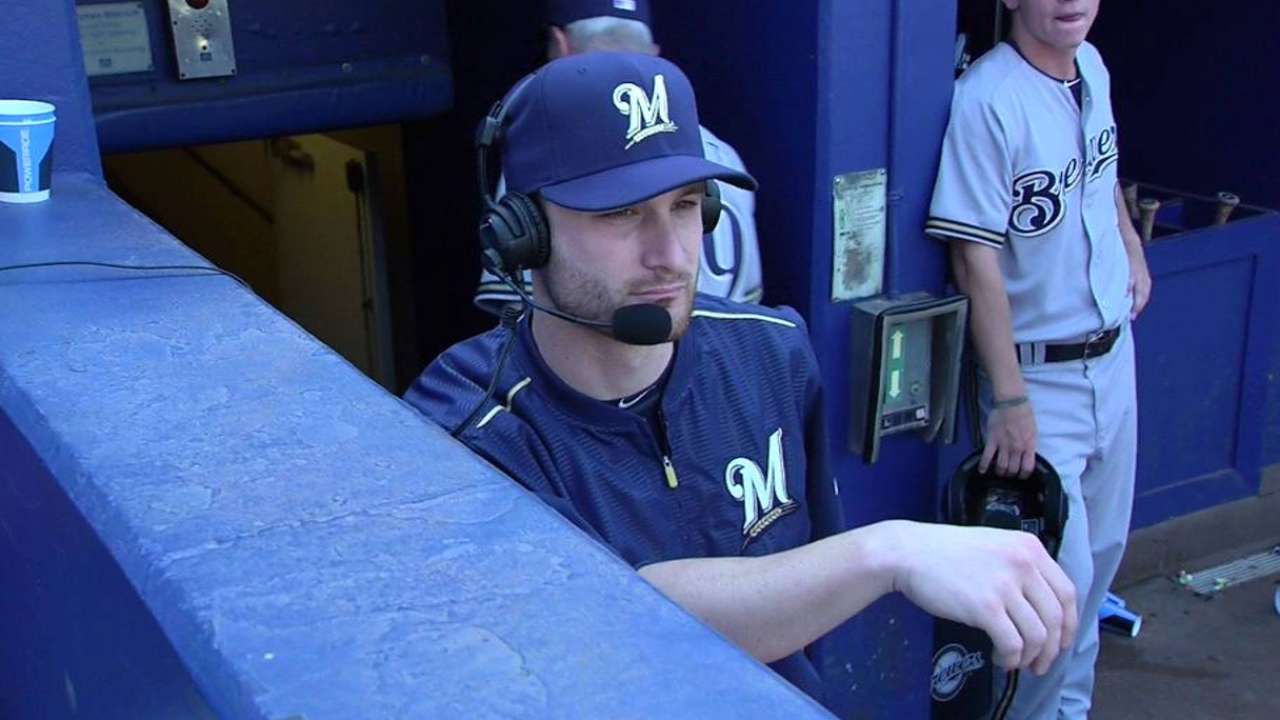 ATLANTA -- The Brewers can expect better news on the injury front this week when they return home from a 10-game, three-city road trip.
During the coming six-game homestand, they can start counting down the returns of All-Star catcher Jonathan Lucroy and shortstop Jean Segura.
"It's going to be day to day, but I think it's down to days with them," Brewers manager Craig Counsell said before Sunday's game against the Braves. "I'm optimistic. They're taking big steps at this point, which is what you want to see. You can kind of see the light with both of those guys."
Lucroy, 28, was placed on the disabled list April 21 with a fractured left toe, after taking a foul ball off his big toe April 20 against Cincinnati. Segura has been out since May 14, fracturing the pinkie finger on his right hand May 12 against the White Sox.
Segura, 25, likely will be activated Friday -- he could come off the DL as soon as Thursday, but that is an off-day for the team -- after he undergoes another set of X-rays and meets with team physician Dr. William Raasch.
"[Monday] or Tuesday we'll probably figure that out," Counsell said. "But all signs have been thumbs up for Jean."
It's expected that Lucroy will go on a rehab assignment before getting back into the lineup. Of greater concern is his timing back at the plate, more than his play behind it.
"We're going on how he feels. I think the at-bats are more important than the catching," Counsell said. "He's fine catching. I don't know why he wouldn't be fine catching. Just get some comfort seeing velocity. That's the big thing."
Lucroy will wear a protective shoe when he gets back on the field.
"He's going to use some kind of protection. Whatever's comfortable -- and I don't think that will affect his Olympic speed," Counsell said, with a laugh. "It was a freak thing. You ask catchers and it's rare that it happens to them. It was just an accident."
Lucroy, who finished fourth in National League MVP voting in 2014 while leading the Majors in doubles with 53, earned finalist status for the Gold Glove Award last season. But he struggled in 12 games this year, batting .133 with one extra-base hit (a triple).
Segura -- a 2013 All-Star who last year became the first Brewers shortstop to record back-to-back seasons with 20 stolen bases -- was hitting .262, with two homers, 12 RBIs and 14 runs scored and had a team-high six steals (caught only once).
Worth noting
Right-hander Wily Peralta, who left his start Friday after the fourth inning with discomfort in his left side, played catch in the outfield prior to Sunday's game. Whether he'll continue working toward his next scheduled start on Wednesday is still to be determined.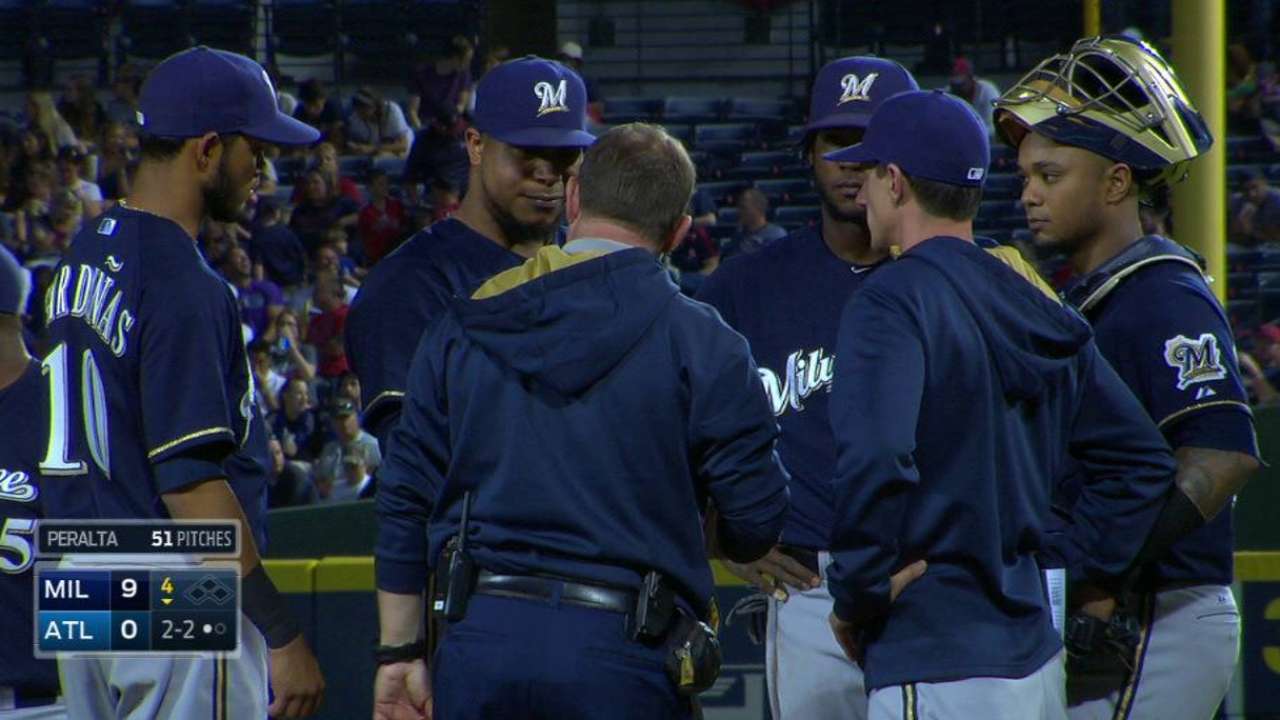 "We'll know a lot [Monday]," Counsell said. "It's his side day. So I think [Monday] will be the day that we get some clarity on Wily, but it's still kind of up in the air. We have to see improvement, for sure.
"[His start Wednesday] is not a sure thing. We have to start making some alternative plans if he can't, but we'll figure it out."
Jon Cooper is a contributor to MLB.com. This story was not subject to the approval of Major League Baseball or its clubs.