Jennings optimistic about injured starters
Cosart could be back Friday; Latos, Alvarez hopeful for June return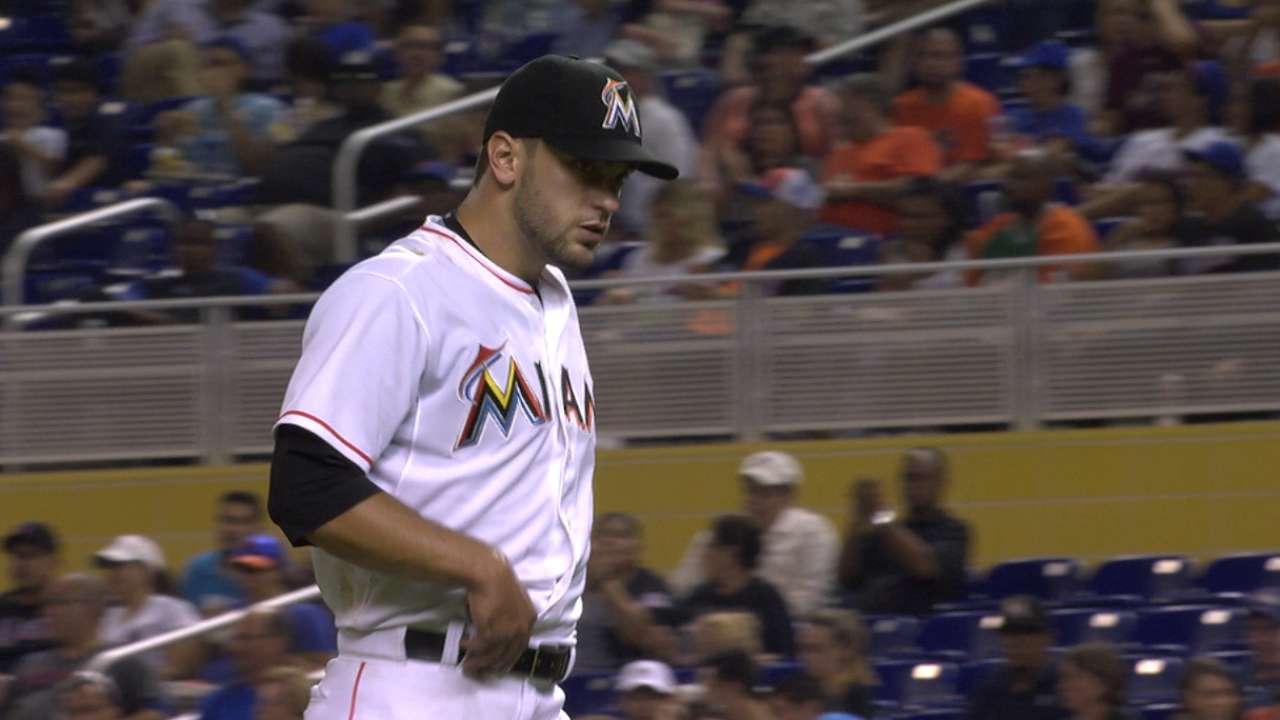 MIAMI -- Without rushing anything, the Marlins do have some urgency in regards to their rotation. Three starters are on the disabled list, and there is optimism at least two of them can be back shortly after their 15-day stints are up.
The closest to returning is Jarred Cosart, on the DL with vertigo. Mat Latos (left knee inflammation) and Henderson Alvarez (right shoulder inflammation) also are down for a least a couple of weeks.
"Based on what I've heard thus far, it seems like some of them could be the 15 days, and then have them back ready," manager Dan Jennings said. "Somewhere in that 15-20 day window. That's the best case."
Cosart and Latos appear to be the closest to being activated quickly. Cosart went on the DL on May 19, retroactive to May 14. So, the earliest he could be back is Friday at the Mets.
Cosart has played catch the past three days, and is scheduled to throw a bullpen session, likely in Jupiter, Fla., on Tuesday. The club may want him to have at least one rehab-assignment outing before bringing him back. So Friday at New York may be optimistic.
Alvarez, who now has been on the DL twice with the same injury, may need more time. Most likely, he will have another MRI on his shoulder.
"He's working very diligently to strengthen that," Jennings said. "The shoulder is the shoulder. It's one of those things, with these guys, after the season starts, nobody feels 100 percent. There is a lot of wear and tear on their part. You've got to strengthen it up and focus on that area."
The earliest Alvarez could be reinstated is June 7 at Colorado. But it is highly doubtful he will meet that date.
Latos, eligible to be reinstated as early as June 6, could fall into that 15-20 day window.
Miami must fill two rotation spots for Tuesday and Wednesday in Pittsburgh. Triple-A New Orleans right-hander Jose Urena, who leads the Pacific Coast League with a 1.21 ERA, is a candidate for one spot.
And Brad Hand, currently in Miami's bullpen, is another candidate for either Tuesday or Wednesday.
The Marlins will be banking on their depth to hold things together until their injured starters return. Even though Cosart opened the season in the fifth-starter spot, that was because of a blister issue late in Spring Training. Miami had been planning on starting the year off with Alvarez, Latos and Cosart.
"Is it a big blow? Absolutely," Jennings said. "Those guys came into the season one, two and three. So now, it's next man up mentality."
Joe Frisaro is a reporter for MLB.com. He writes a blog, called The Fish Pond. Follow him on Twitter @JoeFrisaro and listen to his podcast. This story was not subject to the approval of Major League Baseball or its clubs.