Offense stifled with Braun, Aramis resting
Braves' Foltynewicz holds Brewers to sac fly, impresses Counsell
ATLANTA -- Resting two of your most potent bats is always a risk. It's an even greater risk when you have the lowest team batting average in the National League.
That's the risk Brewers manager Craig Counsell took when he rested right fielder Ryan Braun and third baseman Aramis Ramirez for Sunday's series finale against the Braves at Turner Field.
The gamble didn't pay off, as the Brewers -- who came in hitting an NL-low .230 (only the Astros, at .228, were lower in all of MLB) -- managed only a run and three hits in a 2-1 loss. It gave Milwaukee a 4-6 record on their 10-game road trip.
"I thought this would be a well-pitched game by both sides," Counsell said. "It's the game I thought would be played, actually."
Counsell credited Braves starter Mike Foltynewicz (3-1) for his team's offensive woes. Foltynewicz pitched a career-best 7 2/3 innings, allowing the one run on three hits, while striking out seven for his fourth straight start. The Brewers skipper compared Foltynewicz to Mets rookie Noah Syndergaard, who similarly shut down the Brewers a week earlier, limiting them to one run and three hits over six innings.
"I said before the game, this guy reminds you of that Syndergaard guy with the Mets. It was a pretty similar offensive day," Counsell said. "We just couldn't get anything going against him, very few baserunners."
Brewers pitcher Jimmy Nelson (2-5) got Milwaukee's first hit, grounding a one-out single to center in the third. Through six innings, it was the Brewers' only hit, as Foltynewicz retired 11 in a row.
"He's got a good fastball, and we were kind of having quick at-bats," Counsell said. "He was just good. He was pounding the strike zone with his fastball and kind of sprinkled in the curveball."
Brewers hitters made it easy on Foltynewicz, as 11 of their 18 outs through six innings required three pitches or fewer. In three of the first four innings, the side was retired on 10 pitches or fewer.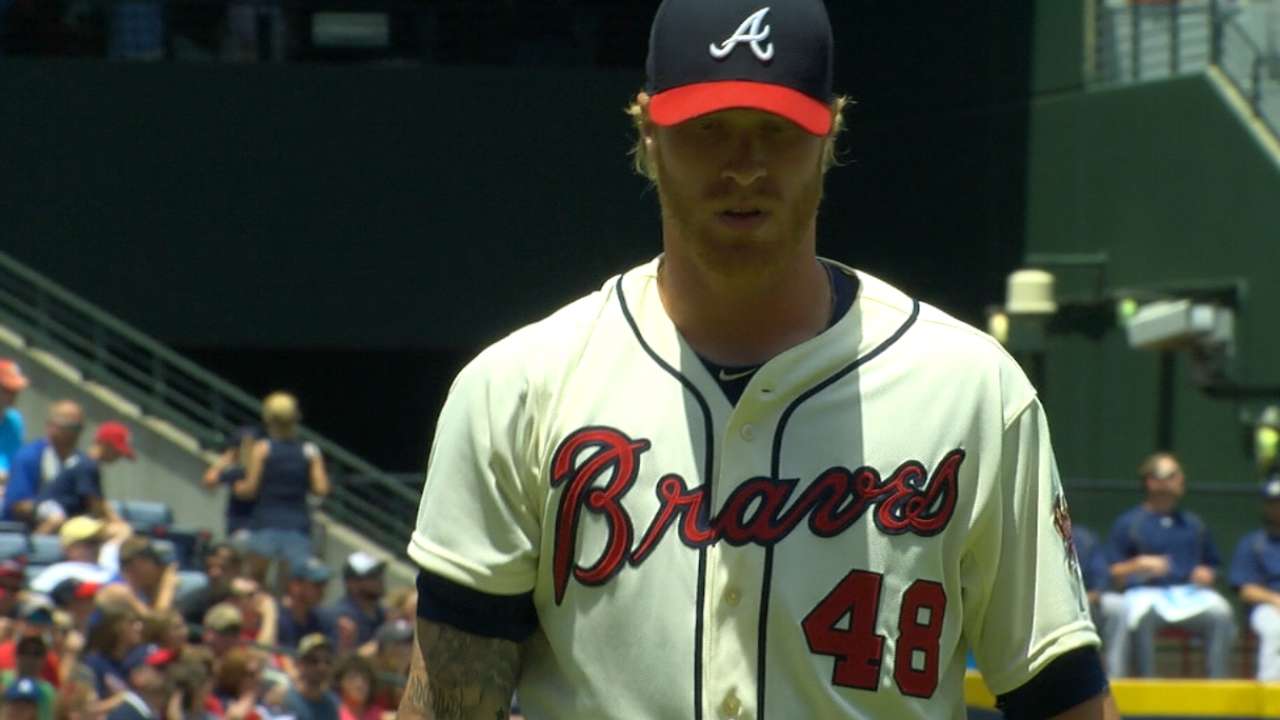 The Brewers broke through for a run in the seventh, as Carlos Gomez was hit by a pitch, moved to third on a Khris Davis single, and scored on a long sacrifice fly to left by Elian Herrera.
But that was all they would get.
Gomez would be the only Brewer to get as far as second base all day. Davis did put a charge into a ball to end the fourth, but that was easily hauled in by right fielder Nick Markakis just in front the wall.
While the lack of a hot hitter like Braun, who pinch-hit in the eighth and lined out to third, didn't help, Counsell wouldn't accept this kind of offensive showing.
"That's not good enough," he said. "We've got to find ways against some of these guys. We've got to find ways to get men on base, or if we're going to be a slugging lineup, we have to get our pitch and can't miss it."
Jon Cooper is a contributor to MLB.com. This story was not subject to the approval of Major League Baseball or its clubs.