Hinch gives Altuve 'mental day' in Detroit finale
Second baseman sits for first time in 2015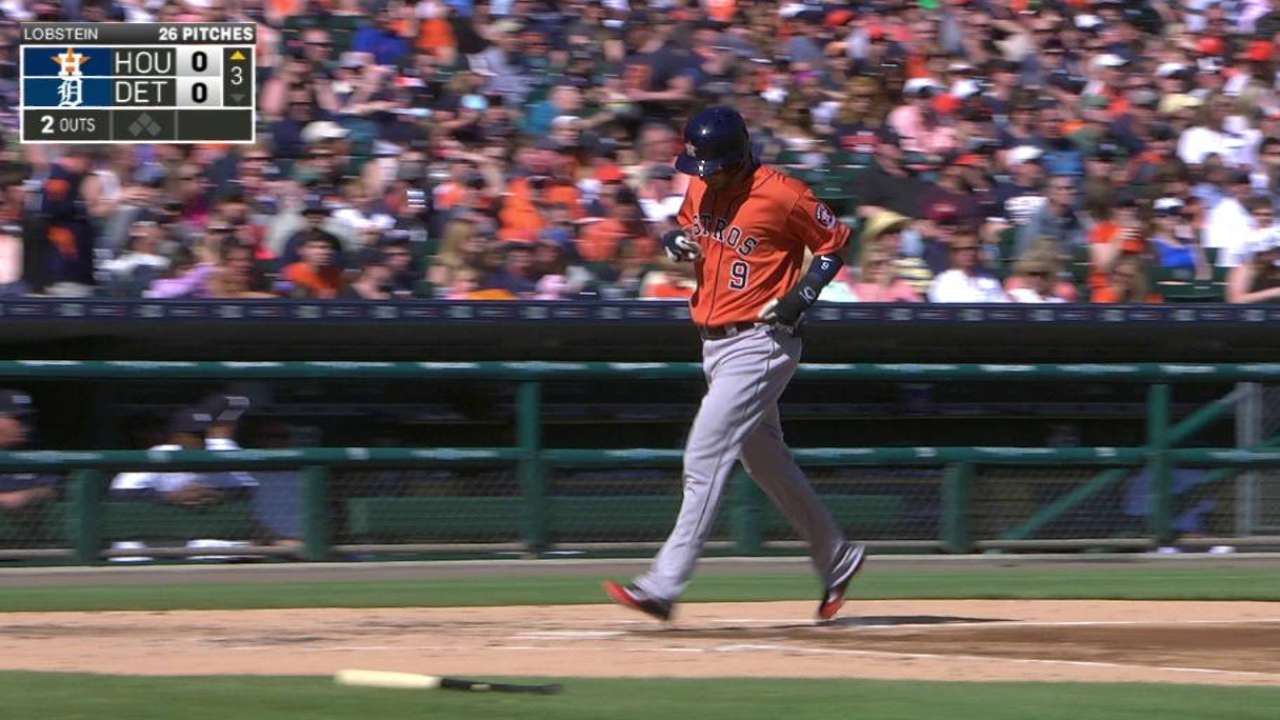 DETROIT -- Jose Altuve was out of the Astros' lineup Sunday for the first time this season, but manager A.J. Hinch isn't worried about any kind of slump.
Over the last eight games, Altuve is 3-for-32 (.094) with one walk and one RBI on a sac fly. But Hinch thinks nothing of it.
"He's not in a slump," Hinch said Sunday. "It's 30 at-bats. You call it a slump. I don't call it a slump. It's a tough league, man."
Altuve and Hinch both said the second baseman and reigning American League batting champion is perfectly healthy. Rather, the day off is simply about mental rest with upcoming travel to Baltimore. Since his first full season in the Majors in 2012, Altuve has played 501 of a possible 530 games.
"It's just part of a long season," Hinch said. "It's no secret he's been grinding mentally and physically, so this is more of a mental day off, to clear his mind a little bit. He wasn't going to play 162, so this one makes a little sense on a day game, with travel and a day game tomorrow. Altuve loves to play every day. We love having him out there, but it is a long year. He's been grinding mentally."
Hinch may not feel it's a slump, but he said earlier in the weekend that Altuve was chasing pitches a bit. Still, he wasn't concerned. Altuve's average on the season is still at a respectable .294, down from .338 before this stretch.
"Most hitters, you talk about pitch selection and what balls they're swinging at, the decisions they're making to either put the ball in play or take a pass at it. … More times than not, when the pitcher gets you to swing at a pitcher's pitch, even out of the strike zone, not a lot of success comes with that," Hinch said.
"When averages are up and there's much made about that, it starts trickling down a little bit. I think guys get a little bit overanxious chasing hits, trying to put every ball in play. Sometimes, you do, and when you put bad pitches in play, the pitcher has you right where he wants you."
For his part, Altuve noted that it's just part of the game.
"It happens sometimes," he said of the past eight games. "Sometimes, you hit. Sometimes, you don't. You're going to go out and play hard every day."
Chris Vannini is a contributor to MLB.com. This story was not subject to the approval of Major League Baseball or its clubs.