Red Sox place Victorino on 15-day DL
Boston adds Bianchi from Triple-A Pawtucket to fill roster spot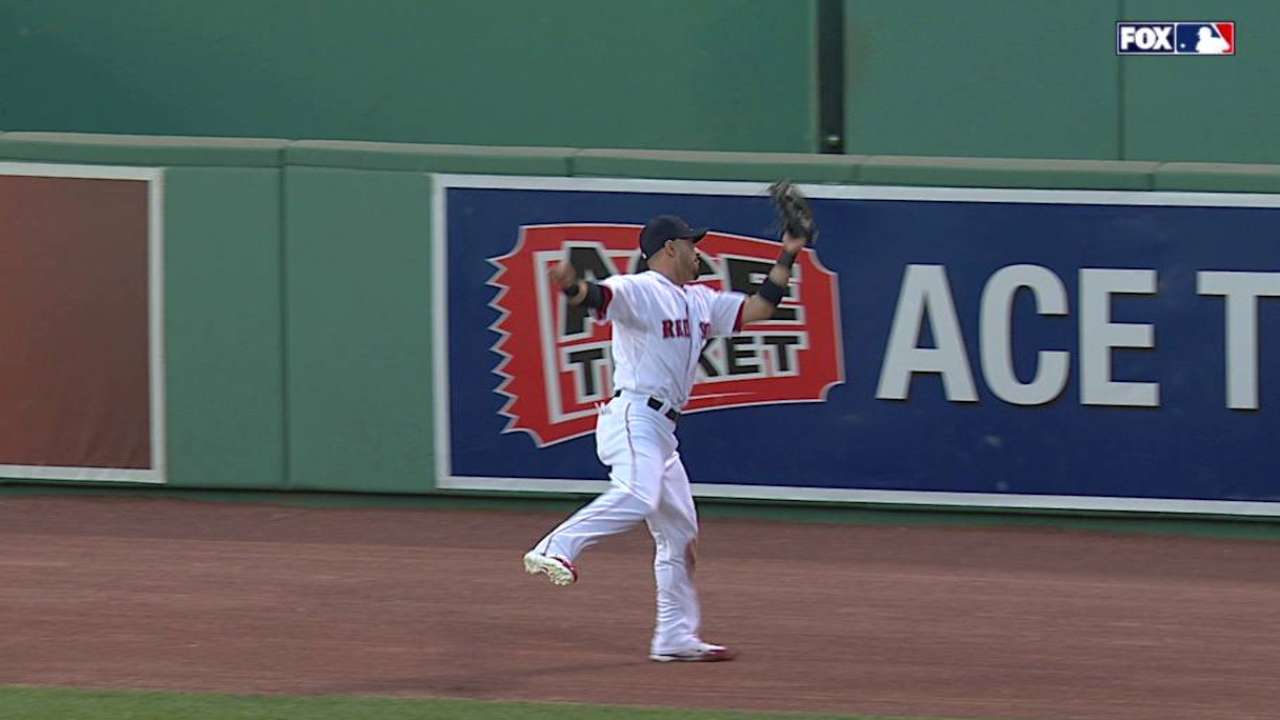 BOSTON -- When Shane Victorino is healthy, he's a spark plug for the Red Sox on offense and is capable of handling Fenway Park's sprawling right field on defense. However, the 34-year-old has rarely been at full strength this season.
Victorino's injury woes continued on Sunday, when Boston placed him on the 15-day disabled list with a left calf strain. He had exited the previous night's game with left calf tightness after aggravating the muscle on a catch at the warning track during the third inning.
The club selected infielder Jeff Bianchi's contract from Triple-A Pawtucket to fill the vacated roster spot.
Manager John Farrell said the turn of events have left Victorino frustrated and disappointed, but he added that the move needed to be made regardless.
"In defense, I think it's kind of hard to plan inning to inning rather than game to game," Farrell said.
Victorino, on the DL for the second time this year, missed time in late April and early May with a right hamstring strain. He had begun heating up at the plate since returning from that injury, going 9-for-20 in eight games and providing some needed production against left-handed pitching.
"I don't know that there's a stronger competitor in our clubhouse, and a guy who means a lot to this team when he's active," Farrell said. "Because then he feels like he can speak his mind. It's tough for a player to speak his mind when they're not active and in the mix. Vic is a vocal guy in our clubhouse. He's a guy that impacts the game as we've seen this year when he's on the field, in a number of ways. He'll be missed."
Since joining the Red Sox before the 2013 season, Victorino has only appeared in 172 games, including 50 over parts of the last two seasons.
"When you look at the performance when he came back to us this year after all that he's been through, you give him a tremendous amount of credit for the work that he's put in. I think any athlete who's taken out of competition because of injury, it's taxing mentally," Farrell said. "The number of times Vic has been on the DL or has missed anywhere from three to five games, it wears on him."
Bianchi hit .302 in 17 games at Pawtucket prior to the promotion. His experience at second base, third base and shortstop frees up utility man Brock Holt, who is expected to play more in the outfield in Victorino's absence.
The 28-year-old Bianchi, who spent the past three seasons in the Brewers organization, has appeared in 162 big league games during his career.
"What we saw in Spring Training, there's a lot of dependability, particularly on the defensive side," Farrell said of Bianchi. "His addition allows us to be a little more versatile with Brock to use in the outfield in a matchup that might be to our liking. The ability to play all three infield positions. Played all three with a lot of dependability in camp."
Alec Shirkey is an associate reporter for MLB.com. This story was not subject to the approval of Major League Baseball or its clubs.