Wacha moves to 7-0 with gem in KC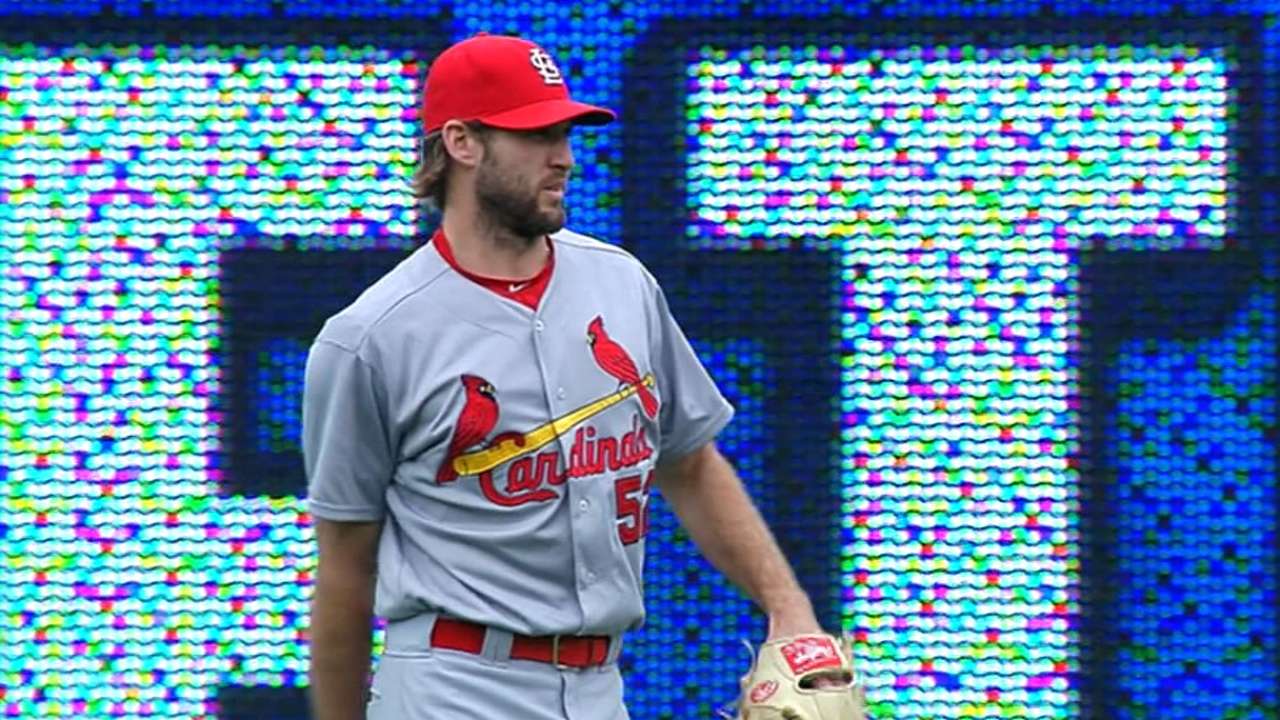 KANSAS CITY -- Michael Wacha allowed just one run on five hits in seven innings and Matt Carpenter delivered a two-run homer to lead the Cardinals to a 6-1 victory over the Royals on Sunday, preventing Kansas City from sweeping the three-game I-70 Series.
Wacha, 7-0, was given a 2-0 lead in the first on RBI hits by Jhonny Peralta and Matt Adams. An RBI single by Salvador Perez in the fifth chipped the Kansas City deficit to 2-1, but Carpenter then gave Wacha some breathing room with his two-run blast in the sixth off Royals starter Yordano Ventura, who allowed four runs on five hits while striking out seven in seven innings.
"Wacha's really good," Royals manager Ned Yost said. "He really spots his fastball well. A lot of times you can rate pitcher's pitches. ... All three [of his] pitches are really effective, good pitches. It's hard to rate them. They're all three so good."
The Cardinals, who are now 9-0 in games started by Wacha, snapped a three-game losing streak, while the Royals took their first loss in six games.
"Every time [Wacha] goes out there, you feel like you're going to win the game," Carpenter said. "That's a good place to be. That's a place [Adam] Wainwright was in when he was here and healthy."
MOMENTS THAT MATTERED
Perez turns tide: The Cardinals raced out to a 2-0 lead in the first inning, but their momentum was abruptly halted when Peralta was picked off at third base with nobody out. When Ventura's pitch got away from catcher Perez, Peralta came racing way down the line, but Perez gathered the ball and fired to third to easily catch Peralta in a rundown.
"That wasn't a snafu," Cardinals manager Mike Matheny said. "That's a fastball in the dirt. The angle you have from third base is you see the fastball bounce up out of his glove. You don't have the depth perception to tell how far it went. Jhonny takes two steps and the ball goes right back in his glove. It's one of those where you just have to tip your cap and shake your head."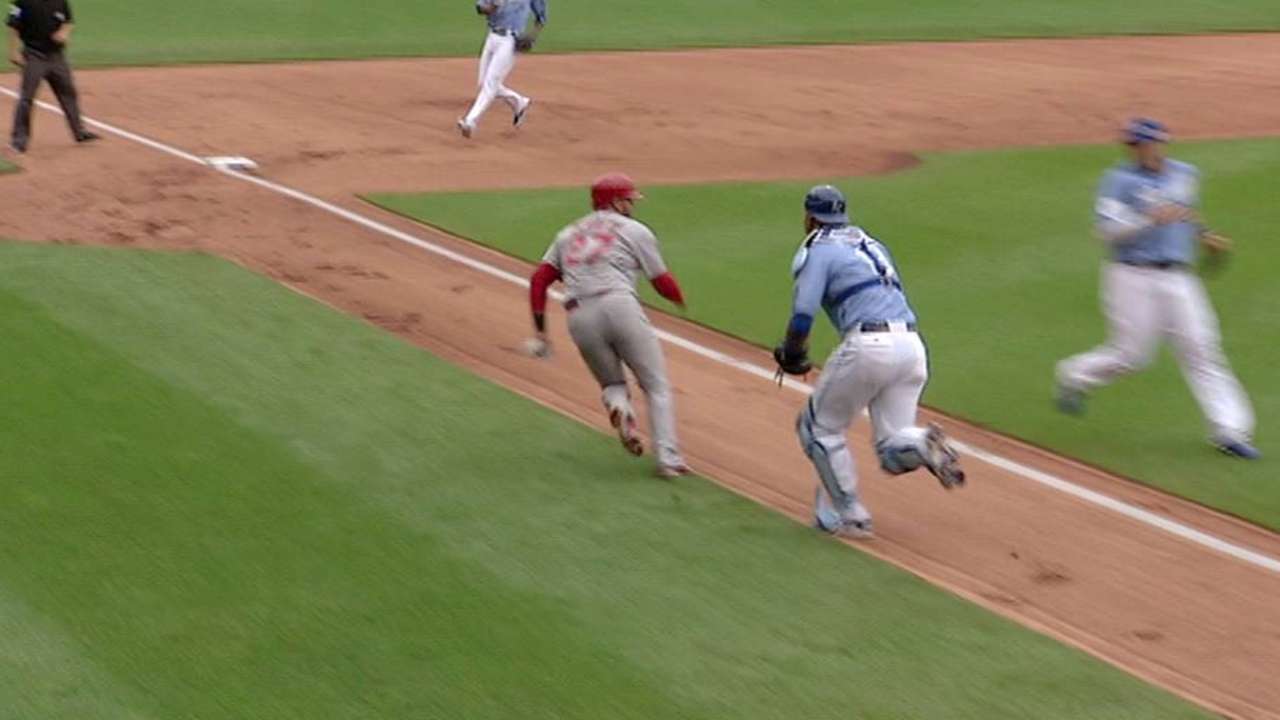 Carpenter goes deep: With the Royals back in striking distance after scoring in the fifth inning, Carpenter ripped a two-run homer just inside the right-field foul pole, scoring Kolten Wong and extending the Cardinals' lead to 4-1 in the sixth.
"He's just a pro," Matheny said. "We're big fans of the way he goes about his work, how he plays the game and how he respects the game and his teammates." More >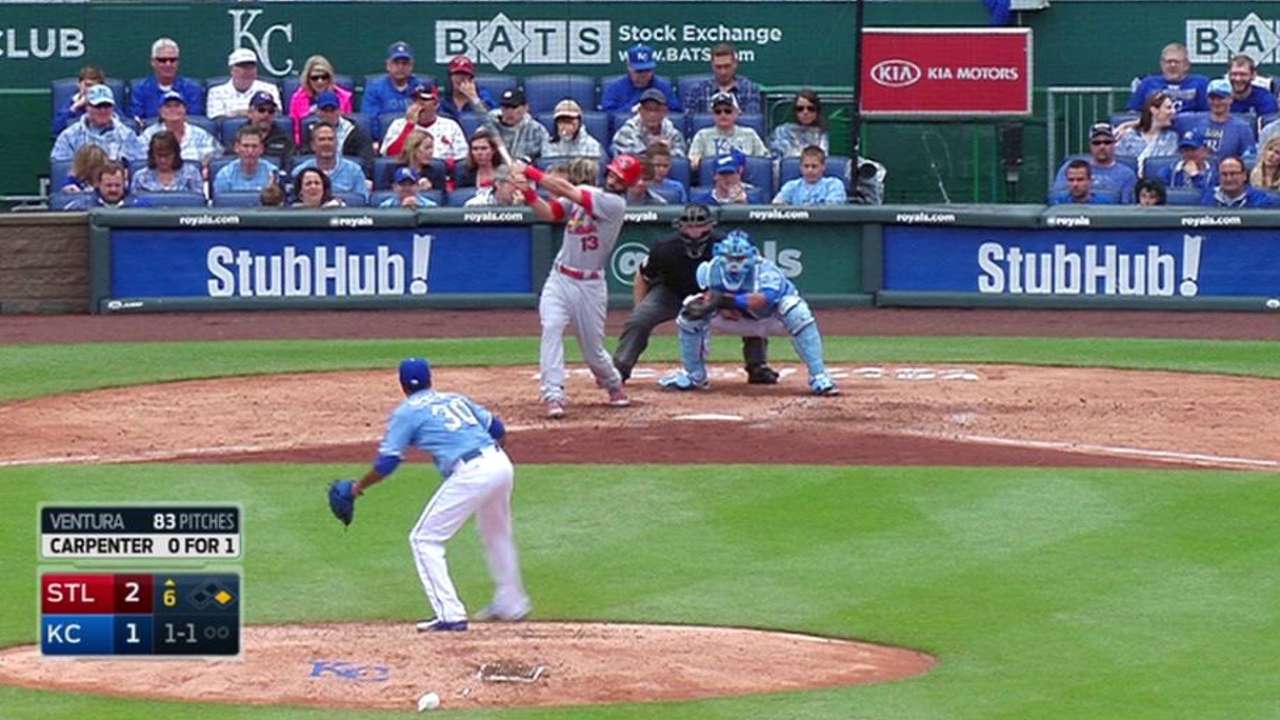 A step back for Ventura: After needing just 88 pitches for seven shutout innings in Tuesday's win over the Reds, Ventura walked the first two batters he faced in this one and allowed back-to-back RBI hits. He recovered to retire the next 14 hitters he faced, before Wong led off the sixth with a single ahead of Carpenter's homer.
"He was just missing. There were some pitches I thought could go either way that resulted in walks," Yost said. "The one bad pitch he made all day was he pulled a changeup to Carpenter up and in, and he hit it down the line." More >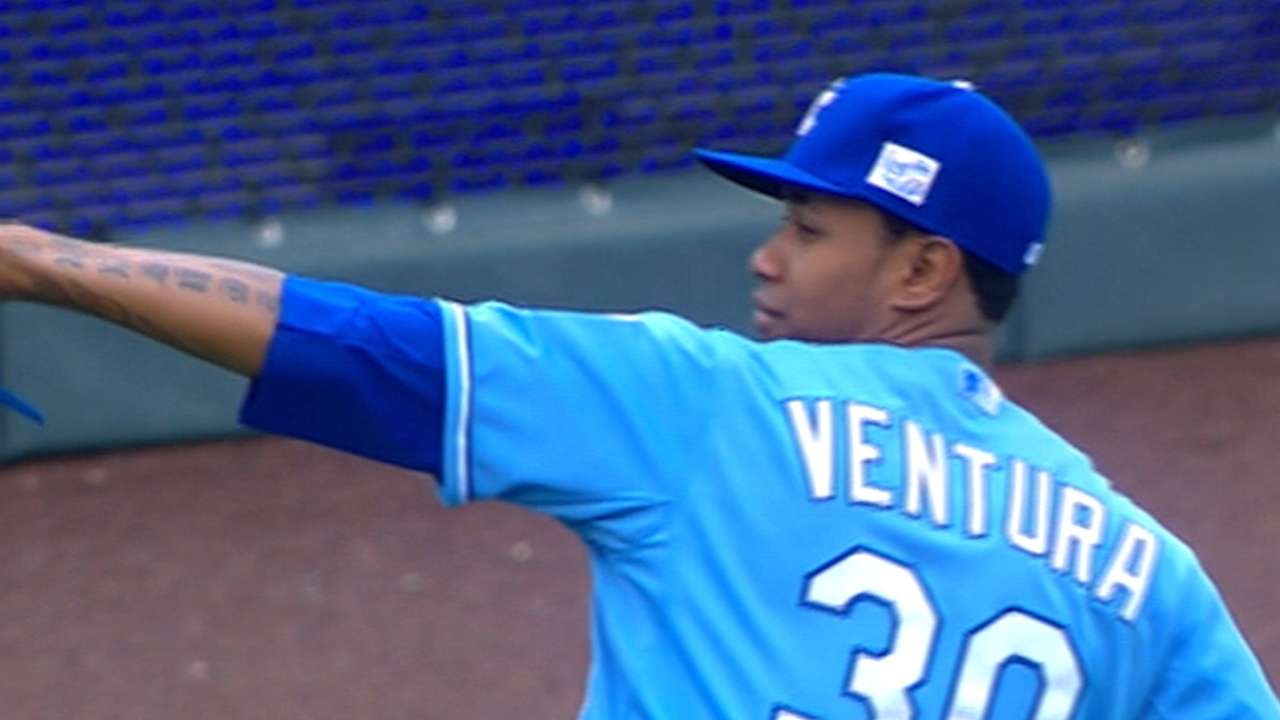 Wacha's gem: Wacha's key moment came in the sixth when, with a 4-1 lead, he faced Alex Gordon with two outs and the bases loaded. Wacha won the battle by retiring Gordon on a fly ball to right.
"I knew they would be coming in there pretty aggressive," Wacha said of the Royals' hitters. "You have to be more aware of where your first strikes go. They really force you to locate. Making a good, quality first-pitch strike was the plan." More >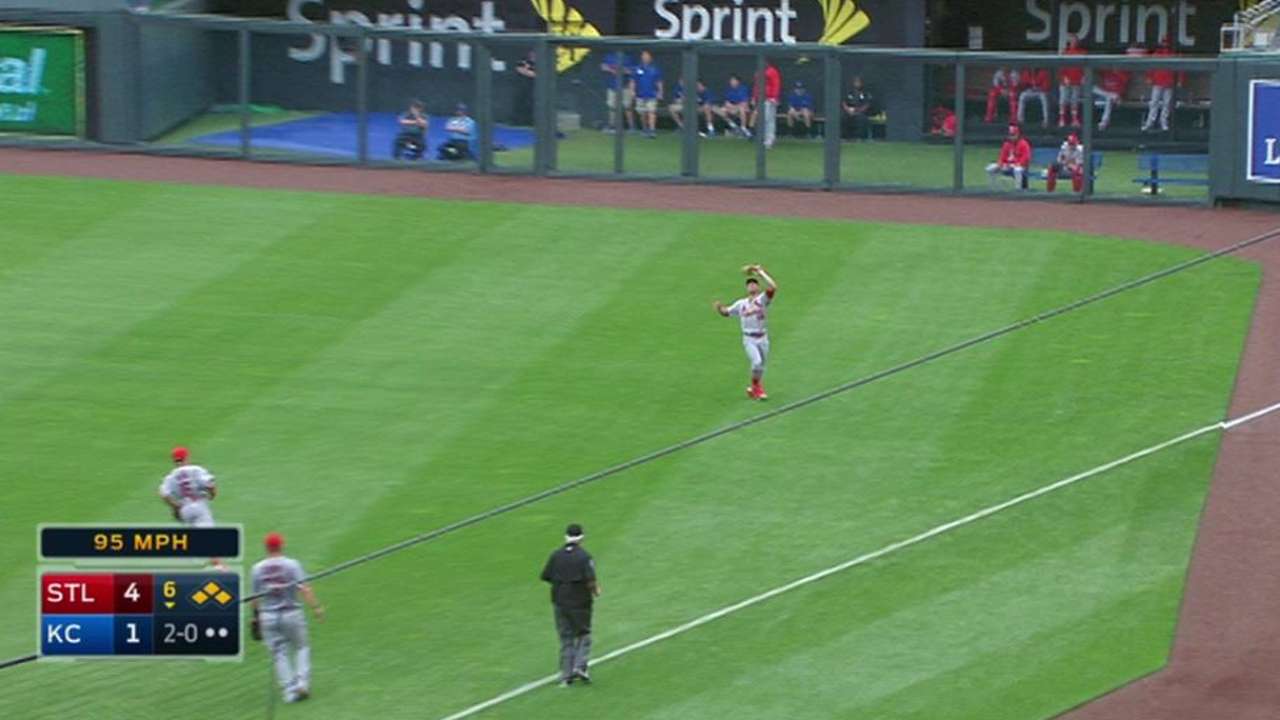 SOUND SMART WITH YOUR FRIENDS
Center fielder Peter Bourjos' error in the fifth inning was the first error for a Cardinals outfielder this season.
WHAT'S NEXT
Cardinals: The Cardinals will head back to St. Louis for a nine-game homestand, opening a three-game series against the D-backs on Monday at 3:15 p.m. CT. Right-hander Carlos Martinez (4-2, 4.08 ERA) will look to build off his 6 1/2 shutout innings in Wednesday's win over the Mets. Martinez surrendered four hits and two walks and had five strikeouts.
Royals: The Royals will hit the road for six straight games, opening a three-game series with Yankees on Monday at Yankee Stadium at 12:05 p.m. CT. The Royals will go with Jeremy Guthrie (4-2, 4.75 ERA), who will look for his fourth straight win after tossing six shutout innings in Thursday's win over the Reds. Guthrie, a former Oriole, has a career 4.92 ERA in 19 games against the Yankees.
Watch every out-of-market regular-season game live on MLB.TV.
Robert Falkoff is a contributor to MLB.com and Jordan Wilson is an associate reporter for MLB.com. This story was not subject to the approval of Major League Baseball or its clubs.