Tucker, Castro power Astros past Tigers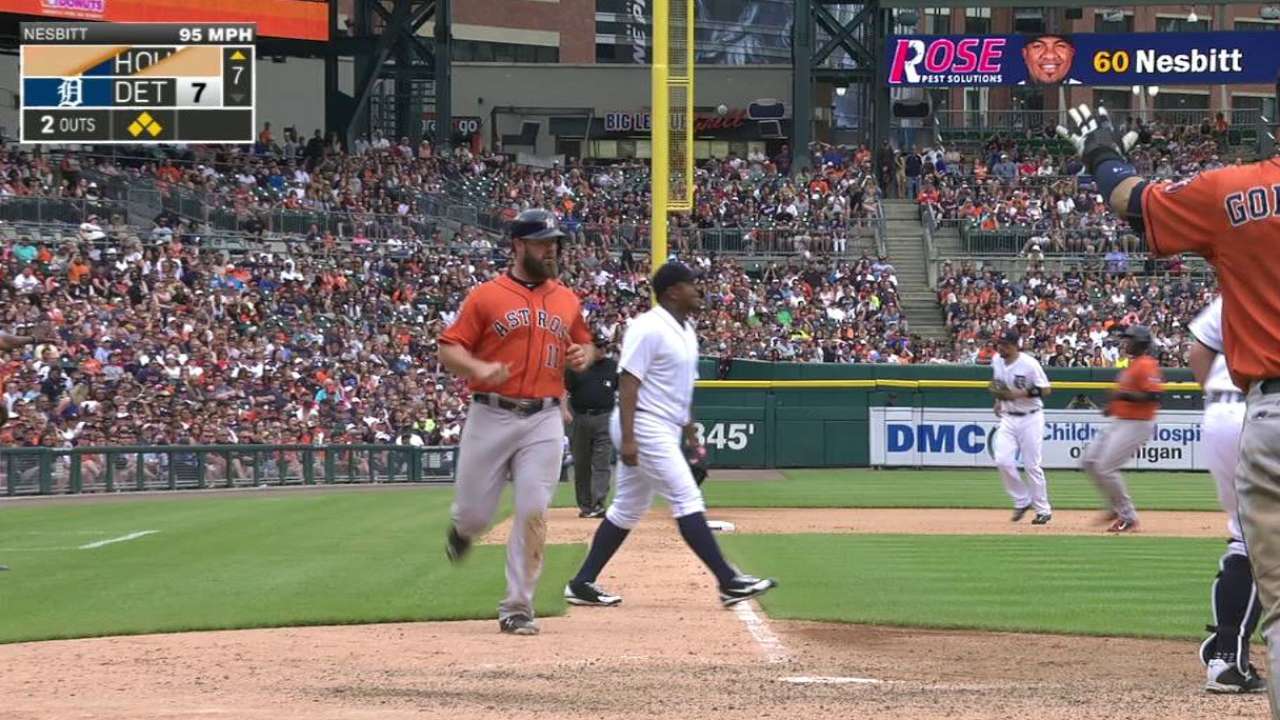 DETROIT -- Preston Tucker's second game-tying homer in four days and Jason Castro's go-ahead two-run single powered six unanswered Astros runs off Anibal Sanchez and the Tigers' bullpen, salvaging a four-game series split for Houston with a 10-8 win in Sunday's finale at Comerica Park.
A game that began with a 36-minute, eight-run opening inning seemingly had settled down with the help of Sanchez, who struck out 11 of the 27 batters he faced. With a 7-3 lead in the sixth inning, however, Sanchez alternated hits and strikeouts -- including Evan Gattis' leadoff homer -- until Tucker pinch-hit for Jake Marisnick as the potential tying run and sent a drive deep to right.
"You never send somebody up there and tell them to homer," Astros manager A.J. Hinch said, "but that's clearly a situation where, if you're going to get one at-bat, with him up to bat -- it fell with Marisnick, who obviously is a threat in his own right, doubled earlier in the day -- but that matchup with Tuck was what we were waiting on."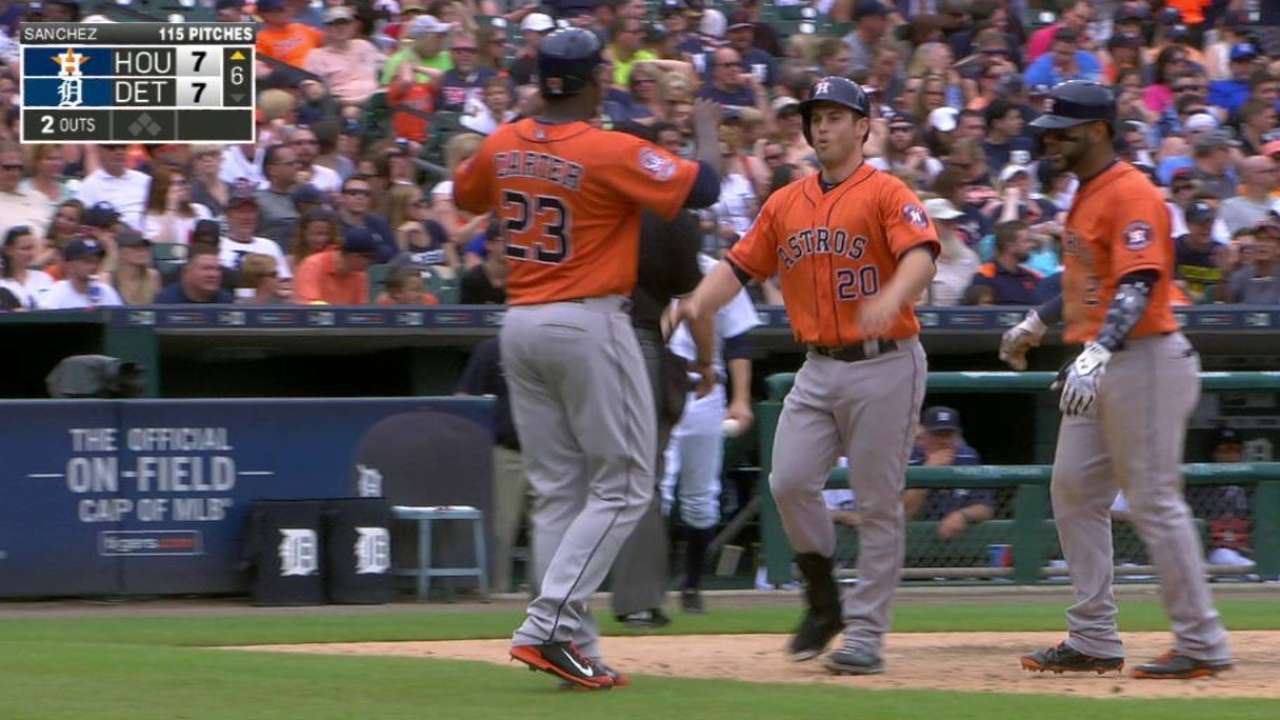 Gattis' home run gave him 27 RBIs in the past 27 games, dating back to April 26.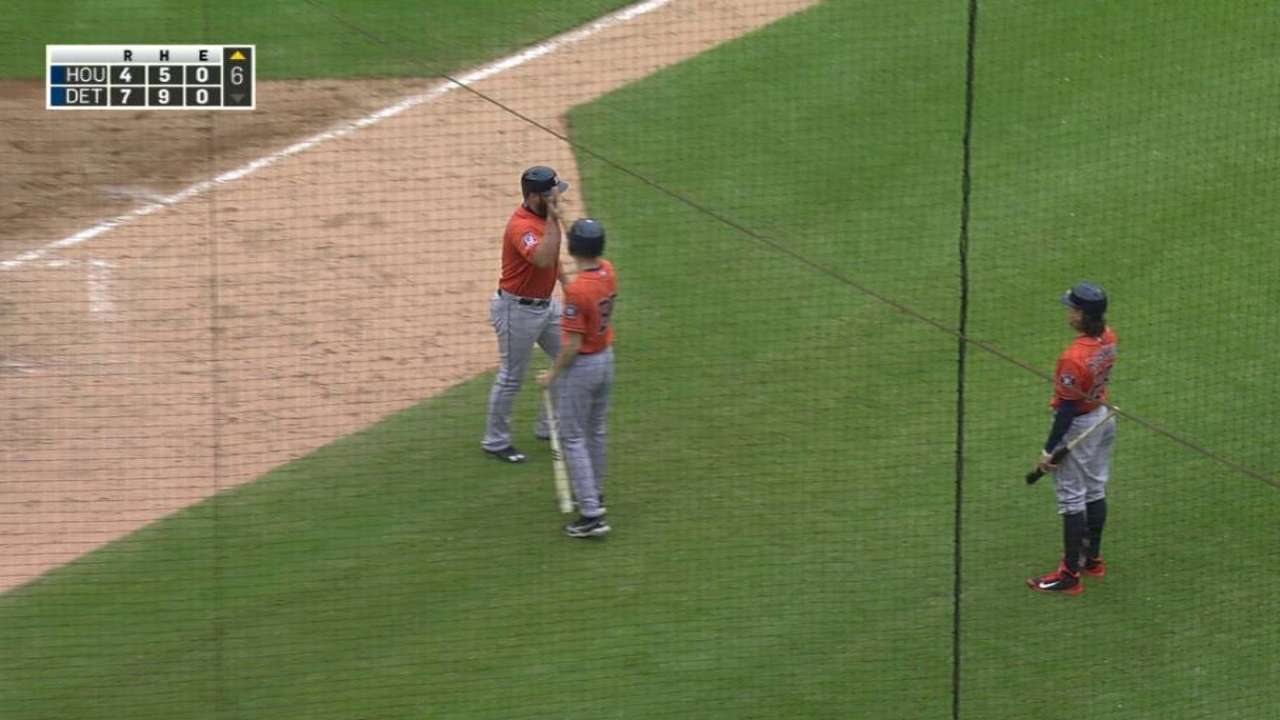 The Astros' rally continued off Alex Wilson, who gave up a pair of singles in the seventh, and rookie Angel Nesbitt, whose two-out walk to Chris Carter to load the bases proved costly once Castro worked the count full and sent a ground ball through the right side. Gattis went 3-for-4 with three RBIs, falling a double shy of the cycle. Bryan Holaday paced Detroit with three RBIs on a bases-clearing double in the first inning.
"This one bothered me," said Tigers manager Brad Ausmus, whose team fell into third place in the American League Central with the loss and a Minnesota win over the White Sox. "I thought we were a little sloppy, and as a manager I'm partially to blame for that. But it disturbs me when we score eight runs and we lose."
MOMENTS THAT MATTERED
Sanchez sinks in sixth: Sanchez recovered from a rocky opening inning to retire 14 of 16 batters, nine of them by strikeout. Once Gattis golfed out his breaking ball for a homer leading off the sixth, however, the Astros got to Sanchez again, eventually bringing the tying run to the plate. Ausmus stuck with Sanchez at 111 pitches against Tucker, who made him pay. More >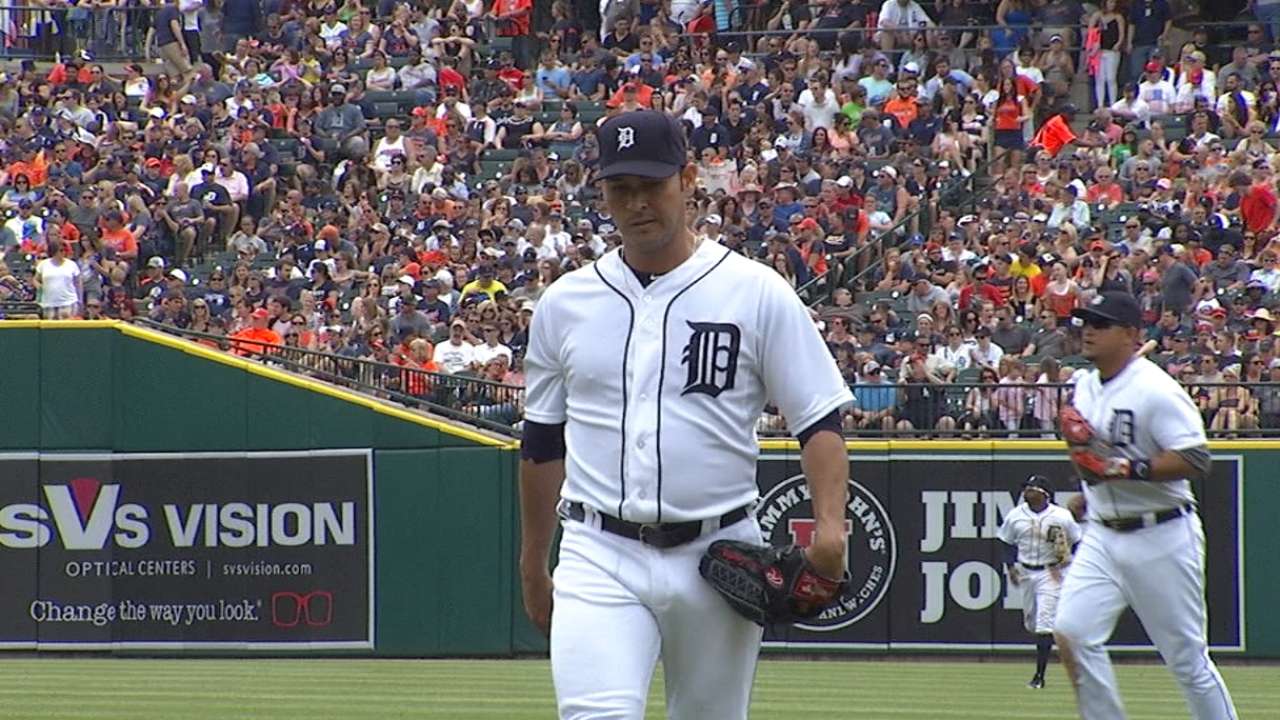 "I tried to go soft and down, but I left it a little bit up," Sanchez said, "and that's why he put a good swing on it."
Hesitation costs Houston early: With runners on first and second with two outs in the first, the Astros appeared set to get out of the inning when Detroit's Rajai Davis hit the ball to Astros first baseman Carter. But pitcher Roberto Hernandez didn't cover the base quick enough, and Davis slid in safely. A three-run double in the next at-bat gave the Tigers a 5-3 lead. It was the second game in a row that the Astros allowed an infield single on a ball hit to first base.
Castro comes through: With the bases loaded, two outs in the seventh and facing a full count, Astros catcher Castro singled to right field to score two runs and give the Astros a 9-7 lead. It marked six straight unanswered runs for Houston. The Astros lead the Majors with 81 runs scored in the seventh inning or later. More >
"We had hit into their shift a couple different times, but with the alignment of the baserunners, they couldn't overshift the way they normally do, and that went right into the area," Hinch said.
Nesbitt didn't have it: Nesbitt has looked solid in tight situations for Detroit this year, but he looked every bit a rookie Sunday. He entered to face Carter, who was 1-for-17 with two outs and runners in scoring position this year, and ended up walking him to bring up Castro, then gave up an add-on run on two singles in the eighth.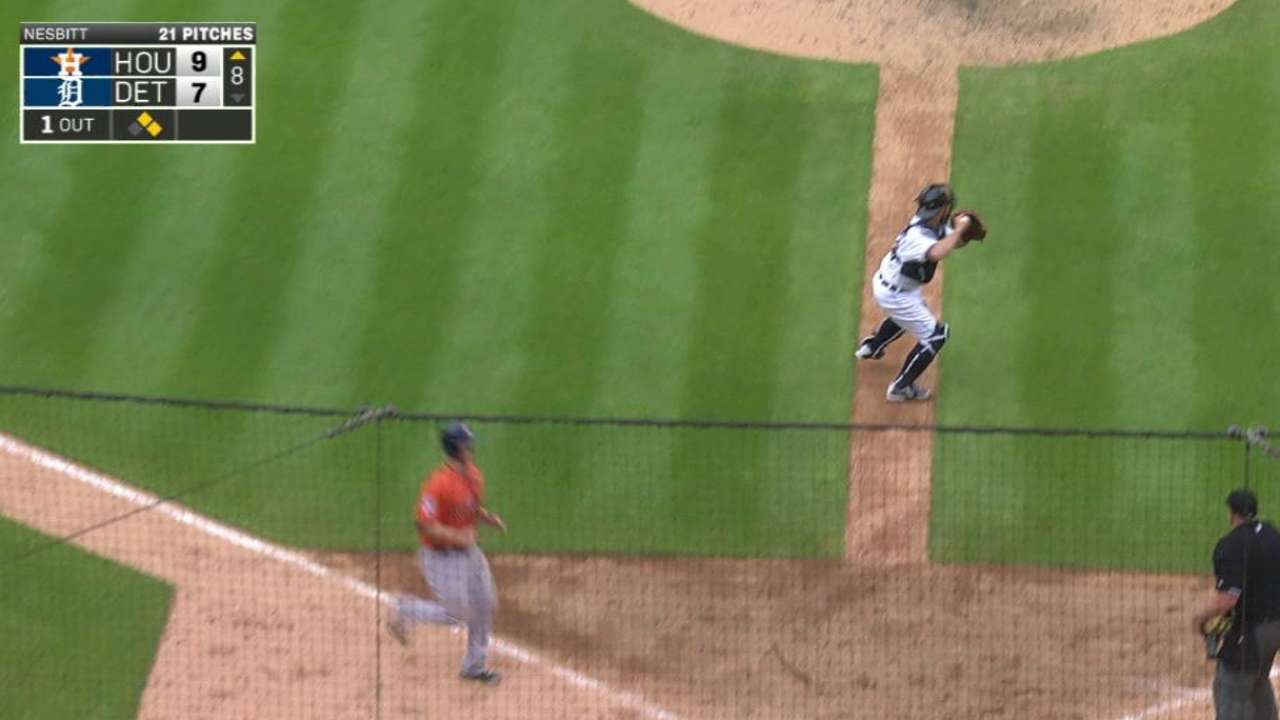 "Nesbitt's a young kid, he's a rookie," Ausmus said. "Looked a little bit nervous his first couple outings but he's been darn good since then. He wasn't gonna be perfect, and he hit a little bit of a speed bump, but it doesn't concern me about him. I think he'll be fine if we need him tomorrow."
QUOTABLE
"He dominated Triple-A. He didn't get here on accident. I'm just glad to see him get an opportunity up here, and glad to see he's making the most of it." -- Gattis, on Tucker
SOUND SMART WITH YOUR FRIENDS
Tucker's sixth-inning pinch-hit home run was his second of the series, making him the first player in Astros history with two pinch-hit home runs in a single series, according to Elias Sports Bureau. They're also the first two home runs of Tucker's career.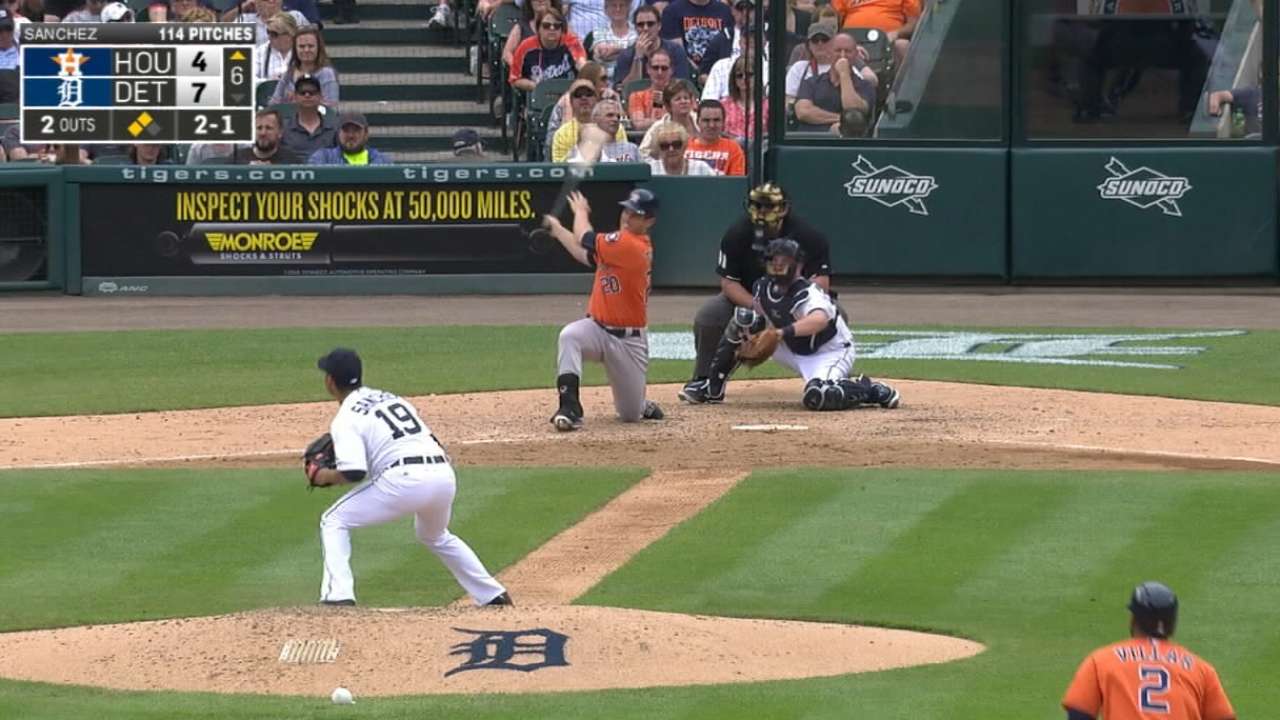 REPLAY REVIEW
Saturday's game saw a managerial challenge after the first pitch. Sunday's game saw one after the second batter. Houston's Marwin Gonzalez was initially called out at first after sliding in on a ground ball to first, but he was ruled safe after a challenge by Hinch and a one-minute review. Hinch has been successful on five of seven challenges this season.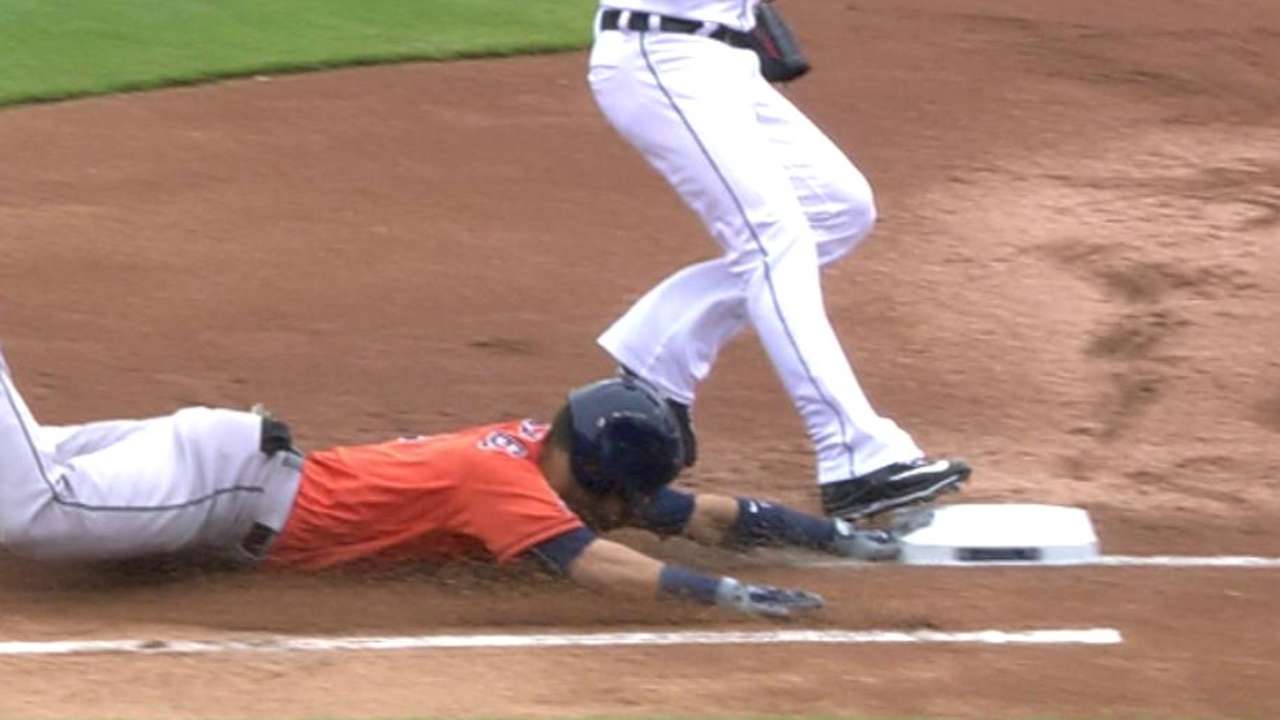 WHAT'S NEXT
Astros: Houston heads to Baltimore for a three-game series. Dallas Keuchel will be on the mound looking to move to 7-0. He's the first Astros starter to begin a year 6-0 since Roger Clemens in 2004. Monday's opener begins at 1:35 p.m. ET.
Tigers: Detroit ventures west for a seven-day, seven-game California trek, starting with a Memorial Day matinee in Oakland. Shane Greene will pitch the series opener against the Athletics in a 4:05 p.m. ET start.
Jason Beck is a reporter for MLB.com. Read Beck's Blog and follow him on Twitter @beckjason. Chris Vannini is a contributor to MLB.com. This story was not subject to the approval of Major League Baseball or its clubs.