Already-thin Cards scratch Holliday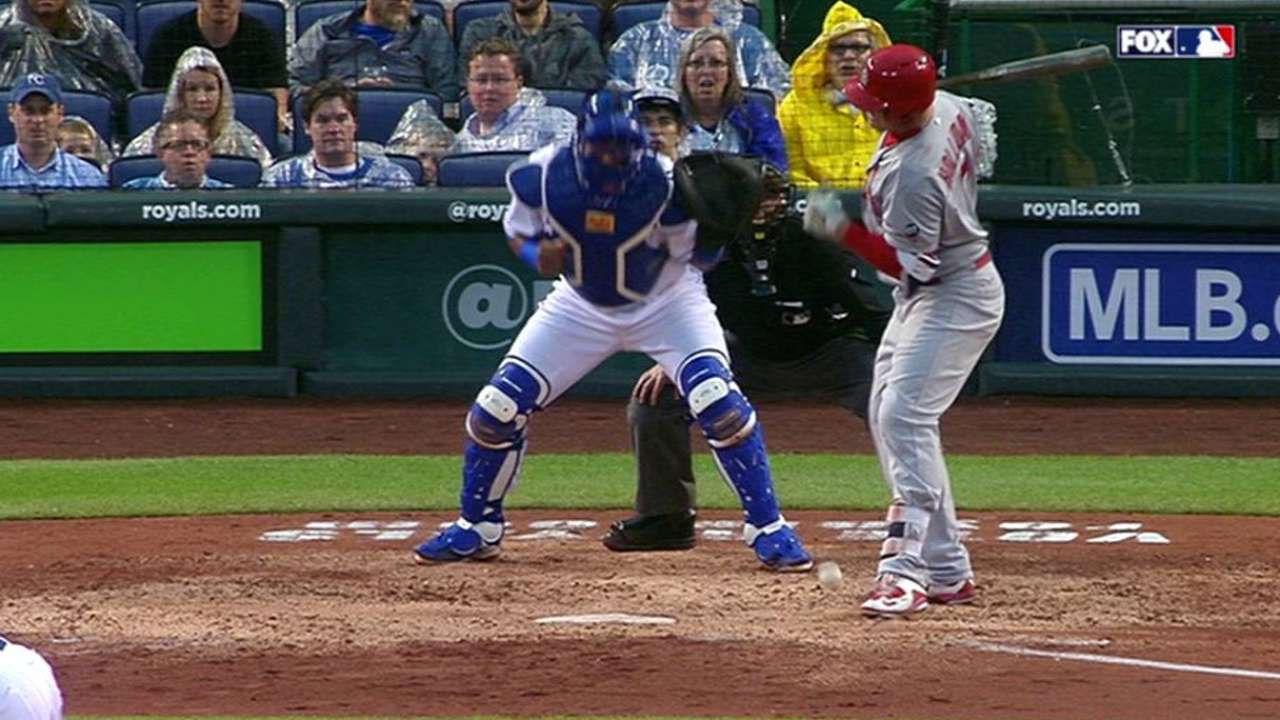 KANSAS CITY -- Matt Holliday was a game-time scratch from the Cardinals' lineup on Sunday due to a left forearm contusion. Holliday suffered the contusion Saturday night in the fifth inning when he was hit by a Edinson Volquez pitch.
"Matt got hit in the exact same spot where [Corey] Kluber hit him [on May 13]," Cardinals manager Mike Matheny said. "He got treatment all day and hopefully he'll be good tomorrow."
With Jason Heyward dealing with some tightness in his left hip, Jon Jay battling back from left wrist tendinitis and now Holliday's forearm contusion, the Cardinals have some moving parts to consider as they contemplate their outfield picture moving forward.
Mark Reynolds took Holliday's spot in left field on Sunday. Although the Royals started a right-hander in all three games of the I-70 Series, the left-handed-hitting Heyward wasn't healthy enough to start Saturday or Sunday.
"Just another day to get him better," Matheny said prior to Sunday's series finale. "That's the advantage. ... We've got guys playing well in the outfield. Let them go a little bit. It gives [Heyward] another day to heal up."
Matheny added that he didn't think there were any long-term concerns regarding Heyward's hip issue.
With Jay eligible to come off the disabled list on Tuesday and the Cardinals returning to National League play after a weekend using designated hitters, Matheny will soon have to decide the best way of utilizing his overall outfield personnel.
Worth noting
• As a former catcher, Matheny can't help but marvel at the work of the main men behind the plate in the I-70 Series. Yadier Molina of the Cards and Salvador Perez of the Royals are both multiple Gold Glove winners who aren't afraid to throw the ball anywhere at any time.
"There are similarities," Matheny said. "One is the fearless approach to the position. A lot of catchers, myself included, play not to make mistakes. These guys are always looking for an opportunity to shine. Pickoffs in any situation, and there's a leadership component to both of them too. There's an intensity to the pitch-calling and where they put their targets. It's just different."
Robert Falkoff is a contributor to MLB.com. This story was not subject to the approval of Major League Baseball or its clubs.