Showalter addresses Matusz's ejection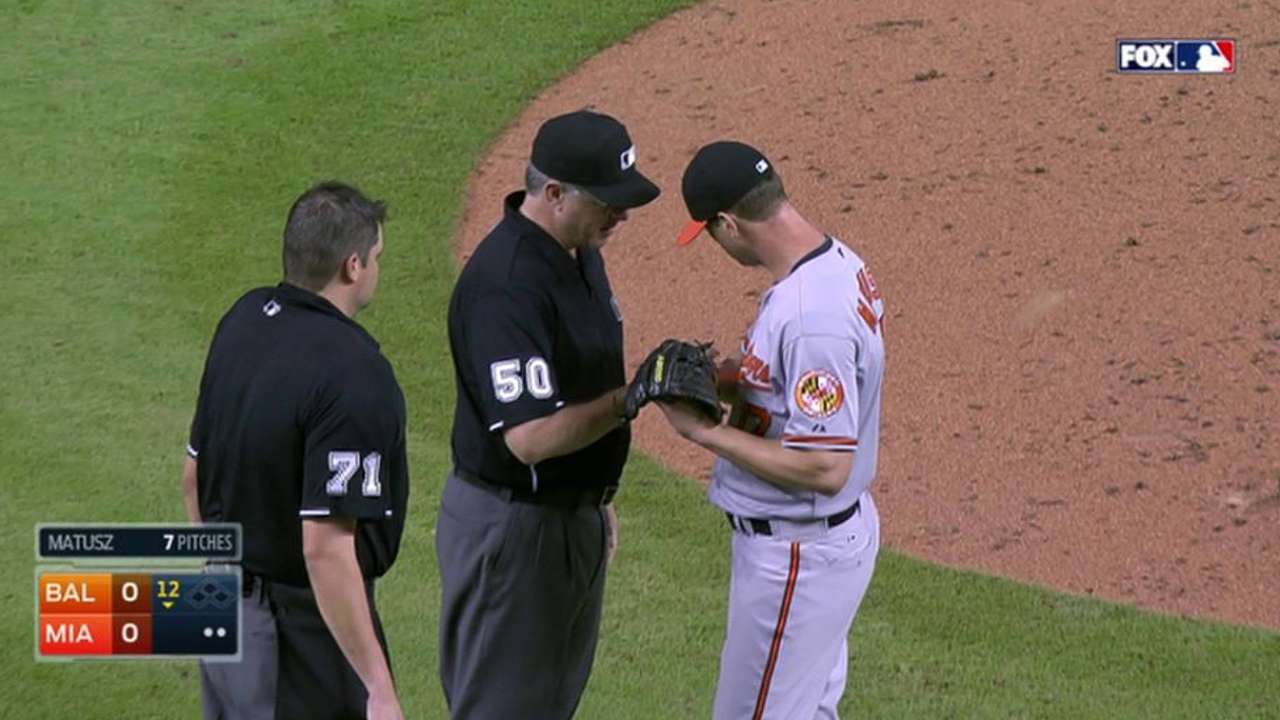 MIAMI -- In light of Orioles reliever Brian Matusz's ejection from Saturday night's game against Miami for having a foreign substance on his arm, Baltimore manager Buck Showalter discussed the issue prior to Sunday afternoon's series finale.
"We all understand the crux of the problem is gripping the ball," Showalter said. "Someone may say -- I believe [Hall of Fame pitcher] Jim Palmer said today -- you alter the flight of the ball by being able to grip it better. Why do we put mud on the ball? Which I think is a pretty archaic ploy."
Matusz was ejected from the O's 1-0, 13-inning loss with two outs in the bottom of the 12th inning. Miami manager Dan Jennings requested the lefty be inspected by the umpiring crew. Showalter and Matusz did not argue the decision.
It marked the second time in the previous three days that a Major League pitcher was ejected for having a foreign substance on his arm. Brewers pitcher Will Smith was tossed from Thursday's game against Atlanta and has since been suspended eight games.
Matusz is still waiting on the punishment for his ejection, which should be announced on Monday.
When asked if the issue was specific to Matusz and Smith, Showalter said, "No, of course not.
"Let's don't kid ourselves, alright," he added. "A lot of times the people who [challenge] these things haven't had to stand on a mound in front of 30,000 people trying to grip a ball. But I understand it's a rule. I got it."
A frustrated Matusz chose his words carefully Saturday night following his ejection.
"We're not going to address the issue right now," Matusz said. "Obviously I have my own personal opinions about the issue, but right now with emotions running high, we're going to let this settle and address questions at a later time."
Showalter said Matusz would be available to pitch in Sunday's contest, while waiting on disciplinary action from the league.
Steve Wilaj is an associate reporter for MLB.com. This story was not subject to the approval of Major League Baseball or its clubs.