Blanco nabbed at third to snuff rally
Giants' win streak ends after double play in ninth; review also looms large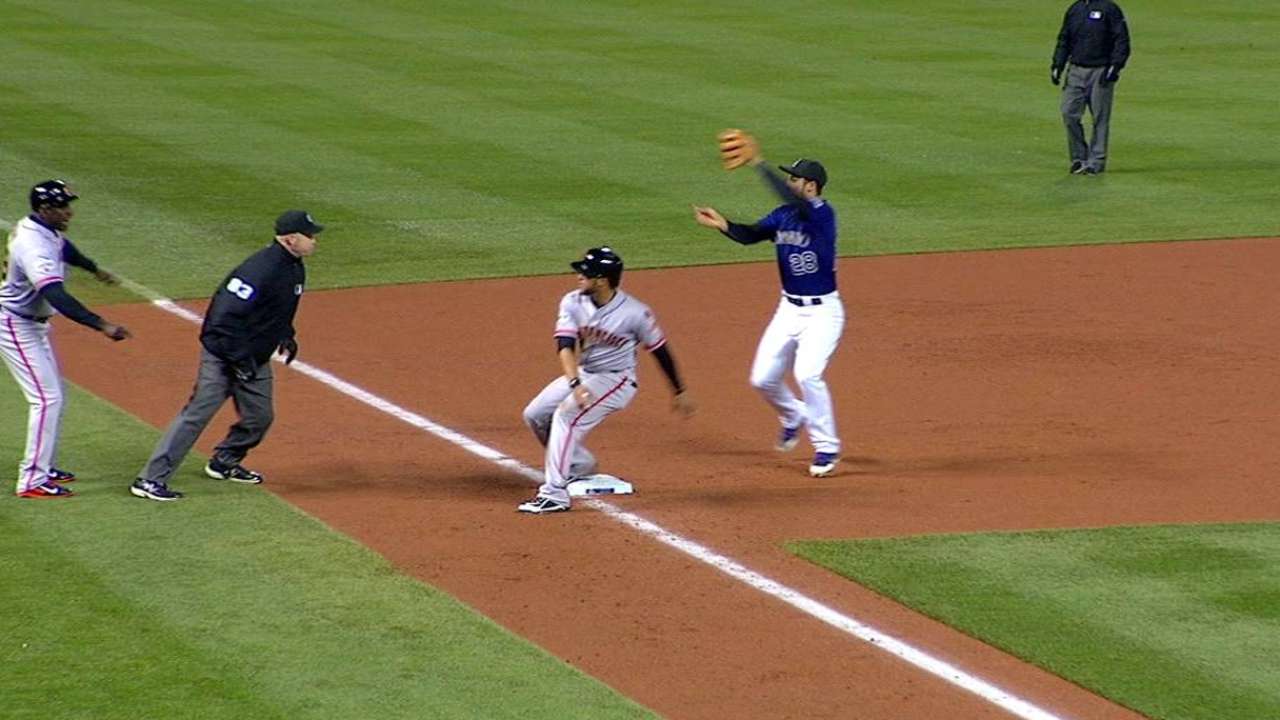 DENVER -- A slide that wasn't and a slide that was conspired to end the Giants' eight-game winning streak Saturday night.
Their 5-3 loss to the Colorado Rockies couldn't be pinned directly on Gregor Blanco's decision not to slide into third base on a ninth-inning double play or Casey McGehee's fifth-inning run that was nullified by a replay review.
But after remaining ultra-competitive for two solid weeks -- they hadn't trailed by as many as two runs since losing 6-2 to Miami on May 9 -- the Giants were reminded that it didn't take much to slip back into the land of the losing.
They seemed poised to launch a threat in the second game of a day-night doubleheader when Blanco singled off Rockies closer John Axford to open the ninth inning. Blanco stole second base, then opted to tag up and try for third when pinch-hitter Angel Pagan flied out to center. Rockies third baseman Nolan Arenado appeared to feign indifference as Blanco churned toward third, even as Charlie Blackmon's accurate one-hop throw was arriving. Arenado took the throw and tagged out Blanco, and the rally was over. Simple as that.
• Blanco strikes out, somehow ends up at third base
Giants manager Bruce Bochy called Blanco's dash to third a "mental mistake," since he already was in scoring position and didn't need to advance an extra 90 feet in that situation. Blanco had no choice but to agree. He explained he was looking not at Arenado, but at third-base coach Roberto Kelly.
"He did kind of tell me to slide," Blanco said. "But I was kind of in between, so didn't know what to do. It's still my fault. I should have told myself that it was a closer play than what I thought. It's one of those deals that makes you aware for the next time."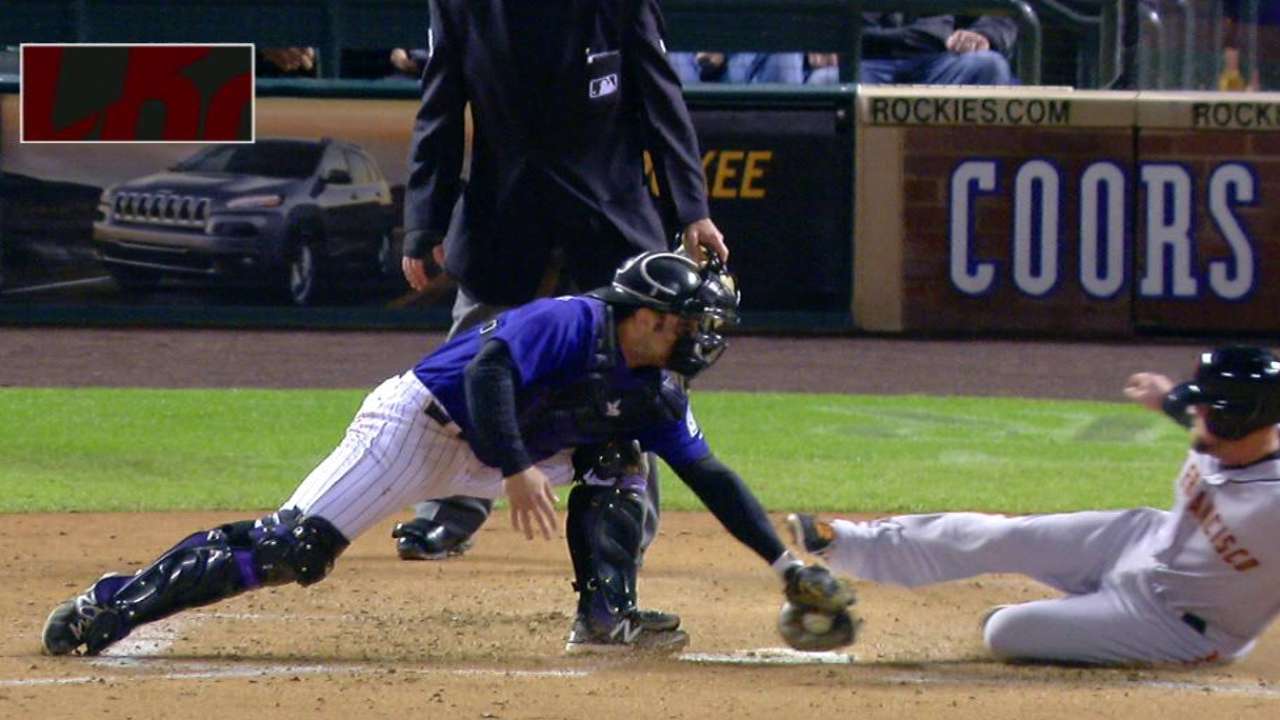 McGehee appeared destined to give the Giants a 3-2 lead in the fifth inning when he and Justin Maxwell scored on Nori Aoki's two-out single. But the Rockies challenged the safe call on McGehee and were proven correct. Video replays proved that though McGehee beat right fielder Carlos Gonzalez's throw home, catcher Michael McKenry made the tag before either of McGehee's legs or feet actually touched home plate.
Pointing out that the dirt surface lacked any shock-absorbing tendencies, McGehee said, "When I hit [the dirt], I kind of went back instead of keeping my foot down. I felt like I got a good jump. CarGo's got a bazooka out there, so you know you've got to get it going."
Chris Haft is a reporter for MLB.com. Read his blog, Haft-Baked Ideas, follow him on Twitter at @sfgiantsbeat and listen to his podcast. This story was not subject to the approval of Major League Baseball or its clubs.