Maddon says Rizzo is in 'class by himself'
Skipper praises young first basman after monster night at plate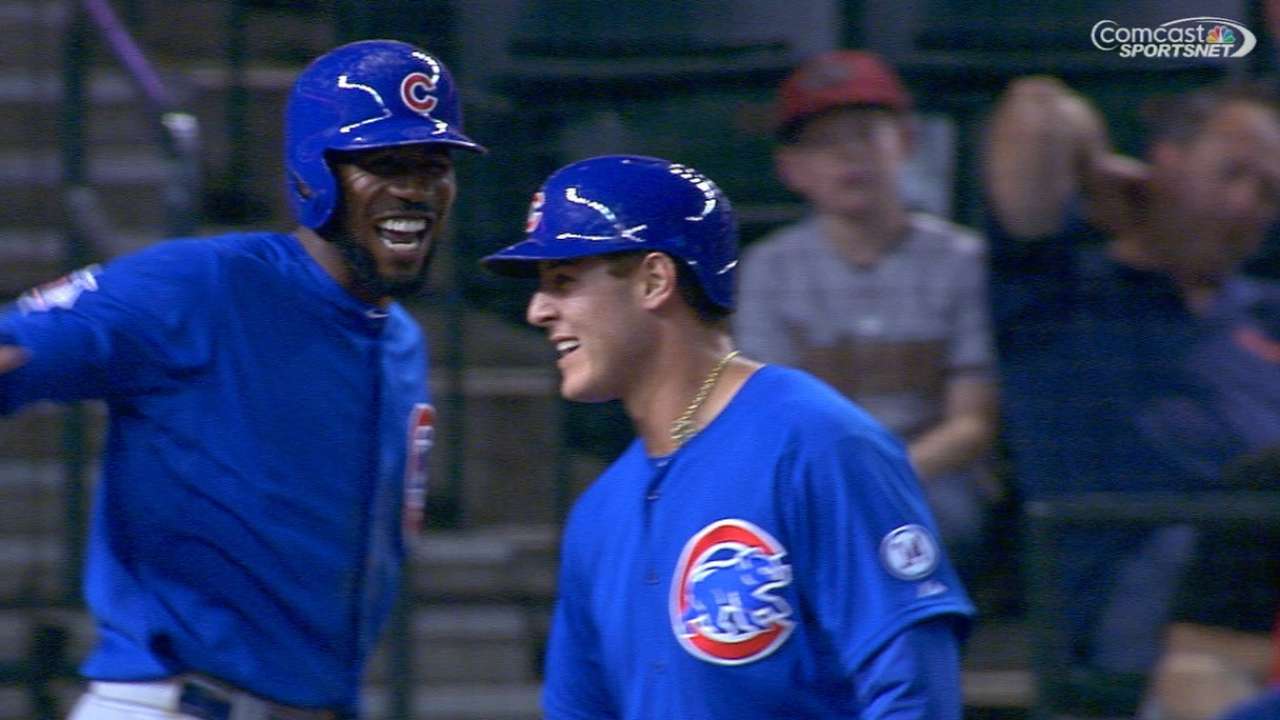 PHOENIX -- Joe Maddon is seeing Anthony Rizzo on a day-to-day basis for the first time, and says the young first baseman is in a class by himself.
"He has high standards, really high standards for himself," Maddon said Saturday after Rizzo drove in six runs, including three on a game-winning home run in the ninth, to lift the Cubs to a 9-6 victory over the D-backs. "I've really enjoyed it. I've not seen that kind of play for this long."
Rizzo was 2-for-16 in four previous games on this road trip to San Diego and Arizona, and got started with a three-run double to the opposite field in the fifth which opened a 4-3 lead. The D-backs rallied, and the game was tied at 6 when Rizzo connected off Enrique Burgos with one out and two on in the ninth.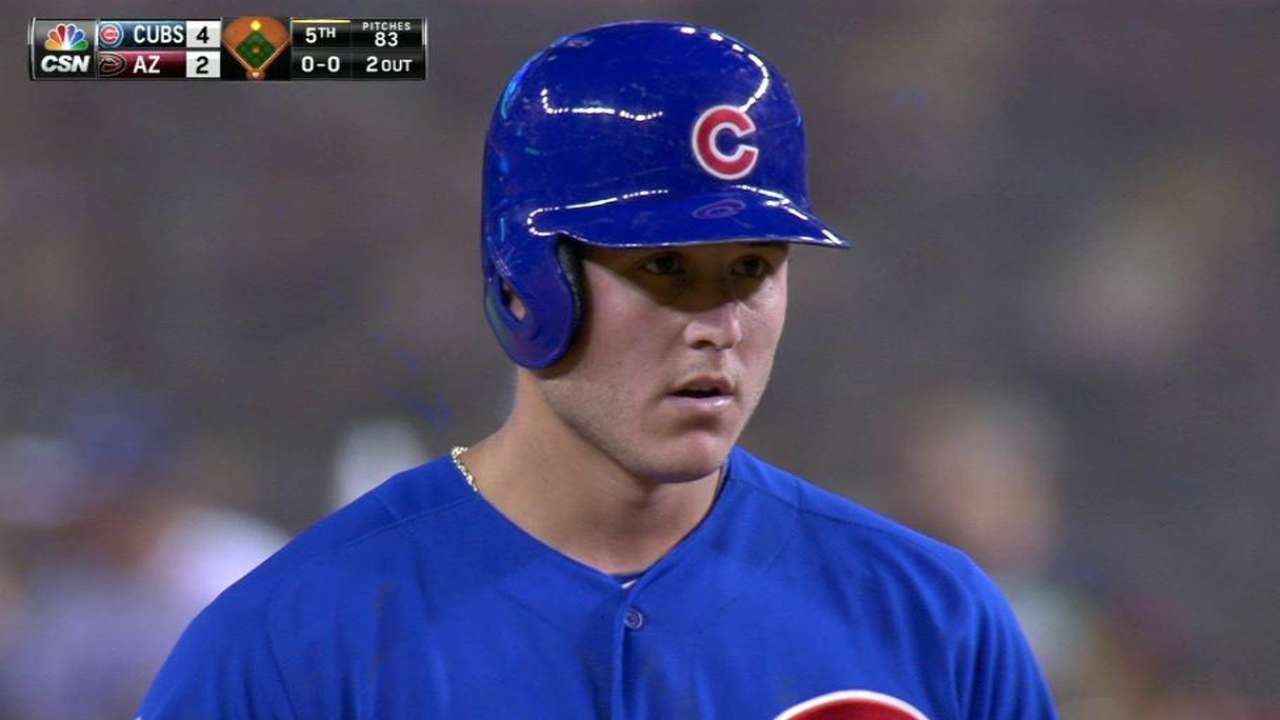 The six RBIs tied a career high for Rizzo, who also drove in a half dozen runs on Sept. 16, 2012, against the Pirates. That's also the last time he's hit a home run with more than one runner on base prior to Saturday.
"He's in that really elite group of baseball players regarding how they work an at-bat," Maddon said. "On top of that, he's a very good defender. Now he's turning into a really good baserunner. He's really elevated his game on all levels."
Jake Arrieta watched Rizzo up close last season. He knows.
"He put us on his back and carried us to victory," said Arrieta, who started, but did not get a decision. "That's what I expect from him from time to time. He's our best player. He's elevated his game to a new level this year. Having said that, he's been at a high level, but he's taken it up to the next level and that's impressive."
Rizzo thought his double had cleared the fence.
"That's bad aiming," he said. "That's what happens when you get into these little, I want to say, funks. The [home run], I wasn't sure about because I was questioning my power. Luckily, that one got out."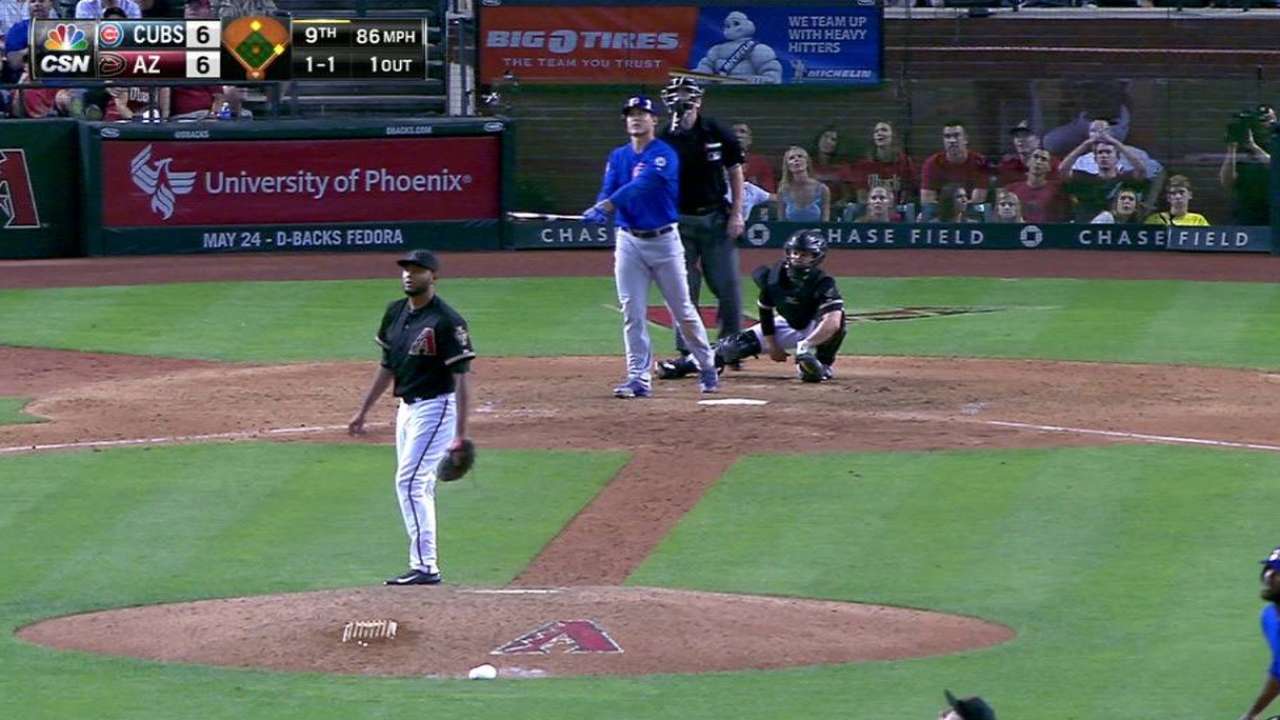 He may have been in a funk, but Rizzo did enter the game ranked among the Major League leaders in on-base percentage. He's batting .345 (40-for-116) in his last 31 games with 10 doubles, a triple, eight homers, 21 runs scored, and 24 RBIs.
"I try to come in every day and try to be the best version of myself I can be," Rizzo said.
Carrie Muskat is a reporter for MLB.com. She writes a blog, Muskat Ramblings. You can follow her on Twitter @CarrieMuskat and listen to her podcast. This story was not subject to the approval of Major League Baseball or its clubs.