Prado makes O's pay for walking Stanton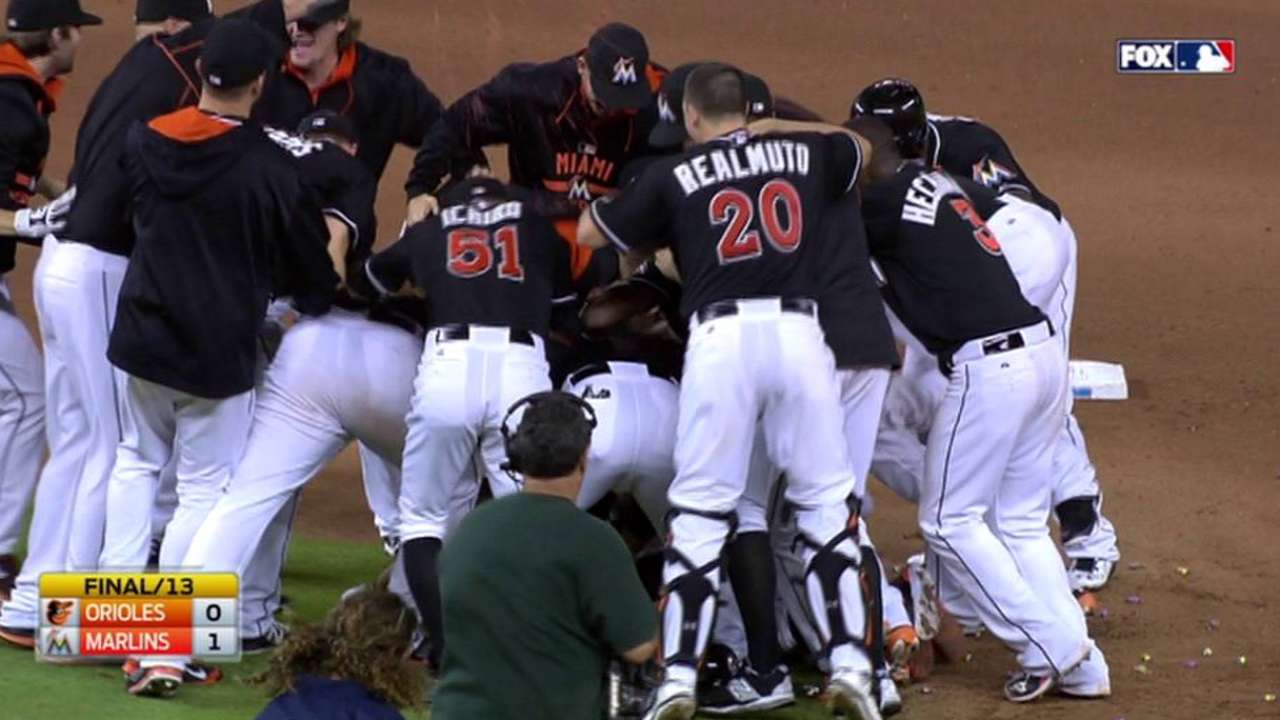 MIAMI -- The way the long night unfolded, the Orioles made sure the Marlins' biggest threat didn't beat them. So predictably, Giancarlo Stanton was intentionally walked with two outs in the 13th inning on Saturday night.
Even though the Marlins had runners on first and second with Stanton up, Martin Prado understood the situation. Undaunted, the game was going to be in his hands, and the veteran came through with the walk-off single that lifted Miami to a 1-0 victory at Marlins Park.
The sixth walk-off hit in Prado's career enabled the Marlins to snap their eight-game losing streak and hand manager Dan Jennings, who took over on Monday, his first win.
"They don't want to get beat by the big guy," Prado said. "It's not a rule in baseball, but it is pride for teams not to get beat by the big guy of any team, which is fine. That kind of pressure makes you go up there and do your best and give a great at-bat for your teammates.
"This time, I'm so glad I got the base hit to win the game. It's been a tough week and a half for everybody. The way everybody took care of business here, everybody is so happy."
Tough is an understatement. It's been an agonizing stretch for the Marlins, swept in three games by the Braves and then four in a row by the D-backs. The Orioles made matters worse, winning on Friday night.
Along the way, Jennings moved down from general manager to replace Mike Redmond, who was dismissed on Sunday.
No matter what the players did on the field, they couldn't stop the losing. Until Prado's single off T.J. McFarland scored Adeiny Hechavarria, who walked to open the 13th.
"This week was so long for all of us," Prado said. "Everybody is trying so hard to win games, and do everything they can to come through in a big situation. Everybody was trying to be a hero. Sometimes, it doesn't happen.
"This game was a team win. It's not about me. Everybody did their part. Pitching was outstanding. I'm so happy everybody contributed to win this game."
Prado isn't a prototypical cleanup hitter. But he was placed in the fourth spot, behind Stanton, because of his history of giving quality at-bats.
"When we construct the lineup, the staff, we talk about, 'What's the best way to create protection?'" Jennings said. "'What's the best chance to put your run producers in a spot where they can produce?' Martin has a history of being a professional hitter, and he did it."
Joe Frisaro is a reporter for MLB.com. He writes a blog, called The Fish Pond. Follow him on Twitter @JoeFrisaro and listen to his podcast. This story was not subject to the approval of Major League Baseball or its clubs.