Royals Minor League report: May 23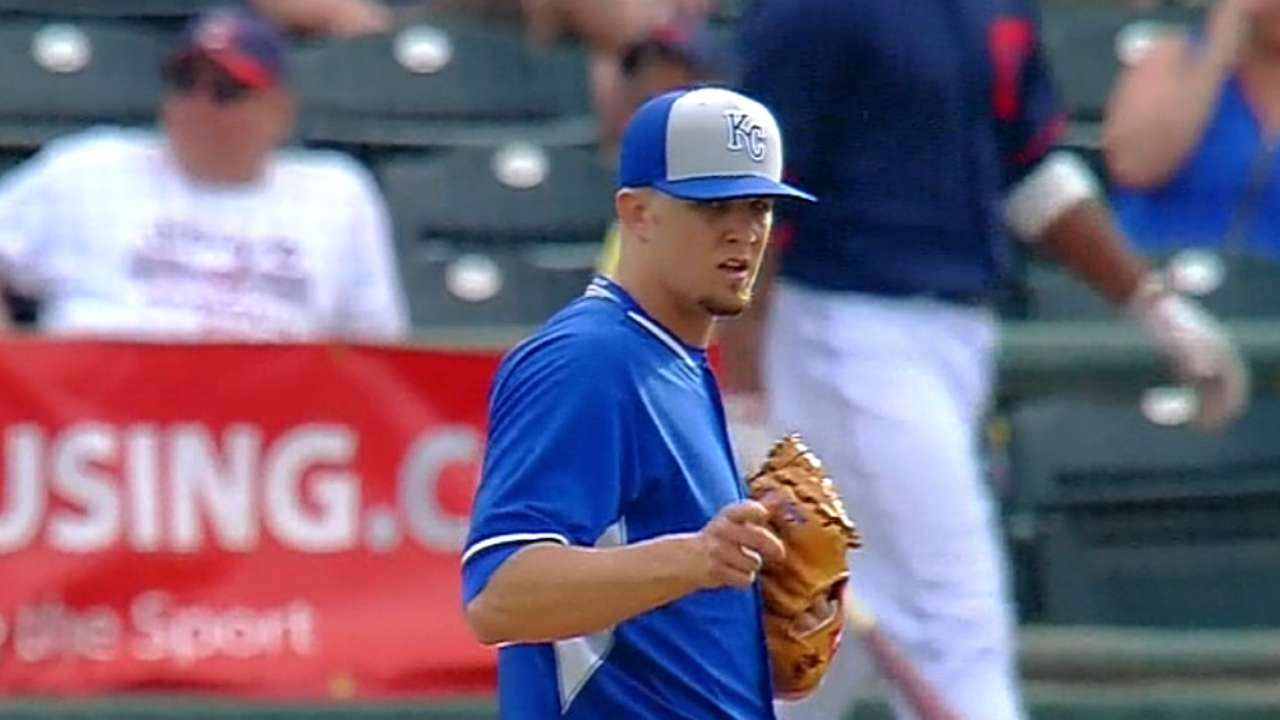 Omaha Storm Chasers (21-22)
Omaha 7, Reno 1
WP: Andy Ferguson (1-1 with Omaha, 5-1 overall)
SV: Buddy Baumann (2)
HR: Brett Eibner (5), Dusty Coleman (1 with Omaha, 3 overall)
Andy Ferguson recorded a career-high 10 strikeouts as Omaha moved to 3-0 vs. Reno. KC's 18th-rounder in 2011, Ferguson allowed a run over six innings. Buddy Baumann followed with three scoreless frames, lowering his ERA to 1.37 (3 ER in 19.2 IP). Brett Eibner's two-run homer gave Omaha a 2-1 edge. Wichita State product Dusty Coleman hit his first Triple-A homer, also a two-run shot.
NW Arkansas Naturals (29-13)
Tulsa 7, NW Arkansas 2
LP: Christian Binford (0-1 with NW Arkansas, 1-5 overall)
HR: Balbino Fuenmayor (10)
The Naturals had a seven-game winning streak snapped in Saturday's contest vs. Tulsa. Christian Binford (6.1 IP, 10 H, 6 R, 4 ER, 0 BB, 6 SO) carried a shutout through the fourth. Balbino Fuenmayor had two hits, including his 10th home run, which ties teammate Mike Bianucci for the league lead. Fuenmayor is second among Texas League batters in both average (.365) and RBIs (33).
Wilmington Blue Rocks (23-18)
Wilmington 1, Carolina 0
WP: Eric Skoglund (3-1)
SV: Matt Alvarez (1)
HR: None
Three hurlers combined on a shutout as Wilmington moved to 2-0 in the series. 2014 third-round pick Eric Skoglund fanned eight over seven innings, scattering four hits without a walk. He lowered his ERA to 2.12 (11 ER in 46.2 IP). Nick Green (0.1 IP) and Matt Alvarez (1.2 IP) completed the shutout. Dex Kjerstad's force out in the fifth scored Robert Pehl for the lone run.
Lexington Legends (18-24)
Hagerstown 5, Lexington 2
LP: Colin Rodgers (1-4)
HR: Ryan O'Hearn (10), Elier Hernandez (4)
The Legends dropped to 1-2 in a four-game set. Ryan O'Hearn's league-leading 10th homer gave Lexington an early 1-0 edge. Hagerstown scored the next four runs, with Elier Hernandez's home run bringing the Legends to within 4-2.