Hamilton plans to rejoin Rangers on Monday
Outfielder expects be activated for Texas' series opener in Cleveland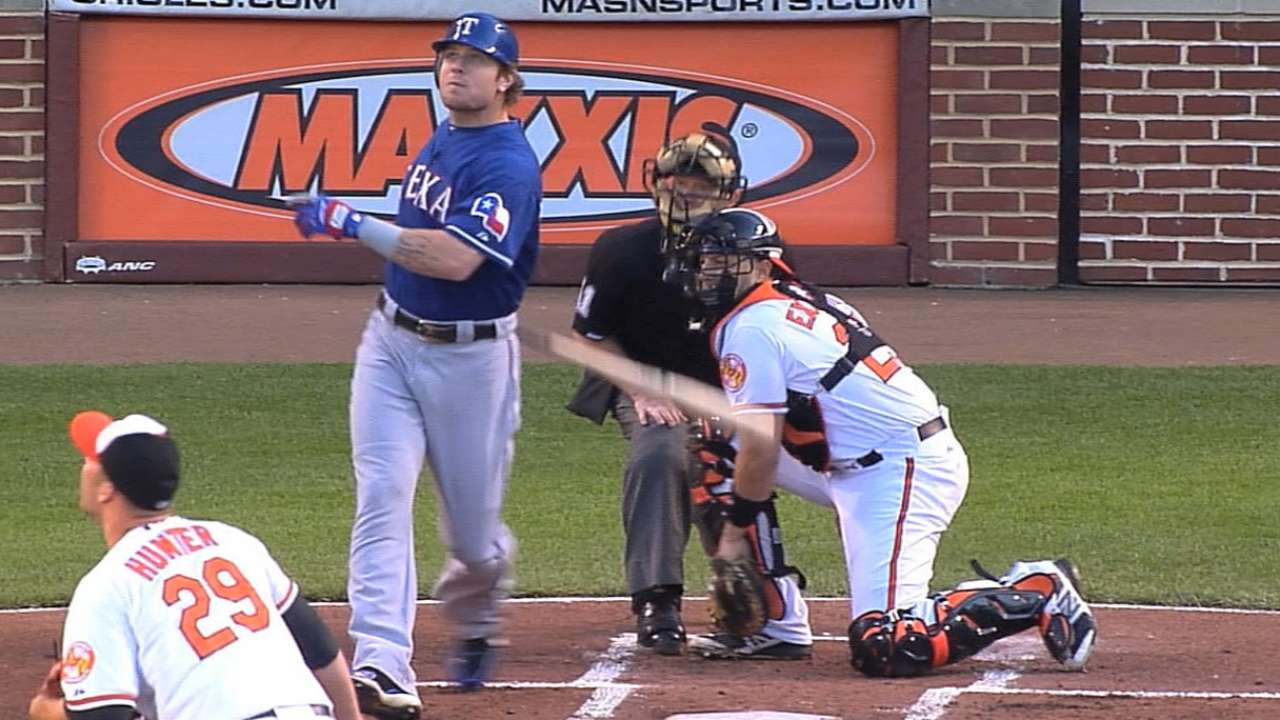 ROUND ROCK, Texas -- A rain cancellation prevented Josh Hamilton from stepping onto the field for the Triple-A Round Rock Express on Saturday, but it didn't stop him from making some big news.
The former American League Most Valuable Player announced an end to his Minor League stint and expects to join the Rangers for their series against the Cleveland Indians. Hamilton will fly to Cleveland on Sunday and plans to be on the active roster on Monday.
"I am excited about it," Hamilton said. "It's been a process from surgery to now to work hard and get healthy and mentally focused."
If this is the end of Hamilton's stint in the Minors, he closed it with a seven-game hitting streak. He went 9-for-16 with four RBIs and a home run during a four-game stretch with the Double-A Frisco RoughRiders before being called back to Round Rock, where he went 3-for-9 with a double in two games against the Albuquerque Isotopes.
While the plate results have been encouraging, they weren't the only deciding factor for Hamliton.
"Over the last four or five games I have felt better at the plate," he said. "I ran the bases in Frisco and bounced back the next day. When your body starts bouncing back after days of a lot of baserunning, and on the dirt and in the outfield, that's kind of a tell-tale sign that you are ready to roll."
Rangers general manager Jon Daniels is in agreement. He released a brief quote to the media after the announcement. The Rangers have won four straight games to improve their record to 20-23, and will go for a sweep of the Yankees on Sunday in the Bronx.
"Josh is physically and game-ready to get started," Daniels said. "The team is performing well and we are looking forward to welcoming him this week."
Monday's game will be Hamilton's first appearance in a Rangers uniform since 2012. He is looking forward to being a part of the team again.
"I think it's like anything else when you go to a new organization," he said. "You want to try to get your first under your belt. I've been here in the past and I left for a little bit and now I am back. I want to get those firsts out of the way."
Hamilton is unsure of what kind of reception he will receive when he returns to Arlington for the first time on Thursday for a game against the Red Sox, but he is focusing on the things he can control.
"Whatever happens in Arlington, whatever kind of reception I get, it's OK," he said. "I want to be OK and I want to go out there and play hard every day I'm out there. I'm not going to do that to win fans back. I'm going to do that because that's the type of guy I am and the type of player I am, and player I want to be."
Chris Dukes is a contributor to MLB.com. This story was not subject to the approval of Major League Baseball or its clubs.