Rallies turned away by double-play ball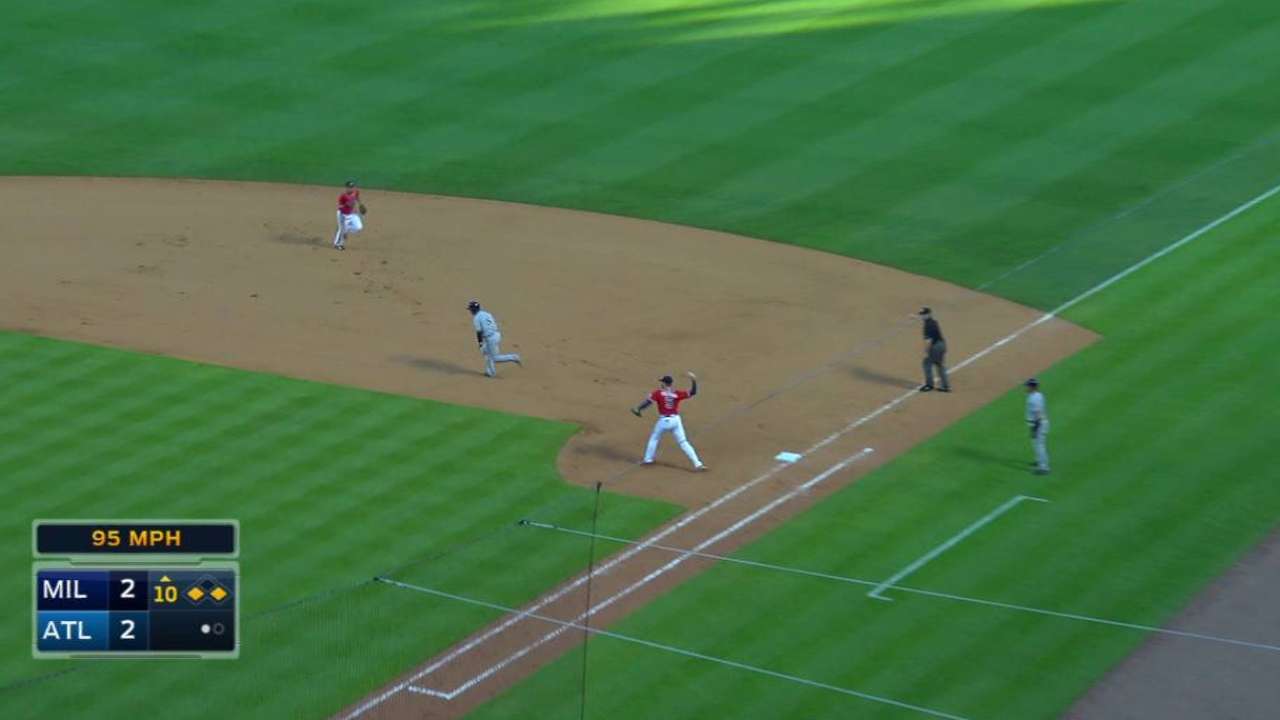 ATLANTA -- Entering Saturday's game against the Braves, the Brewers had hit into 29 double plays. That total was fifth-lowest in the National League.
Unfortunately for Milwaukee, the Brew Crew hit into a pair of twin killings -- one on an unintentional swing resulting in a perfect one-bounce comebacker, the other on a very much intentional swing that nearly took Atlanta's first baseman into right field. Both helped the Braves come away with a 3-2 victory in 11 innings.
Perhaps no one found the double play friendlier than Atlanta starter Shelby Miller in the sixth. The Braves had tied the game with two runs in the fifth, but the Brewers created a scoring opportunity and appeared poised to retake the lead.
With one out, Aramis Ramirez was hit by a pitch, then second baseman Elian Herrera grounded a single to right, and catcher Martin Maldonado walked to load the bases.
With the pitcher's spot coming up, Brewers manager Craig Counsell chose to make a move, lifting Mike Fiers. Though letting the pitcher hit with the bases loaded worked the previous night, it would not be tried here, as pinch-hitter Khris Davis stepped in. Milwaukee had already peppered Miller for seven hits, the most he'd allowed all season, in 5 1/3 innings. One more would certainly break things open.
A break would be had, but not the one Counsell had wanted.
"Ultimately, we weren't controlling where the ball was bouncing today," Counsell said. "That was pretty obvious."
Davis, who was 0-for-6 against Miller, tried to check his swing on the first offering, an 88-mph cutter, but the pitch found his bat and bounced right to Miller, who threw home. Catcher A.J. Pierzynski fired to first to complete the 1-2-3 double play.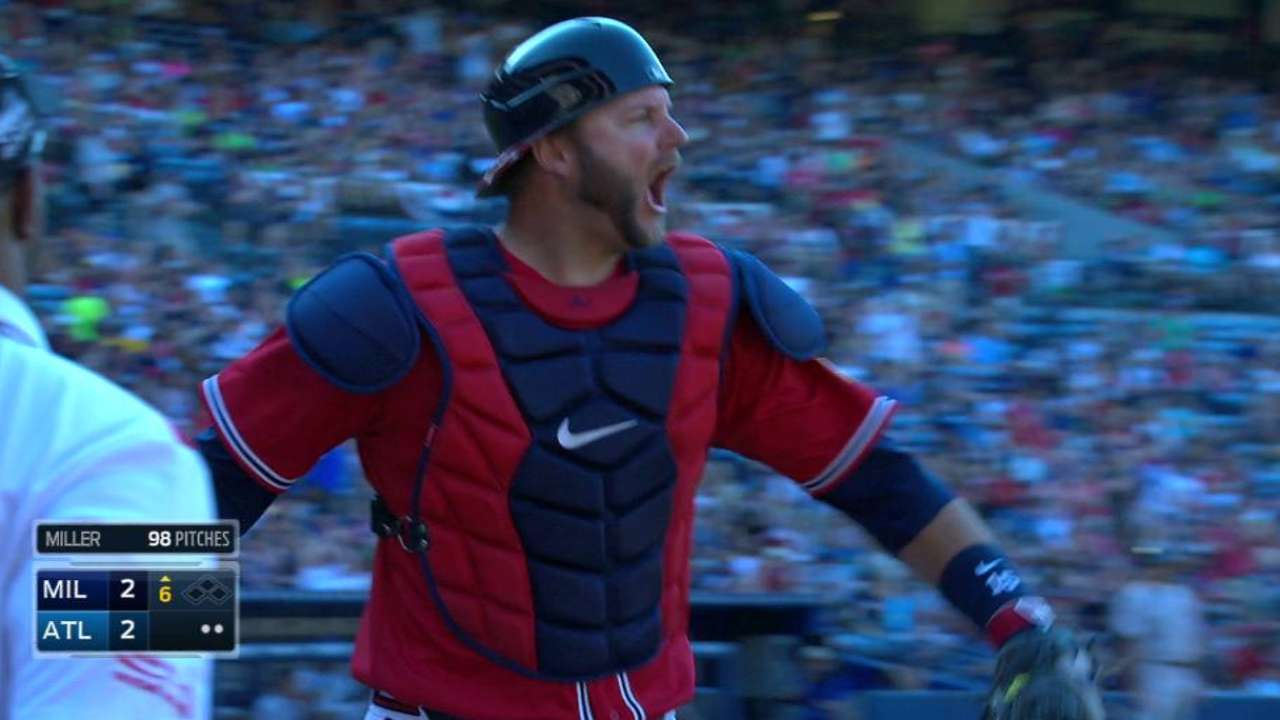 "We thought we had a chance right there," Counsell said. "Mike was pitching well, but it was bases loaded, one out and you think you have a chance for a big scoring opportunity. It was just kind of an excuse-me double play. He was trying to hold up.
"We put pressure on [Miller], but that was the inning. You had a chance to get runs on the board, but it just didn't work out."
Davis, who has hit into six double plays this season, appeared to still be a little stunned and understandably frustrated after the game.
"I'm at a loss for words," he said.
The double-play ball bit Milwaukee again in the 10th, this time with runners at the corners and one out.
Adam Lind scorched the first pitch from Braves reliever Luis Avilan, a 95-mph fastball, right at first baseman Freddie Freeman. The ball hopped up head high on the 6-foot-5 Freeman, who caught the ball, wheeled and started a 3-6-3 double play, ending the threat.
"Just bad luck," Counsell said.
Oddly enough, a potential double play that wasn't turned by Milwaukee led to the winning run.
With one out and runners at first and second, pinch-hitter Eric Young Jr. hit a smash back to pitcher Brandon Kintzler. But Kintzler did not field the chest-high hop cleanly and had to settle for the out at first. It was the safe and smart play, as doubling up the speedy Young would have been a tall task.
"It just hopped up a little too high, where I couldn't turn it," Kintzler said. "It just hopped up too high where I wanted to take the for-sure out. You don't want to take a chance and try to turn it. You never know what could happen."
The next batter, Jace Peterson, singled to deliver the winning run.
Jon Cooper is a contributor to MLB.com. This story was not subject to the approval of Major League Baseball or its clubs.