Pirates execute game plan perfectly vs. Harvey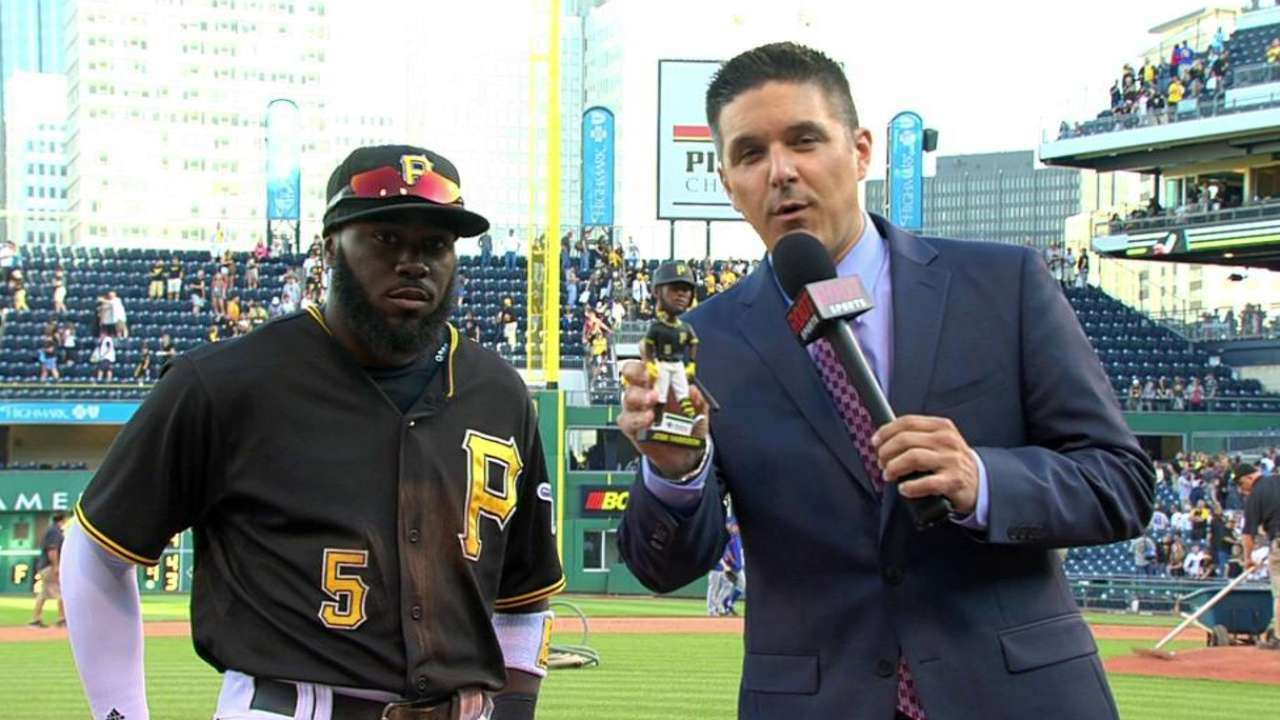 PITTSBURGH -- Pirates manager Clint Hurdle had a simple plan for his hitters taking on Mets ace Matt Harvey: look for good early pitches to hit, then work the pitch count.
It's a sound concept, sure. But against one of the league's dominant aces, it's easier said than done.
That made Pittsburgh's dismantling of Harvey on Saturday afternoon all the more impressive.
Jumping on strikes early in the count and, later, working long at-bats, the Pirates put the words of their manager into practice in an 8-2 win at PNC Park.
"We were looking to be aggressive on balls up in the strike zone. ... We had a couple big battle at-bats," Hurdle said after the game. "We just had the at-bats we needed to have to beat an ace."
Harvey, who allowed a career-high seven earned runs over a career-low four innings of work, didn't even have the opportunity to establish a rhythm.
Pirates third baseman Josh Harrison set the tone leading off in the bottom of the first, as he slapped a single into left field on Harvey's first pitch of the afternoon.
A couple of batters later, Andrew McCutchen let two balls go by before pouncing on a fastball that caught too much of the plate, sending it into the bullpen in left-center for a two-run home run.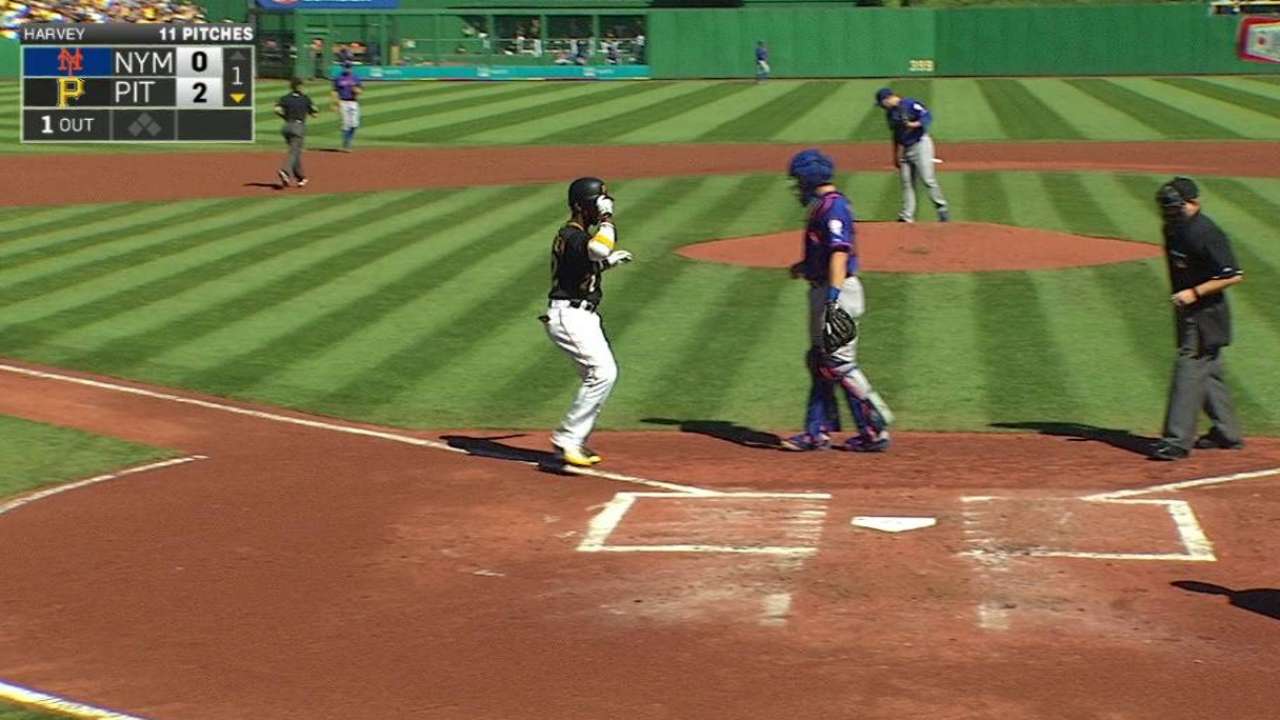 "I got on first, and we put pressure on him right away. Cutch was able to get a 2-0 fastball, and he didn't miss it," Harrison said. "From there, the energy in the dugout was, 'Let's continue to get on this guy.'"
The following inning, Harvey served up a first-pitch fastball to Pedro Alvarez, who belted it for a solo home run to right field. Alvarez helped the cause a few frames later with an RBI double in the fourth inning. It was one of four runs hung on Harvey that inning.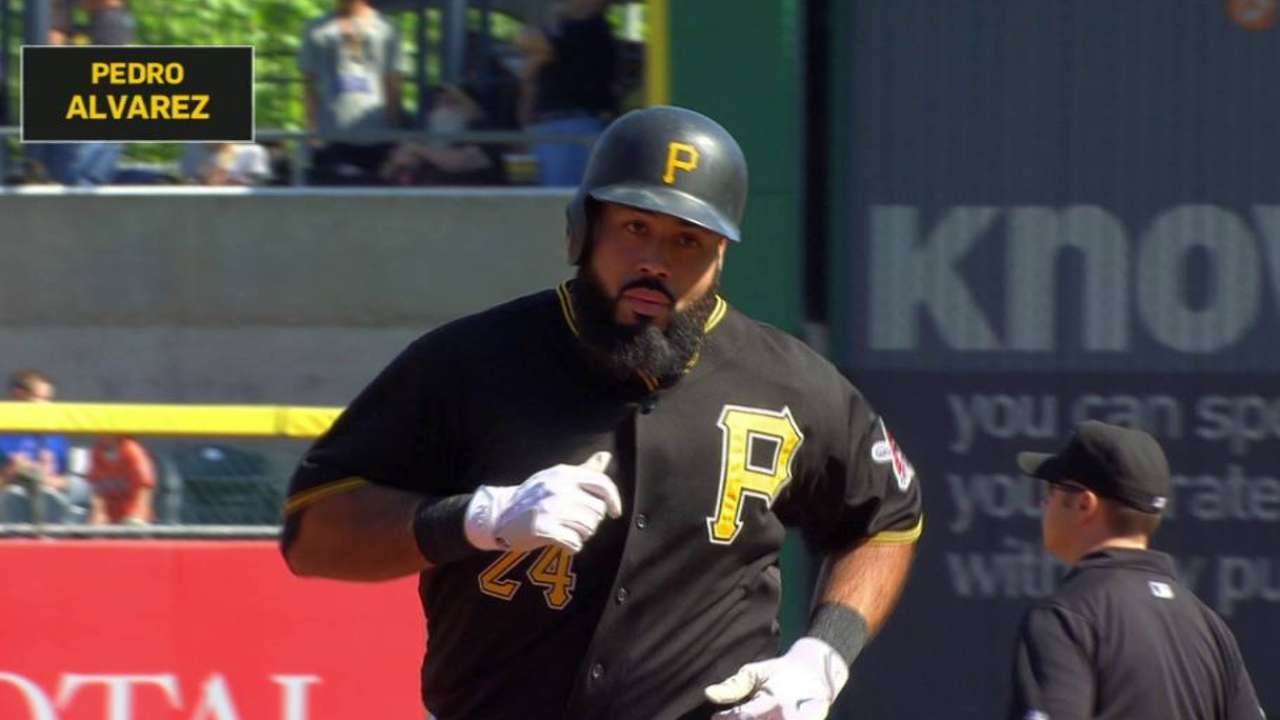 "When Pedro drives in a couple of runs in a game ... it usually works out well for us," Hurdle said.
After the Pirates plated some runs, their approach in the box shifted to pushing Harvey's pitch count.
For example, Pittsburgh catcher Francisco Cervelli faced an 0-2 count after two pitches in the fourth inning, but he fought back and worked an eight-pitch walk. He later scored, and it was that plate appearance that Hurdle called one of the game's most crucial.
It's an understatement that Harvey has been overwhelming hitters this year -- the 1.98 ERA he entered Saturday with proves that. So, some level of shock from the Pirates at his early struggles would have been understood.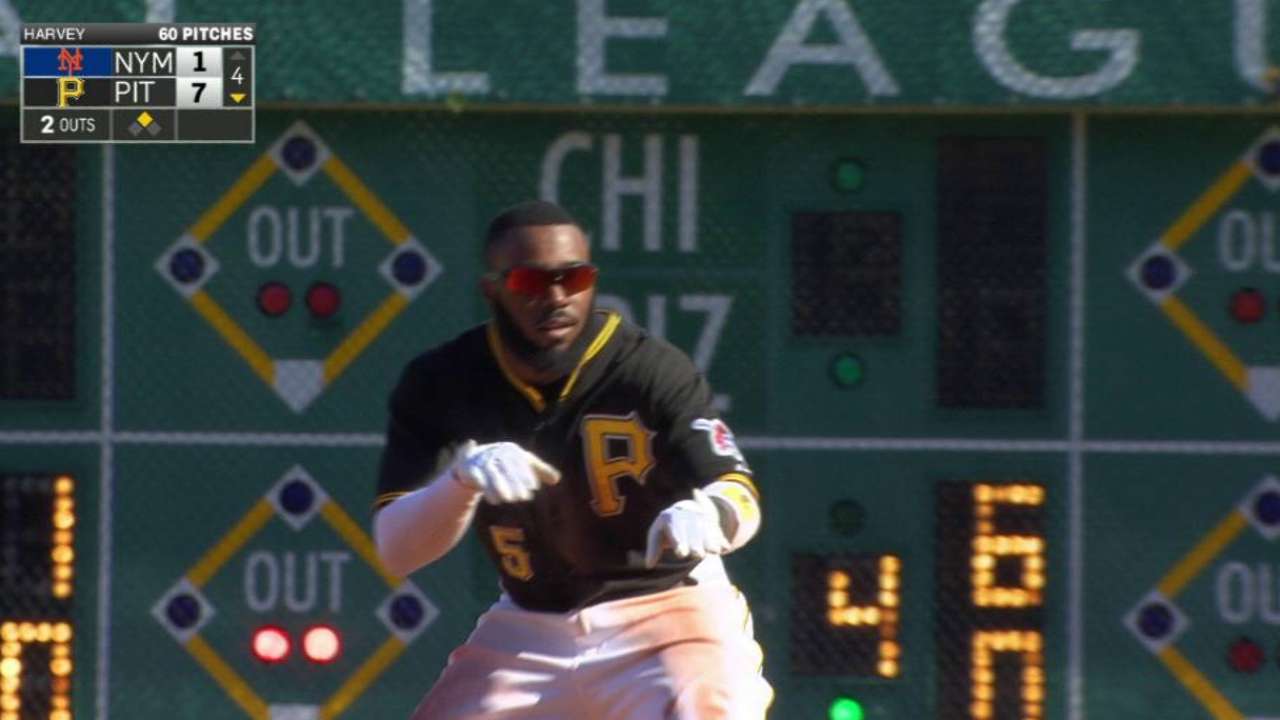 But Harrison wasn't startled at his club's offensive output. Not one bit.
"We got some pitches today, and we didn't miss them," Harrison said. "This is what we're capable of. We haven't shown it all season. But [were we] surprised? No."
John McGonigal is an associate reporter for MLB.com. This story was not subject to the approval of Major League Baseball or its clubs.