Peterson revels in first career walk-off hit
Rookie second baseman locks up win with first-pitch single in 11th
ATLANTA -- Exactly one week after hitting his first career grand slam, Braves second baseman Jace Peterson tallied his first walk-off hit, sending Atlanta to a 3-2 victory over the Brewers in the 11th inning with a single to left-center field.
"I was trying to be aggressive," Peterson said. "Trying to get a fastball, and he threw it first pitch, so I was just trying to get a base hit and trying to get the run in."
Peterson sent the first pitch he saw from Brewers right-hander Brandon Kintzler to the outfield to drive in Alberto Callaspo from third base, just before teammates mobbed the rookie on the field.
"It was great man, it was probably one of the [most] fun times I've ever had playing baseball," Peterson said. "It was awesome, [my teammates threw] dirt all over me and water, I mean just celebrating. Really, it was awesome."
The walk-off hit followed yet another solid start from Shelby Miller, who came out of the game after limiting the Brewers to two runs over six innings. Miller worked around seven hits and two walks, thanks to some key defensive plays, while striking out five.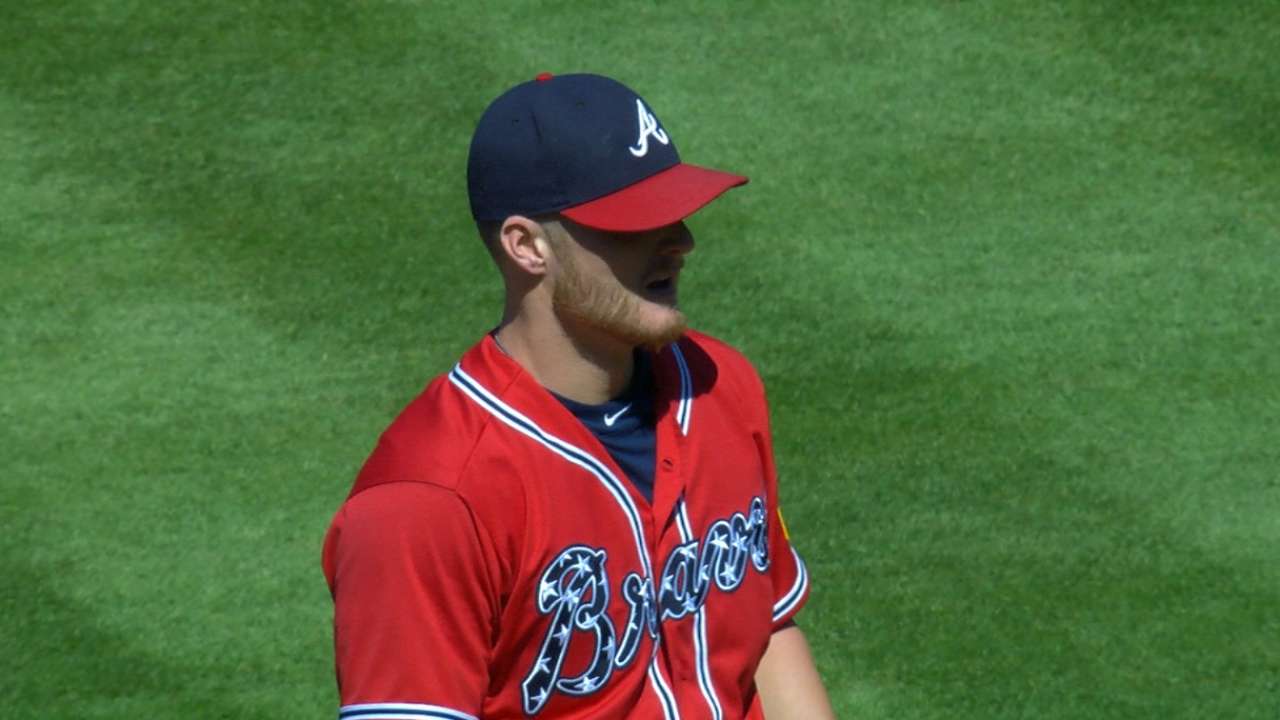 "I didn't have my best stuff today, but my teammates did a good job of hanging in there with me, making some good plays," Miller said.
While Peterson received much of the acclaim for the win, the bullpen provided him with the opportunity. Five Atlanta relievers (Brandon Cunniff, Jim Johnson, Jason Grilli, Nick Masset and Luis Avilan) combined to throw five innings of shutout baseball and set the stage for Peterson's heroics.
"Our bullpen was terrific," said Braves manager Fredi Gonzalez.
Cunnif and Johnson threw perfect frames in the seventh and eighth innings, respectively, and the five relievers combined for five strikeouts while allowing three hits and two walks.
Peterson was 2-for-6 on the afternoon with the one game-winning RBI out of the leadoff spot.
"Jace is the man of the hour," Miller said. "Good for him on the walk-off, and I couldn't be more proud right now."
When asked to compare his bases-clearing blast last Saturday with his first walk-off hit, Peterson hesitated.
"First home run, first walk-off, they're both great," he said. "I don't know if one's better than the other -- I'll take either one any day."
Carlos Collazo is an associate reporter for MLB.com. This story was not subject to the approval of Major League Baseball or its clubs.