Soler sets high standards for himself
Cubs rookie goes 2-for-4 Saturday, but says he's not satisfied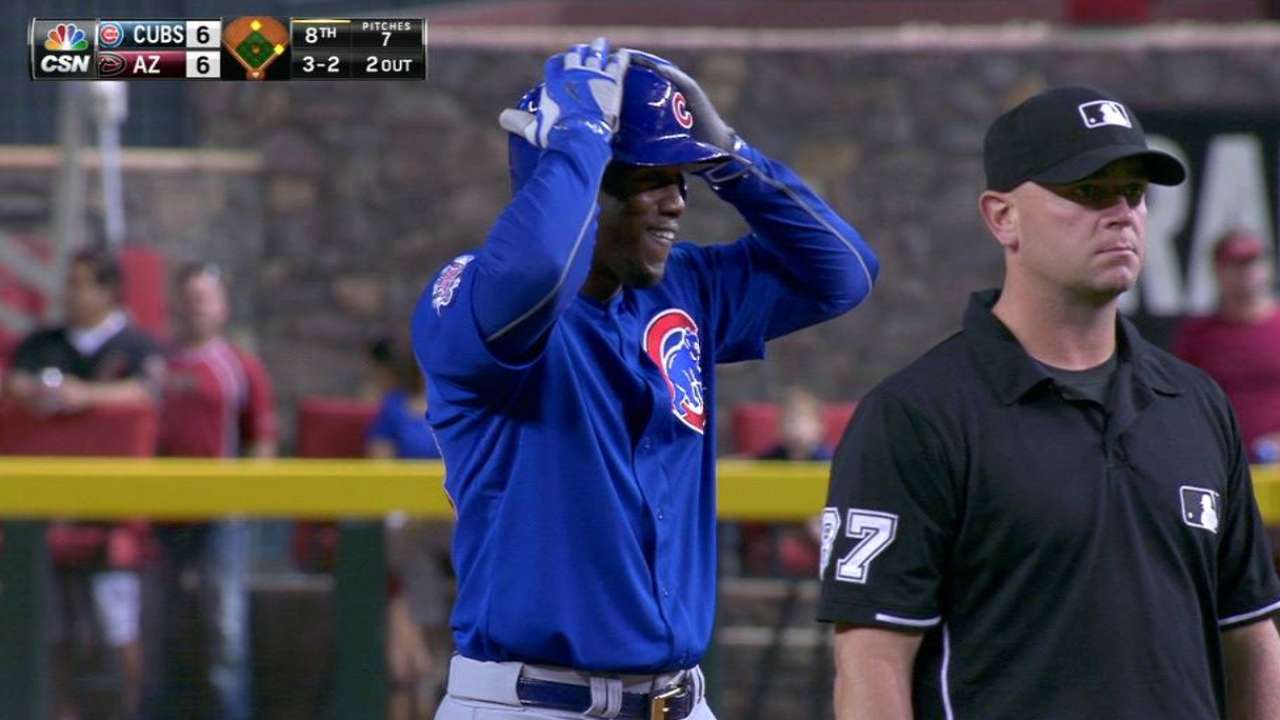 PHOENIX -- When the season began, Jorge Soler was the only rookie in the Cubs lineup. Now, he has company with the additions of Kris Bryant and Addison Russell. Who's the best rookie on the Cubs?
"Bryant," Soler said Saturday. "I see a lot of good things with Bryant and I think he can hit 30 home runs this year. Russell can be a good hitter for average. I like those two guys."
On Saturday, Soler went 2-for-4, delivering a game-tying, two-run double in the eighth to help the Cubs post a 9-6 victory over the D-backs. Soler is batting .273, but how does he feel about his performance so far?
"So far, I don't feel good about what I'm doing," Soler said. "I expect more from me. I can do it. I don't feel I'm helping the team. I don't feel consistent offensively. I want to be more consistent."
Part of his wish list includes more home runs, and far fewer strikeouts. Soler entered play Saturday leading the National League with 59 strikeouts.
"My swing is good," Soler said. "I have to get my pitch to drive the ball. The slider in the dirt, I can't get it."
The Major League season isn't two months old, and Soler has already played more games (42) than he did in a single season in Cuba, which he said was usually 36 games. However, he has yet to play a full season since signing a nine-year, $30 million contract with the Cubs in 2012. The problem has been injuries to his legs, not performance.
Give credit to the Cubs athletic trainers and strength coach Tim Buss for keeping Soler, 23, healthy. He has a daily routine and sticks with it. Soler also is leaner than he was when he first reported in Spring Training, and it's shown in his aggressive baserunning.
Last season, the Cubs would give Soler days off on a regular basis to protect him. This year? Soler has started all but one game, and entered as a replacement in that one.
"I just go play," Soler said.
Carrie Muskat is a reporter for MLB.com. She writes a blog, Muskat Ramblings. You can follow her on Twitter @CarrieMuskat and listen to her podcast. This story was not subject to the approval of Major League Baseball or its clubs.