Burnett authoring quite the swan song with Pirates
Right-hander leads the Majors with a 1.37 ERA in final season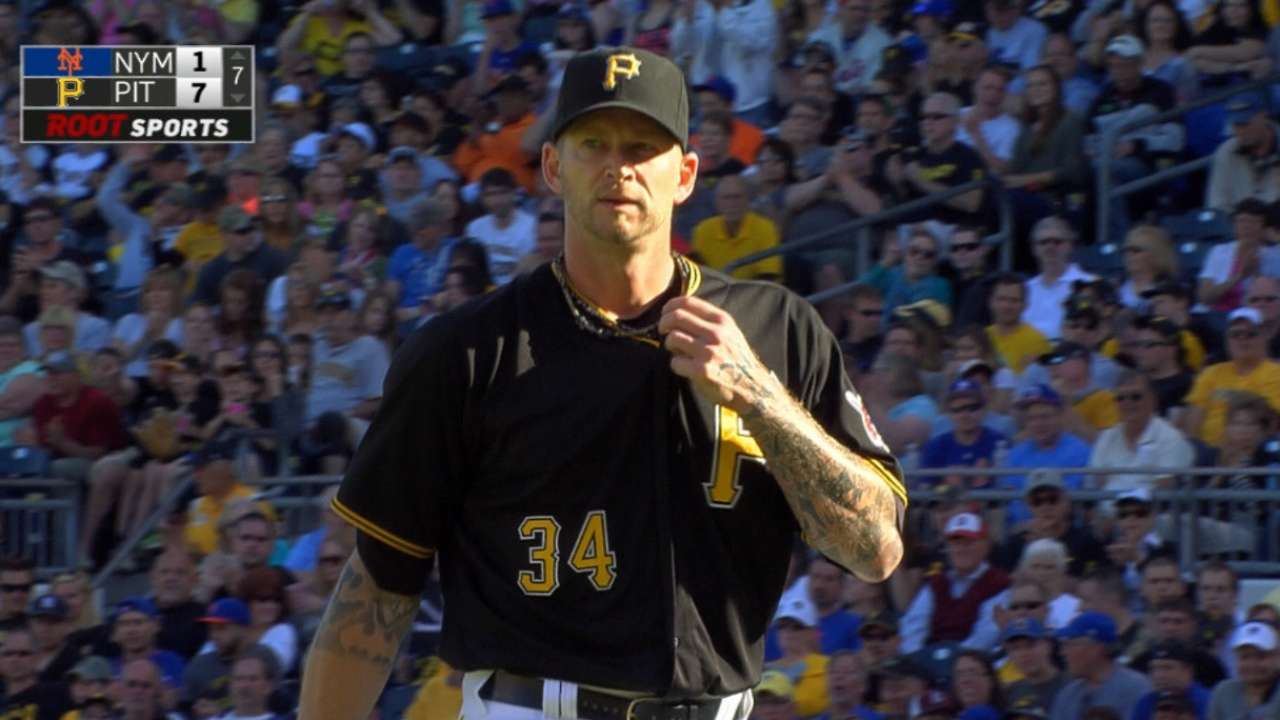 PITTSBURGH -- A.J. Burnett walked off the mound at PNC Park after the seventh inning, striding slowly from the third-base line toward the Pirates' dugout with his glove in his right hand. He quickly raised it above his head, fist-bumped catcher Francisco Cervelli and hugged manager Clint Hurdle.
Burnett is enjoying his time back in Pittsburgh, and it's showing on the mound.
The 38-year-old right-hander continued on Saturday an unbelievable start to what he's said will be his final season. He struck out 10 hitters and gave up only one run over seven innings as the Pirates breezed past Matt Harvey and the Mets, 8-2.
Burnett improved to 4-1 on the year. His ERA shrank to 1.37, the best mark in the Majors among qualified starters. Nobody expected this from Burnett, but expectations have been the least of his worries.
"I kind of looked at it as just leaving it all out on the field," Burnett said. "Knowing it's my last go-round, knowing I'm back with these guys, just to let them know that hey, I missed you guys, I'm back.
"It's fun to pitch for them. It's fun to be around them, and they definitely bring so much out of me. I don't know what it is that these guys bring out."
On Saturday, it brought out another dominant, efficient performance in which he scattered five hits and didn't walk a batter. He recorded 21 outs, 10 of them strikeouts and eight of them on ground balls.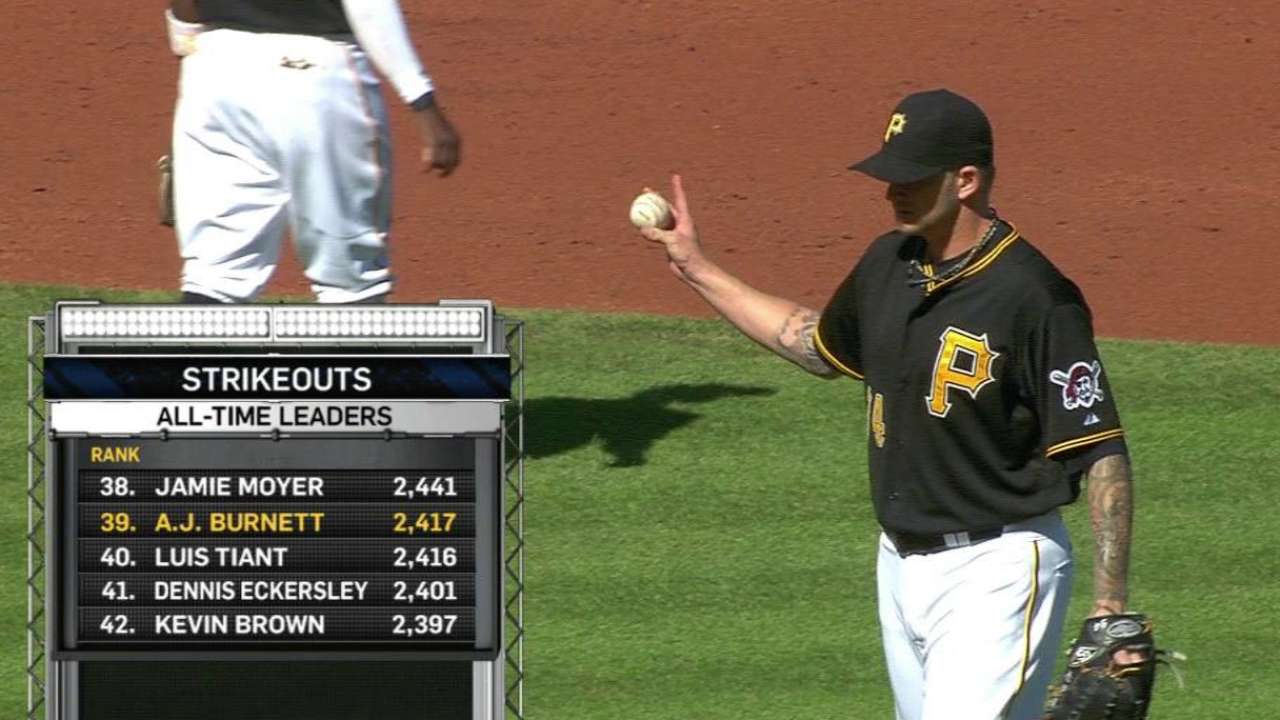 Burnett has thrown seven innings in each of his last four outings, all wins, putting him on pace for another 200-inning campaign.
In each of his nine starts to begin the season, Burnett has allowed two runs or fewer. No pitcher in Pittsburgh history has put together such a streak.
According to Burnett, the key has been his command, particularly down in the zone. He's consistently on the same page with Cervelli. And he's simply more focused, he said.
"It shows you the execution of one pitch at a time," Burnett said. "It's just one pitch at a time, and that's what's getting me through games."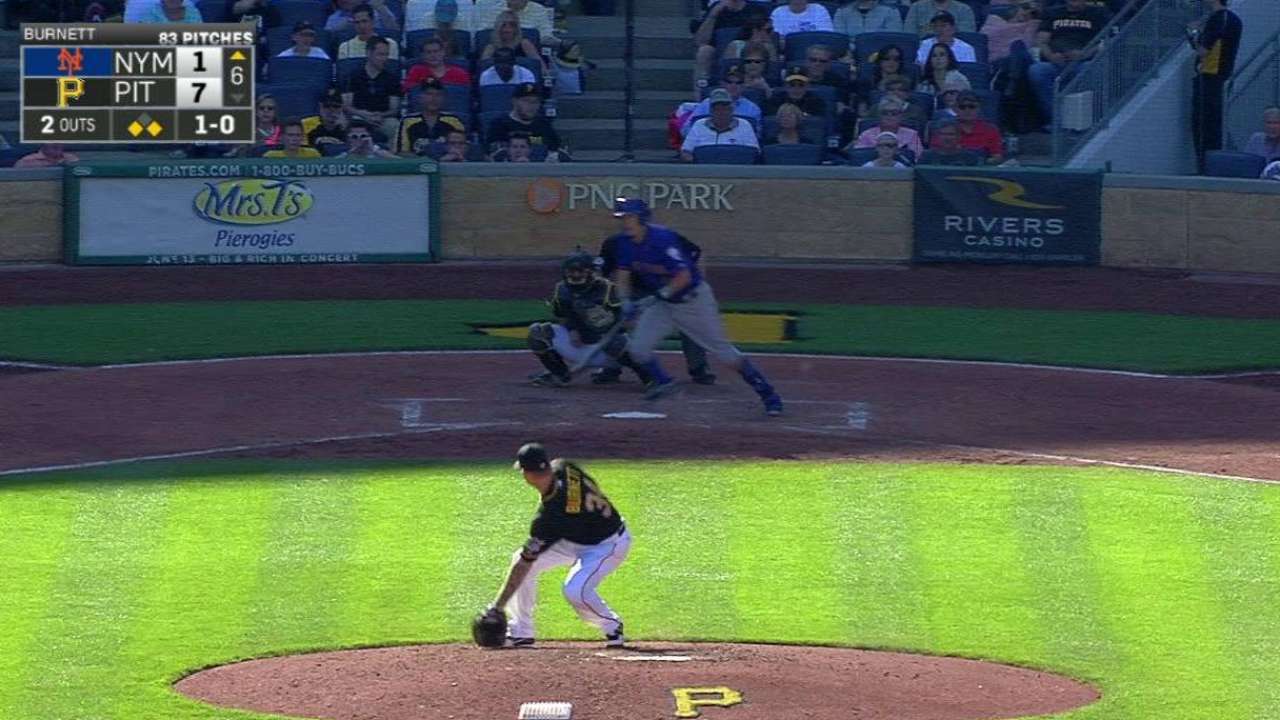 According to Hurdle, Burnett's release point has been identical no matter which pitch is coming out of his hand, adding deception to his delivery.
But in a way, Hurdle said, Burnett's success has been sparked by an evolution in the veteran's mentality as well.
"He wanted to come back to a place where he was comfortable, an environment where he was comfortable," Hurdle said. "And also committed, not just about comfort but conviction as well. And then he's just gone on the mound with the same mindset.
"He's pitching as well as I've ever seen him pitch. He's doing his job."
Adam Berry is a reporter for MLB.com Follow him on Twitter at @adamdberry. This story was not subject to the approval of Major League Baseball or its clubs.