Sogard breaks out to spark A's scoring
Second baseman's RBI single shatters Oakland's slump with runners in scoring position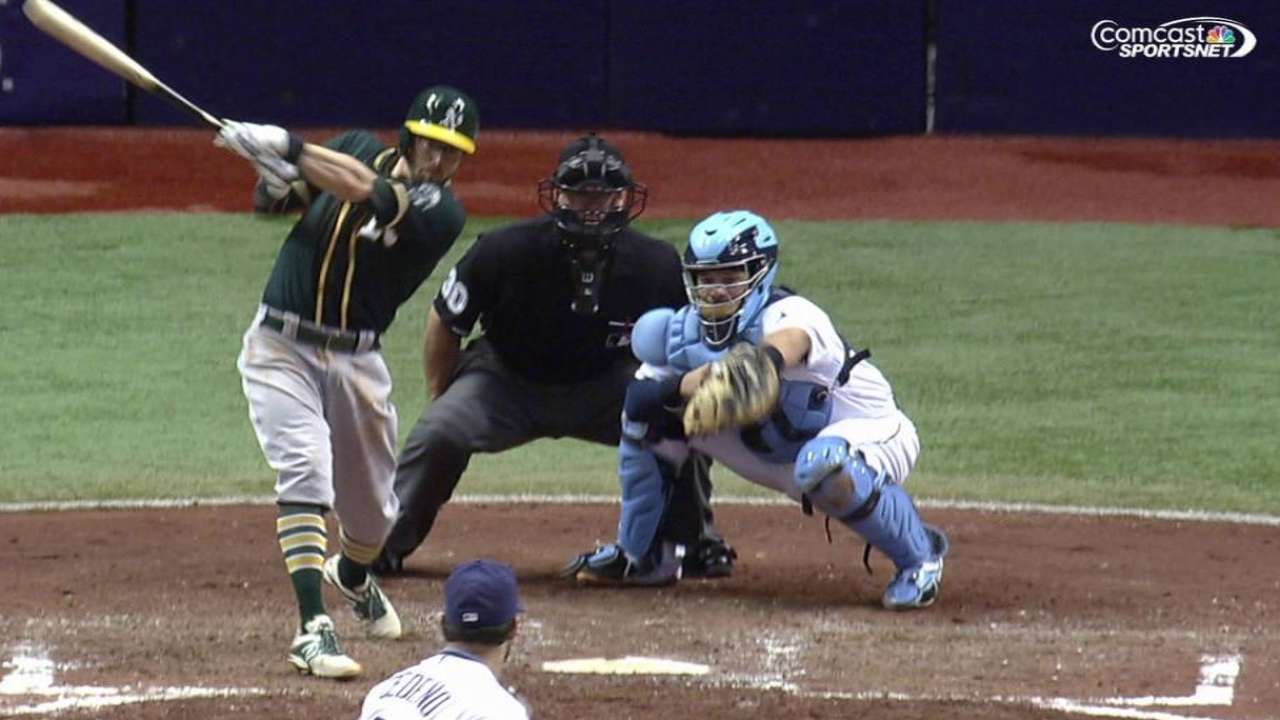 ST. PETERSBURG -- It is not a situation that Athletics manager Bob Melvin thought Eric Sogard would be in, but nonetheless the second baseman has made the most of his opportunity.
"He's been durable and pretty consistent for us," said Melvin after the Athletics' 5-0 victory over the Rays on Saturday at Tropicana Field. "He's gotten some decent at-bats against left-handers this year. Coming into this season, he didn't look like a guy who would be out there that much, but based on all the injuries we've had and how he has performed, he deserves the time that he is getting."
Sogard backed up his manager's words by gathering two hits and a walk in his four plate appearances, none of which were bigger than his at-bat in the sixth inning.
With two gone in the sixth, Rays manager Kevin Cash made the move to replace starter Nate Karns with left-handed specialist Xavier Cedeno, who had inherited 15 runners coming into the game and only allowed two to score. After falling behind 0-2, Sogard took the fourth pitch of the at-bat -- a two-seam fastball -- and shot it up the middle to push Josh Reddick across for the first run of a four-run inning.
"I knew going in he threw a lot of curveballs, so I was hoping to get one, and he gave me one the first pitch, and I didn't swing at it," Sogard said. "Then he went with the heater and got me 0-2, so I was just battling from there on. I was able to get a fastball, put the barrel on it and find a hole up the middle. It was a good little rally-starter."
Sogard's RBI single snapped an 0-for-18 steak with runners in scoring position for the Athletics -- their last hit with RISP came in the series opener off the bat of Max Muncy in the ninth -- and came just one at-bat after the second baseman failed to deliver a hit with a runner on second in the fourth.
"It felt great [to get a hit with a runner in scoring position]," Sogard said. "I was up there earlier in the game in that situation and wasn't able to get the job done, so to be able to be in that position again and to have that opportunity was something I was looking forward to."
Coming into the game, Sogard was hitting just .154 (4-for-26) versus left-handed pitching, but with Brett Lawrie unavailable off the bench and his recent at-bats against lefties fresh in Melvin's mind, there were no worries.
"On paper, it probably doesn't look like the best matchup in the world, but he's been hanging in there," Melvin said. "He gets behind in the count and still isn't trying to do too much, just poke one up the middle. It certainly was a relief for us today."
Troy Provost-Heron is an associate reporter for MLB.com. This story was not subject to the approval of Major League Baseball or its clubs.