May flowers in festive atmosphere
Righty fans 9 over 7 innings under unique circumstances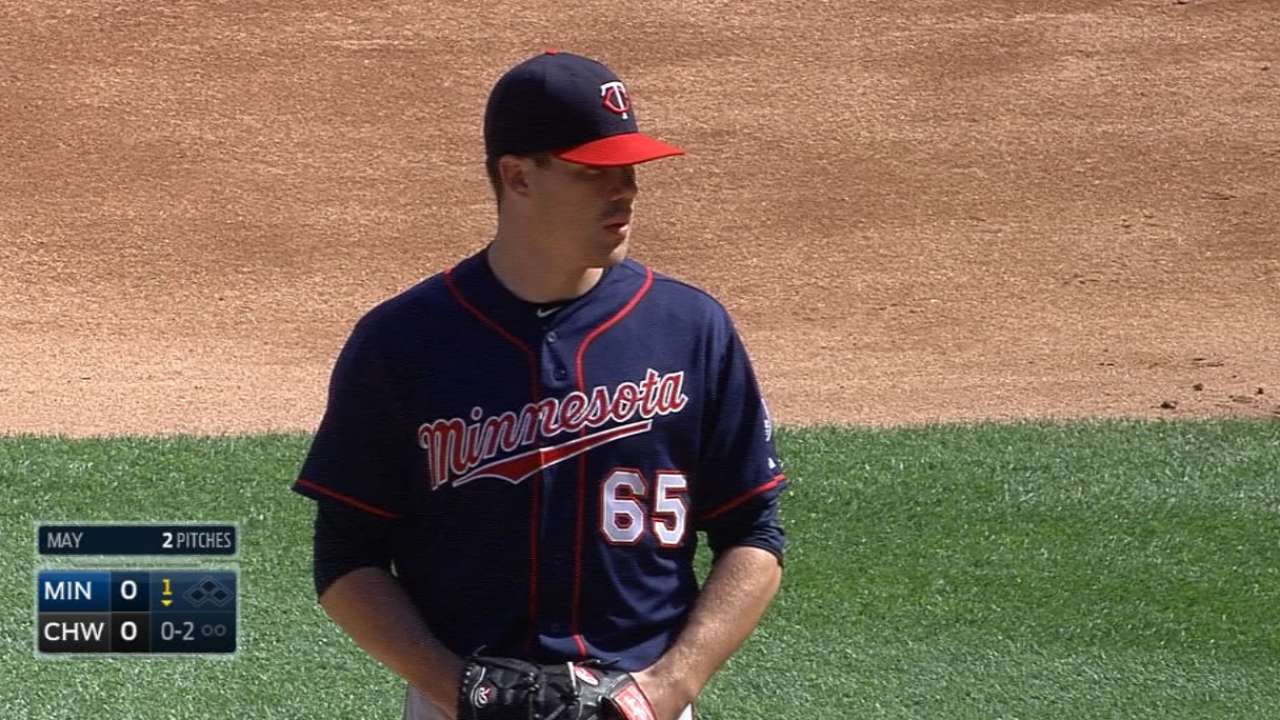 CHICAGO -- With a sold-out crowd and a 3:40 p.m. CT start at U.S. Cellular Field because of Paul Konerko's jersey retirement ceremony, Twins right-hander Trevor May took advantage of the atmosphere and the shadows to outduel White Sox ace Chris Sale on Saturday.
May went a career-high seven innings, giving up three runs on six hits with a season-high nine strikeouts to help lead the Twins to a 4-3 win. May was efficient, as he didn't walk a batter and needed just 80 pitches to get through seven.
"I just came out really aggressive," May said. "Having a big crowd out today was fun. I was just trying to be as aggressive as possible."
May pitched into the seventh inning for the first time in his career his last time out, and the rookie said he's starting to develop the mentality to pitch deeper into games. His changeup was his most effective weapon, and he threw first-pitch strikes to 22 of the 27 batters he faced.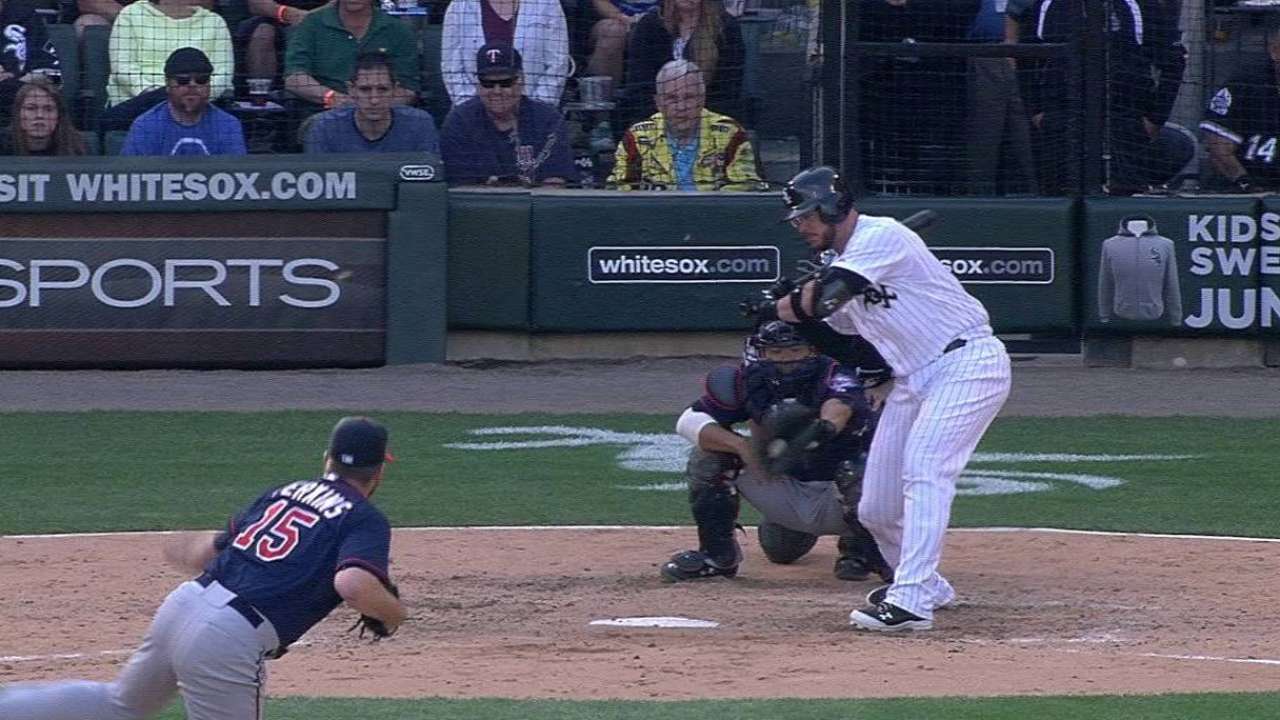 Twins manager Paul Molitor went to the bullpen despite May's low pitch count, and while May agreed with Molitor's decision, he said he still felt sharp late in the game. The move to take him out paid off with Aaron Thompson and Blaine Boyer combining to throw a scoreless eighth and Glen Perkins getting the save in the ninth.
"I'm trying to go out and build that mindset that I'm going nine or they're taking the ball from me," May said. "I had at least 30 more [pitches]. But I'm just trying to get that flow and get to seven innings. We've had a good eighth inning with Thompson and Boyer, and Perkins is now 16-for-16 in saves. Those are weapons you gotta use."
Molitor said the decision to go to the bullpen wasn't a difficult one, as May's only issue was a lack of fastball command that was masked by the conditions, with shadows creeping onto the field after the third inning. Neither team scored from that point on, as the Twins jumped on Sale early with Torii Hunter and Eduardo Nunez hitting solo homers in the second before getting two more runs in the third.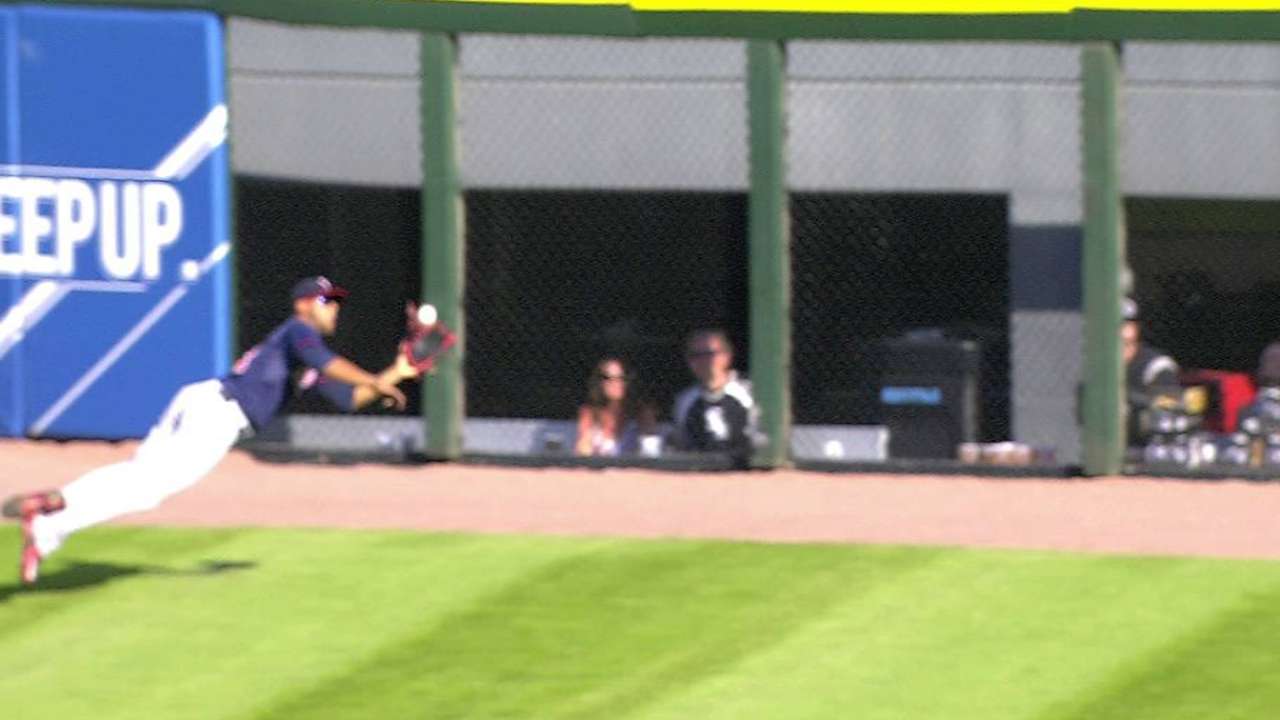 "You know conditions are going to get tougher when you start the game late," Molitor said. "But it's not like you can magically produce runs before it comes. We just had some good approaches with a couple home runs and [Kurt] Suzuki just missed one. You take them any way you can get them off a guy like that."
The Twins were also saved by a diving catch from Aaron Hicks in the eighth to rob Adam Eaton of a leadoff extra-base hit off Thompson. It was the second impressive diving catch by Hicks in as many days.
"I was playing opposite-field and he got out in front of it. I knew it was a close game, so I did my best to track that ball down," Hicks said. "I was lucky enough to run underneath it and make the catch. It turned out to be big for the team."
Rhett Bollinger is a reporter for MLB.com. Read his blog, Bollinger Beat, follow him on Twitter @RhettBollinger and listen to his podcast. This story was not subject to the approval of Major League Baseball or its clubs.