McCullers earns first MLB win in second start
Astros' prospect goes six strong innings vs. tough Tigers lineup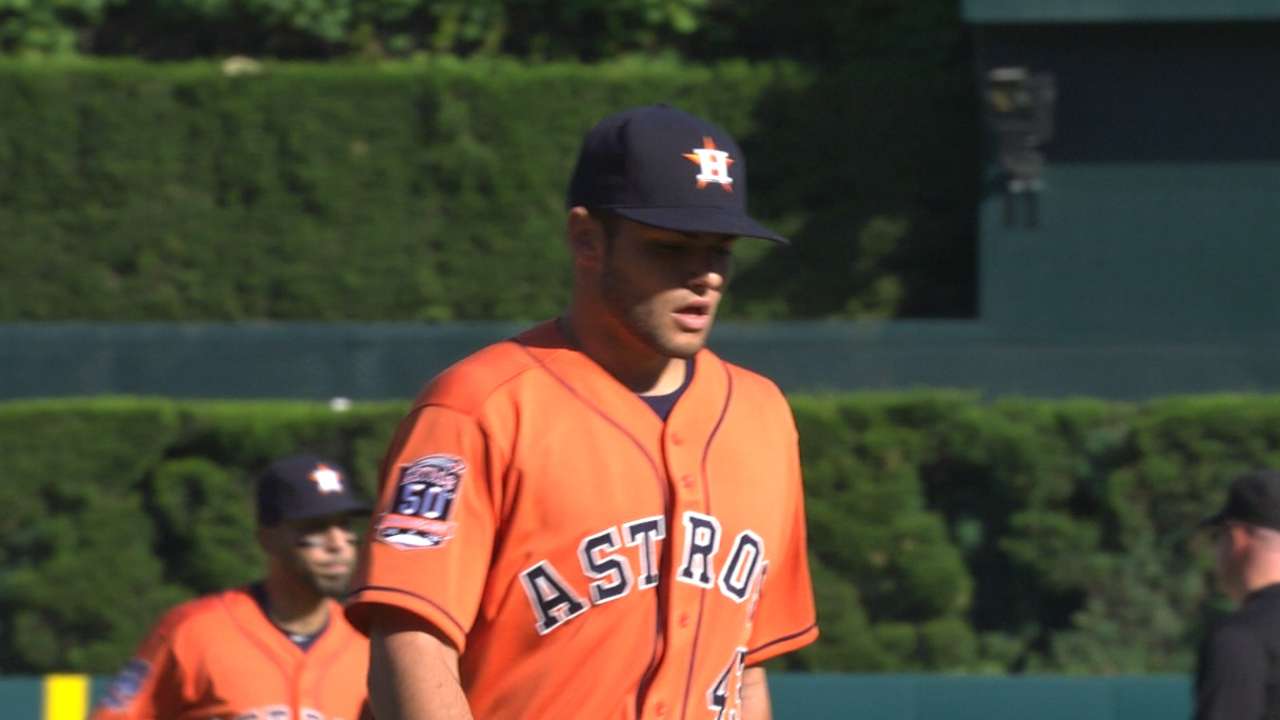 DETROIT -- Lance McCullers is making a case to stay with the Astros and not get sent back to the Minors.
In his second career Major League start, McCullers gave up two runs on six hits over six innings to pick up his first victory in a 3-2 win over the Tigers on Saturday.
The 21-year-old McCullers, ranked as the Astros' No. 10 propsect by MLB.com, joined the club 10 days ago straight from Double-A Corpus Christi and has allowed three runs on nine hits over 10 2/3 innings with 11 strikeouts in his two starts. It was expected he would be sent back down as early as late next week, when Brett Oberholtzer could come off the 15-day disabled list. But with performances like this, it'll be hard not to keep him up.
"This kid's got a really good demeanor about himself," Astros manager A.J. Hinch said. "He didn't scare against some better hitters. He's making it known he can pitch up here, and he can help us."
McCullers' first win came in front of his parents and grandfather. His father, Lance McCullers Sr., played for the Tigers in 1990, and the younger McCullers said he didn't believe his father had been back to Detroit since.
A power pitcher, McCullers Jr. was able to pound the strike zone with his curveball, with 24 of 32 going for strikes, according to Brooks Baseball's Pitch f/x. His 54 fastballs averaged 94.7 mph, but it was the curveball that got everything going.
"Coming out of the 'pen, he's got a ton of arm strength, so when you look up and the first pitch is in the mid 90s, it doesn't surprise you," Hinch said. "I thought the command of his breaking ball was huge today. He was in the strike zone against a lot of right-handed hitters, which is key, because then they can't just look for his fastball or disregard his breaking ball in the zone and out of the zone.
"He didn't have a lot of lefties to show his changeup, and he didn't use it against righties. He was really a two-pitch pitcher today and went through a difficult lineup."
The performance ended with a strikeout on his 100th pitch and a fist pump. McCullers had fallen behind Detroit's Nick Castellanos 3-0 with a runner on first and two outs, but he came back to get a called strike, a foul ball and a called strike three.
"You tip your cap," Castellanos said. "He had great stuff. He got outs when he needed to. He made pitches in big counts. He got guys to roll over when he was ahead, so if you do that every day as a pitcher, you're pretty good."
The performance wasn't without hiccups, though. In the third, McCullers slipped while trying to field a slow roller and couldn't get the ball to first in time. Medical staff checked out the righty, who threw a few warmup pitches before continuing.
Later in the inning, McCullers' first pitch to Miguel Cabrera on an intentional walk sailed over catcher Jason Castro, allowing a runner to move to third, but McCullers forced J.D. Martinez to ground out to end the inning. Hinch guessed McCullers hasn't had to make many of those intentional walk pitches, and Cabrera is intimidating on his own.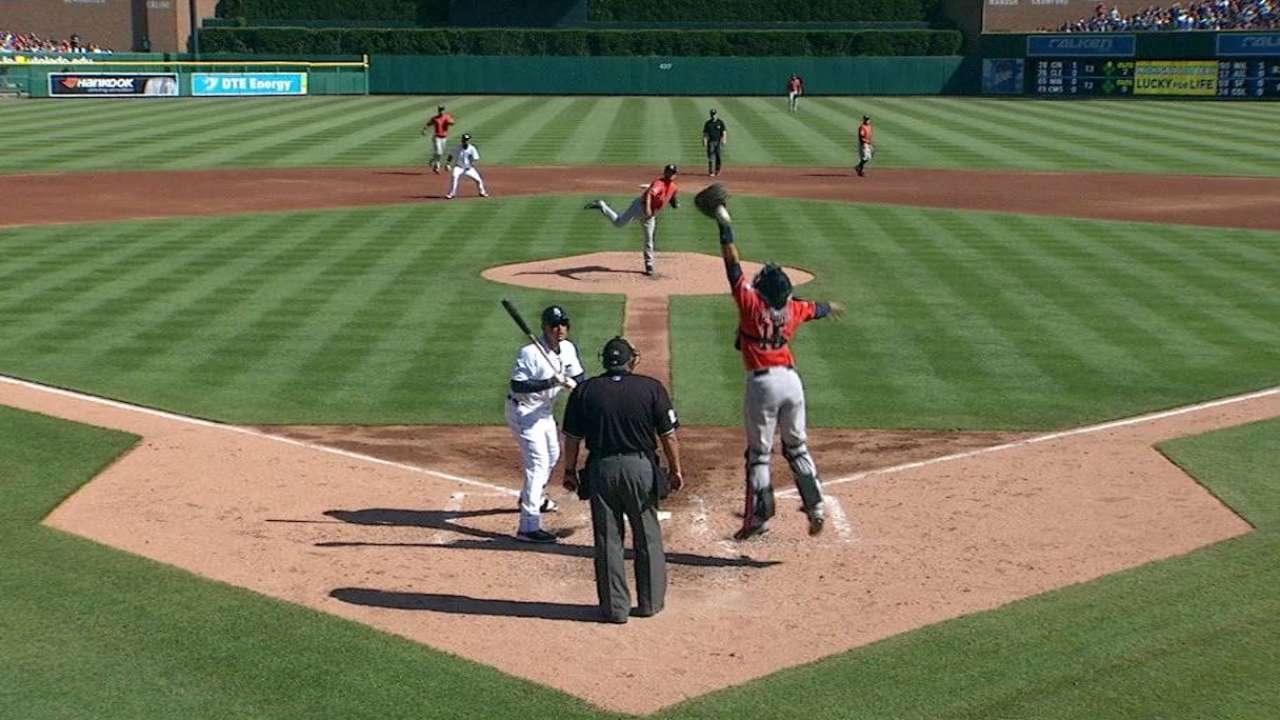 "Just got quick," McCullers said. "Didn't take my time and airmailed one to the backstop. … It's something we practice in Spring Training and it's something I have to execute better than that."
In the fifth, McCullers didn't cover first base on a grounder to first baseman Chris Carter, allowing Jose Iglesias to reach easily. But he got the Tigers to hit into a triple play to get him out of the jam. It was the Astros' first triple play since Aug. 19, 2004.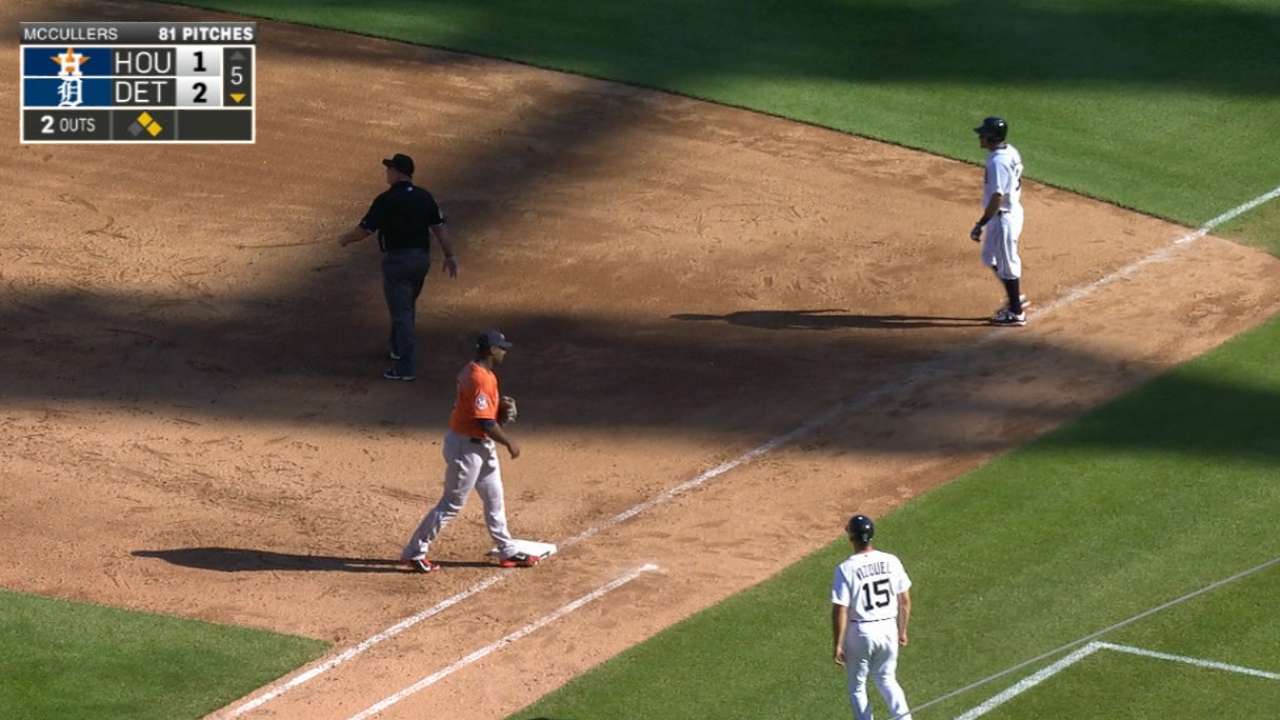 "Off the bat, I just thought it was a little bit of an infield flair, and I didn't react quick enough," McCullers said of the Iglesias hit. "It ended up falling in front of CC [Carter], and Iglesias is too quick. By that point, it was too late for me to get over there."
But overall, it was a second strong performance for McCullers, and one the Astros needed coming off two straight losses in this series and struggling to get runs across the plate. They go for the series split tomorrow, and McCullers has made another strong impression. With everything that happened in Saturday's game, his first win was definitely a memorable one.
"This is a nice win for us, a nice day for McCullers, who really pitched well from start to finish," Hinch said. "Coming up at the end, six innings, 100 pitches, probably the most he's ever thrown in his professional career, a really nice win. We saw a little bit of everything."
Chris Vannini is a contributor to MLB.com. This story was not subject to the approval of Major League Baseball or its clubs.