Phillies continue hot stretch on offense
Franco, Howard go deep in rout of Nationals on Saturday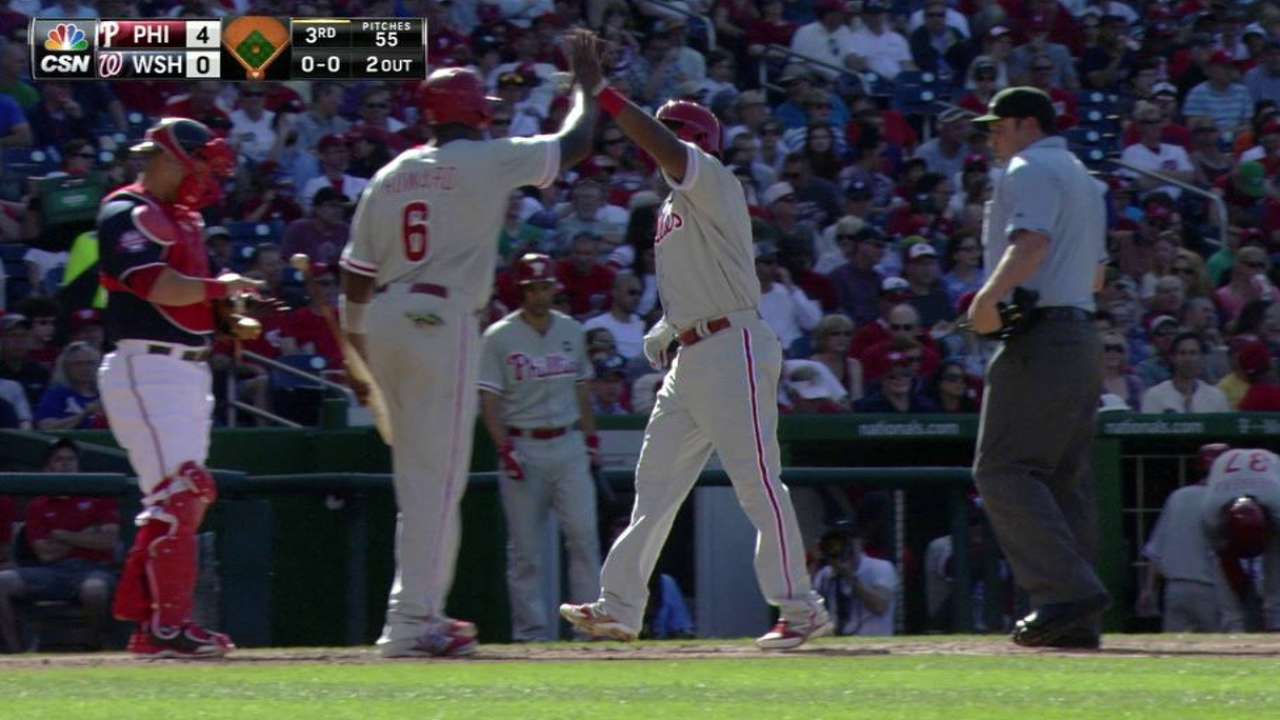 WASHINGTON -- Break up the Phillies.
They pounded the Nationals in an 8-1 victory Saturday at Nationals Park. They picked up four extra-base hits against Nationals right-hander Stephen Strasburg in 3 2/3 innings and one more against Nationals right-hander A.J. Cole as they scored a season-high eight runs.
The Phillies had just 70 extra-base hits in 34 games through May 12, when they were 11-23 with the worst record in baseball. But since they opened the season with their worst record since 1971, they have 40 extra-base hits in 11 games, which leads Major League Baseball.
Maikel Franco crushed a two-run home run to center field in the third inning to hand the Phillies a 4-0 lead. Ryan Howard smashed a solo home run to center field in the fifth inning to make it 7-0.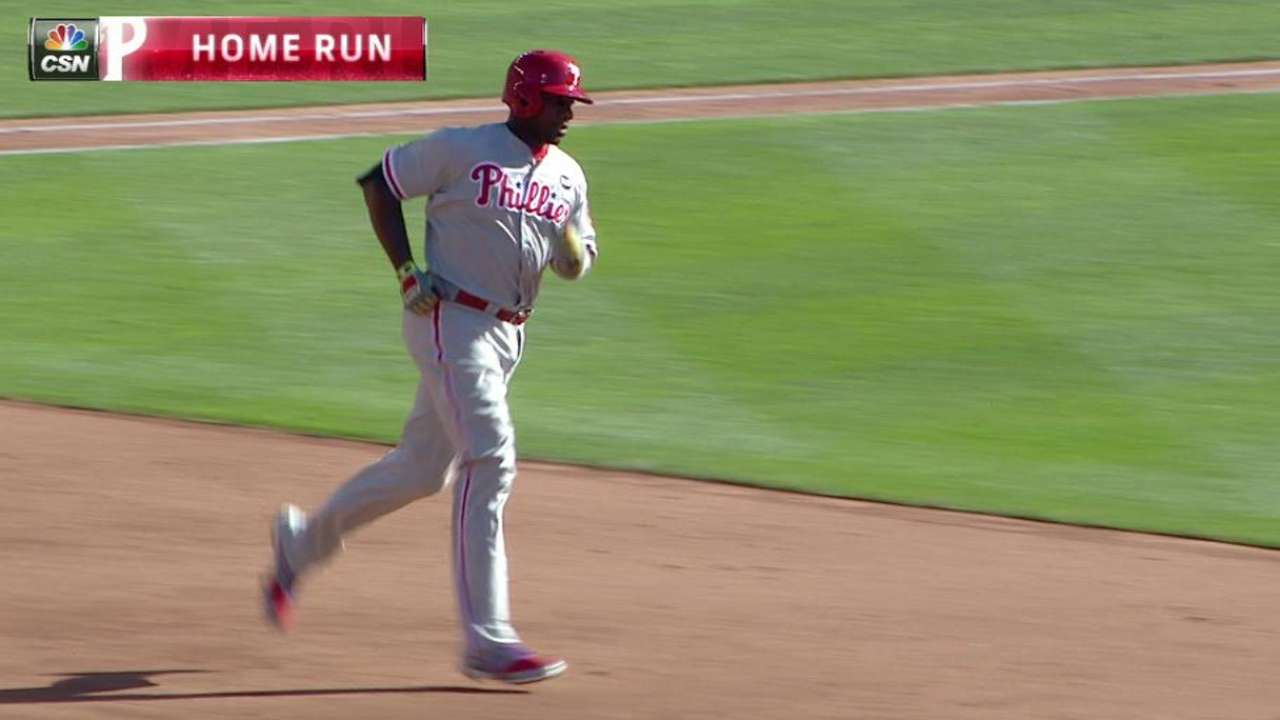 Howard, Cesar Hernandez and Odubel Herrera also doubled in the victory.
Franco is hitting .286 (10-for-35) with one double, one triple, two home runs, seven RBIs and an .885 OPS in nine games since the Phillies recalled him from Triple-A Lehigh Valley on May 15.
"To be honest, it's what we've all known he's capable of and just people letting him play," Howard said about Franco. "It's not fair to put expectations on him. You just let him go out there and play and do what he does, and good things happen.
"He's going to continue to grow and get better. The more experience he gets at this level against this pitching, the better he'll get. He just needs to play."
Franco had one hit in his previous 12 at-bats before he homered in the third. Strasburg actually struck out Franco on three pitches in the second. He had him 0-2 again when Franco crushed a 96-mph fastball to center field. Statcast™ said the ball left Franco's bat at 103 mph and travelled 406 feet.
"I'm just trying to see a good pitch to hit," Franco said. "He threw me a couple fastballs the first AB, and I was just ready for the fastball. He threw me one there, and I made good contact."
Howard is hitting .303 (33-for-109) with seven doubles, one triple, 10 home runs, 21 RBIs and a 1.011 OPS in 30 games since April 20. He has homered three times in the past four games. His 10 homers have come since April 20, which is tied for the second-most homers in baseball in that stretch.
Only Bryce Harper has more with 11.
Phillies manager Ryne Sandberg said a mixture of Howard being healthy and more confident at the plate has translated into his improved results. Howard agreed, saying this is the healthiest he has felt since he ruptured his left Achilles in Game 5 of the 2011 National League Division Series.
"I have two good ones now, I guess," said Howard, referring to his Achilles. "They might have thrown an extra in there."
Todd Zolecki is a reporter for MLB.com. Read his Phillies blog The Zo Zone, follow him on Twitter and listen to his podcast. This story was not subject to the approval of Major League Baseball or its clubs.