Hamels continues outstanding run in win
After eight innings of one-run ball, left-hander extends personal win streak to four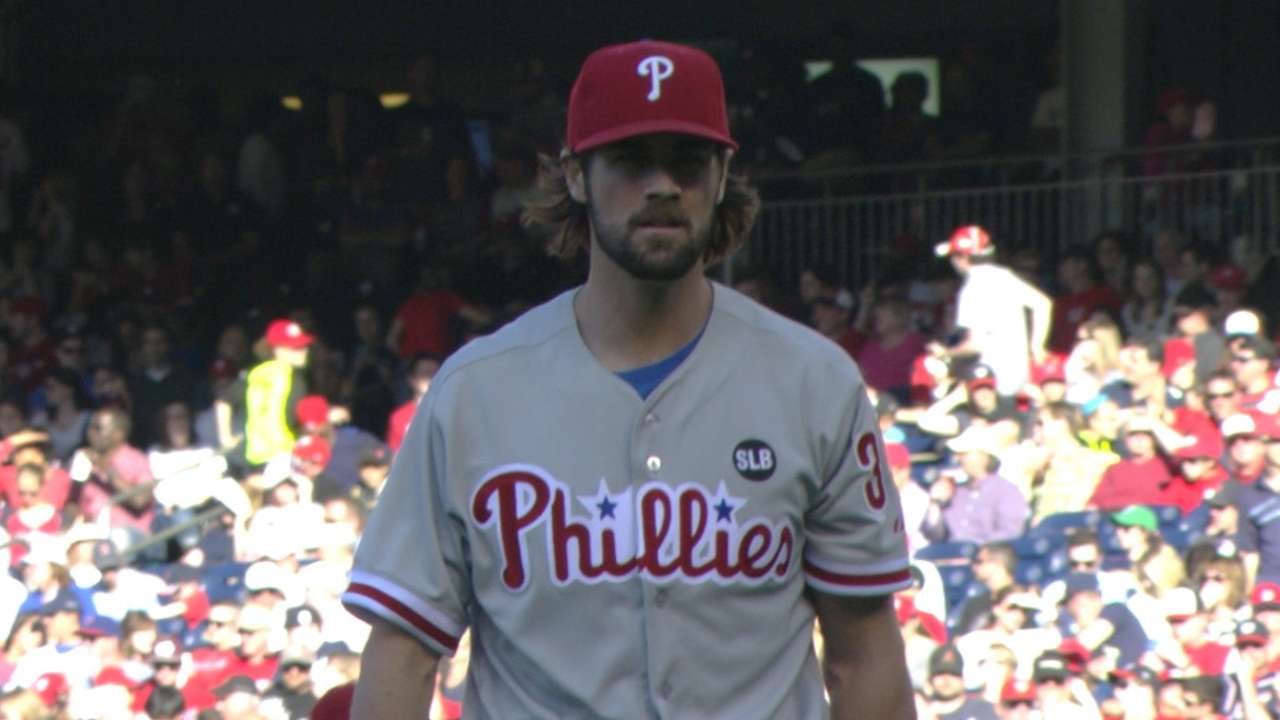 WASHINGTON -- The Phillies' front office loves this.
Cole Hamels pitched beautifully in Saturday's 8-1 victory over the Nationals at Nationals Park. He allowed five hits, one run, one walk and struck out five in eight innings to improve to 5-3 with a 2.98 ERA.
He is 5-1 with a 2.23 ERA in his last seven starts.
"They're a great lineup," Hamels said about the Nationals, who lead the National League in scoring. "One through nine, they've got some pitchers who hit. Every single one of them can start a rally faster than you can possibly imagine, so you just have to keep bearing down with them, you can't give in. Sometimes you look at the National League as being the weaker division, but that kind of team is an American League-style team."
Hamels pitched seven scoreless innings before the Nationals scored a run in the eighth, preventing him from picking up his first shutout since Aug. 13, 2012, which was the second of back-to-back shutouts.
"It's a dangerous team, so that's the least of my worries," Hamels said about the shutout possibility. "They can put up a run or runs within a second. So you just have to be able to make quality pitches and hope they hit it to your defense. That's all I can really say was going through my head."
The Phillies scored eight runs for Hamels for the first time since May 17, 2014, when they scored 11 runs for him against the Reds.
He had gone 34 starts in between that much run support.
Hamels' name is going to remain a popular one as the July 31 Trade Deadline draws closer. If he keeps pitching like this, the Phillies' asking price is not going to drop. In fact, it might inch upward.
"He was outstanding," Phillies manager Ryne Sandberg said.
Todd Zolecki is a reporter for MLB.com. Read his Phillies blog The Zo Zone, follow him on Twitter and listen to his podcast. This story was not subject to the approval of Major League Baseball or its clubs.