Gordon's HR aids Royals in rain-shortened I-70 clash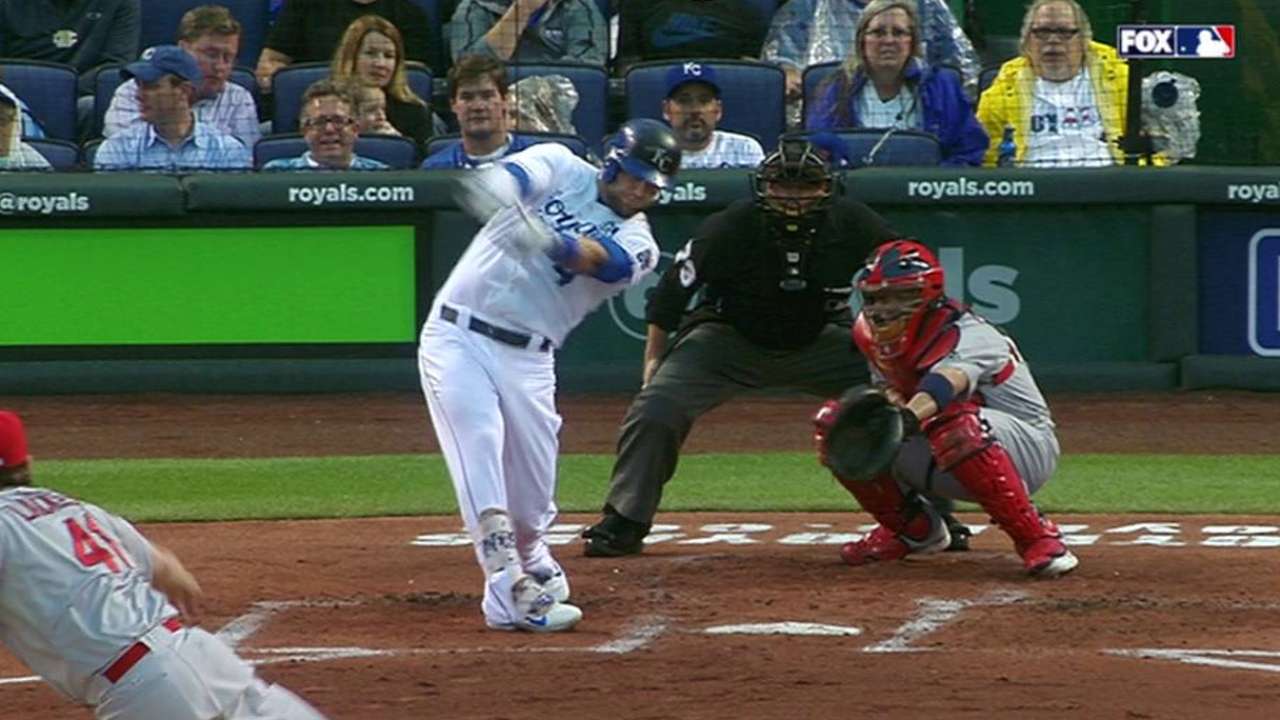 KANSAS CITY -- Alex Gordon drilled a two-run homer and Edinson Volquez pitched six strong innings as the Royals held on for a 3-2 win over the Cardinals on Saturday in a rain-shortened game that ended after 5 1/2 innings.
Rain began shortly after the game started and stayed steady throughout. Then with the Royals about to bat in the sixth, crew chief Brian Gorman signaled for the tarp. The forecast was for rain to continue steadily throughout the night and through Sunday.
The Royals won their fifth straight in clinching the series victory.
"Things are going the way they're going for a reason," manager Ned Yost said. "We got a really good team. It makes my job three times easier. You write up the lineup, you know they're prepared, you know that they're going to go out with a chip on their shoulder and play hard.
"Then you just sit back. I used to stand against the railing all the time, now I just sit back in the dugout."
Volquez gave up four hits and two runs for his fourth win of the season.
The Cardinals lamented not having big innings in the second and the fifth when there were opportunities to take control. St. Louis had men at second and third with one out in the second and the bases loaded with one out in the fifth. In each case, Volquez made the big pitches to get out of jams after the Cardinals had scored just one in those innings.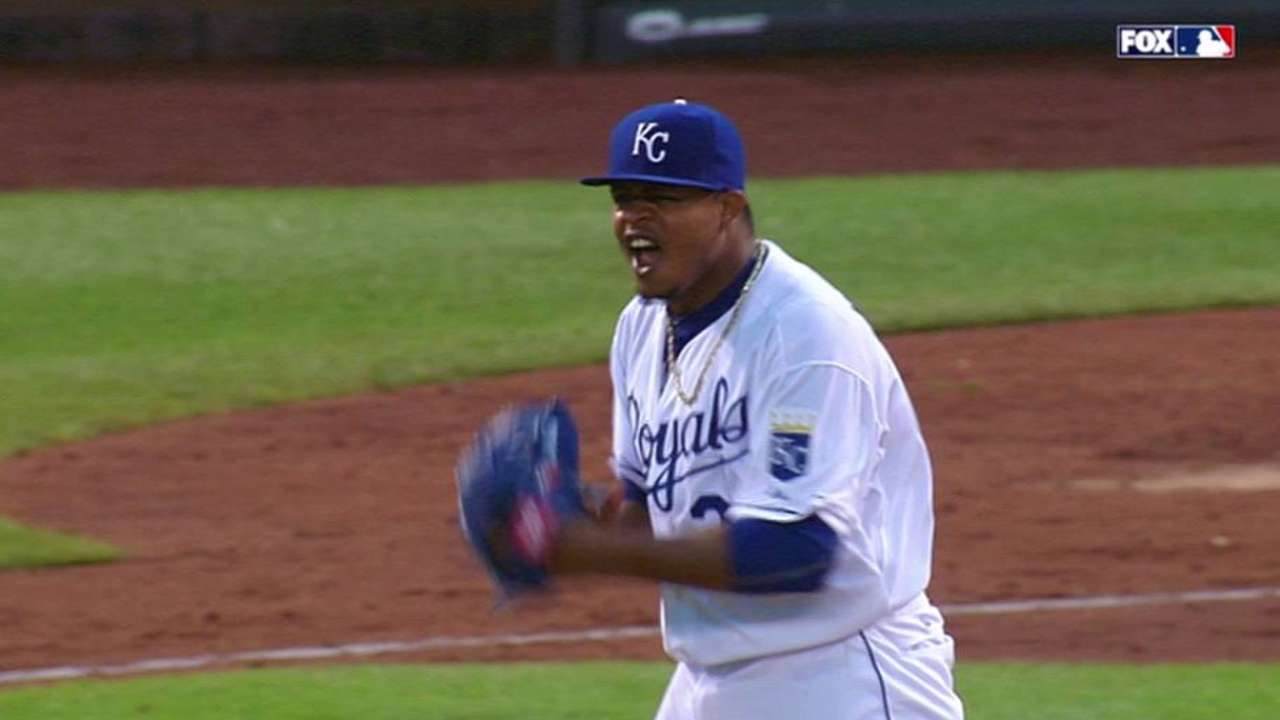 "When you have the bases loaded and less than two outs, you feel like you've got to cash in there," said right fielder Randal Grichuk.
Cardinals right-hander John Lackey was touched for six hits and three runs through five innings. St. Louis scored on Yadier Molina's RBI grounder in the second -- that stopped a string of 27 scoreless innings by Kansas City starters -- and Matt Carpenter's RBI single in the fifth.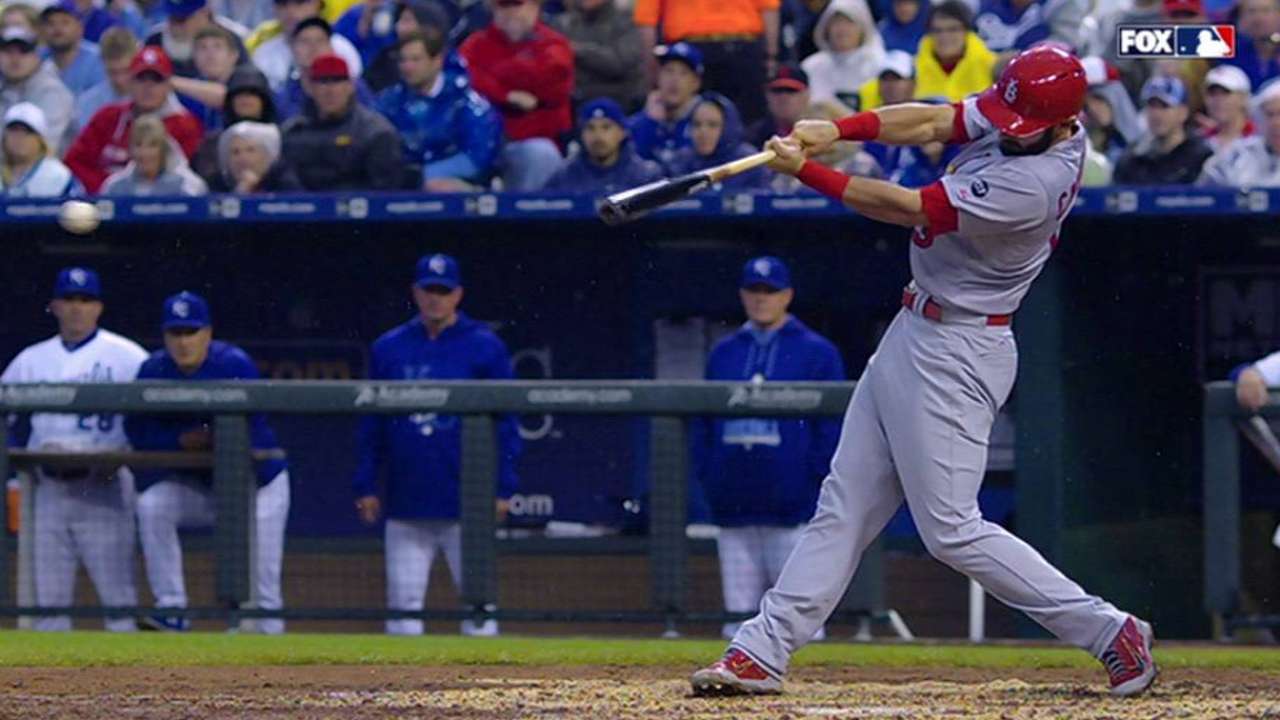 Lackey felt good about his performance other than Gordon's home run. The rain-shortened outcome only heightened the frustration. More >
"One-run game, there's a lot of game left," Lackey said.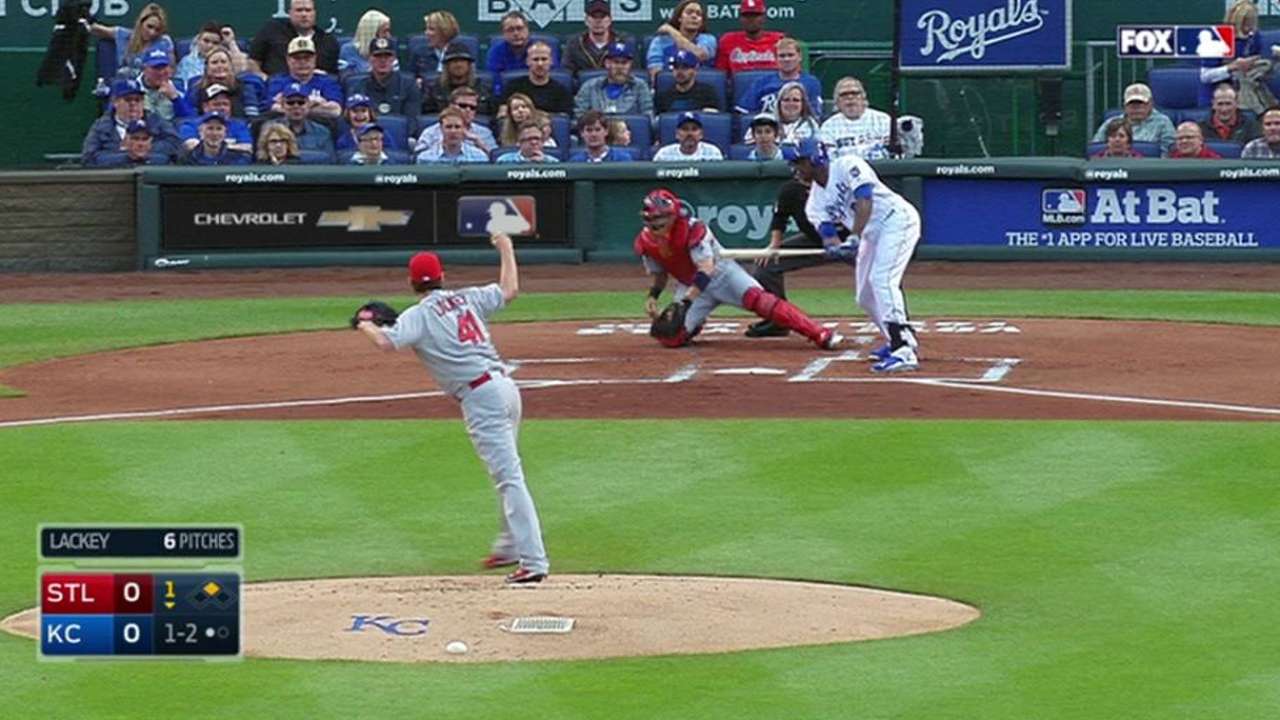 MOMENTS THAT MATTERED
Royal blast: Gordon jolted a two-run homer with Kendrys Morales aboard in the bottom of the second. That wiped out a 1-0 Cardinals lead. Gordon's homer traveled 393 feet.
"He threw me a fastball in and then one away," Gordon said, "and I was able to put a good swing on the second one. People knew about the weather situation and it was big to get a lead. It was a good win."
Big Sal's big hit: Salvador Perez delivered what turned out to be a big RBI in the bottom of the fourth. Eric Hosmer led off with an opposite-field double. Hosmer alertly went to third on a fly to left from Morales. After a walk to Gordon, Perez shot a single to left off Lackey and the Royals led 3-1.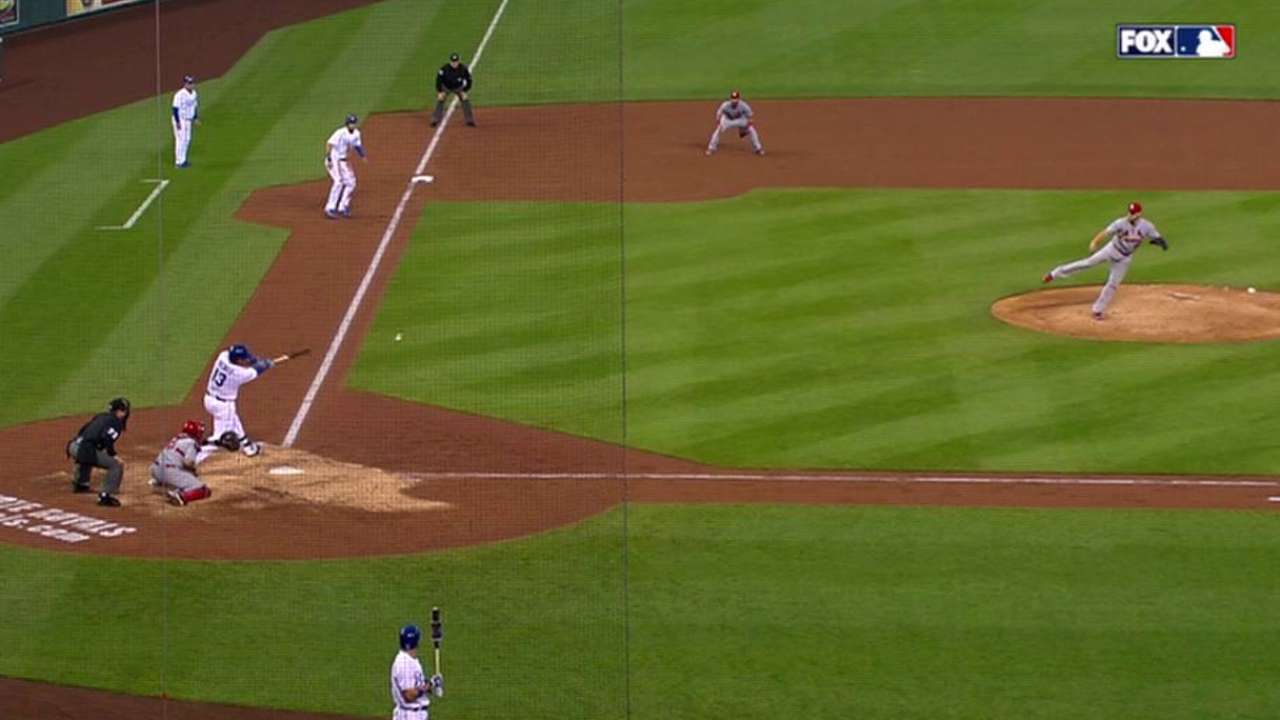 Peralta's double trouble: The Cardinals had drawn within 3-2 in the fifth inning and had the bases loaded with one out when Volquez induced Jhonny Peralta to bounce into a 4-6-3 double play. Royals shortstop Alcides Escobar hung tough against the sliding Matt Holliday and fired an accurate throw to first. That was the last big opportunity for St. Louis as the rain began to fall hard in the sixth. More >
"Esky is just fearless in those situations," Yost said.
Escobar, who has been hurt before on slides into second base, added, "I just knew I had to get the throw away. You get a little scared, but it's baseball. You have to make a play."
Said Cards manager Mike Matheny: "We had opportunities. That's the story here. We need those big hits … we had plenty of opportunities to make this a different outcome and we'd be celebrating this [rain-shortened game] right now."
WHAT'S NEXT
Cardinals: Right-hander Michael Wacha (6-0, 2.13 ERA) puts his unbeaten record on the line on Sunday at 1:10 p.m. CT in the finale of the I-70 Series. Wacha has made eight starts and the Cardinals are 8-0 in those games. Wacha has received plenty of support, with St. Louis averaging 6.75 runs when the right-hander takes the mound.
Royals: Right-hander Yordano Ventura (3-3, 4.56 ERA) will get the ball for the series finale on Sunday. Ventura will try to build on his best outing last Tuesday against the Reds -- seven shutout innings, four hits, no walks, six strikeouts. The Royals then embark on a six-game road trip against the Yankees and the Cubs.
Watch every out-of-market regular season game live on MLB.TV.
Jeffrey Flanagan is a reporter for MLB.com. Follow him on Twitter at @FlannyMLB. Robert Falkoff is a contributor to MLB.com. This story was not subject to the approval of Major League Baseball or its clubs.