After long road, Drake debuts with 'proud moment'
2008 Draft pick earns first callup after injury-plagued Minors career, goes three scoreless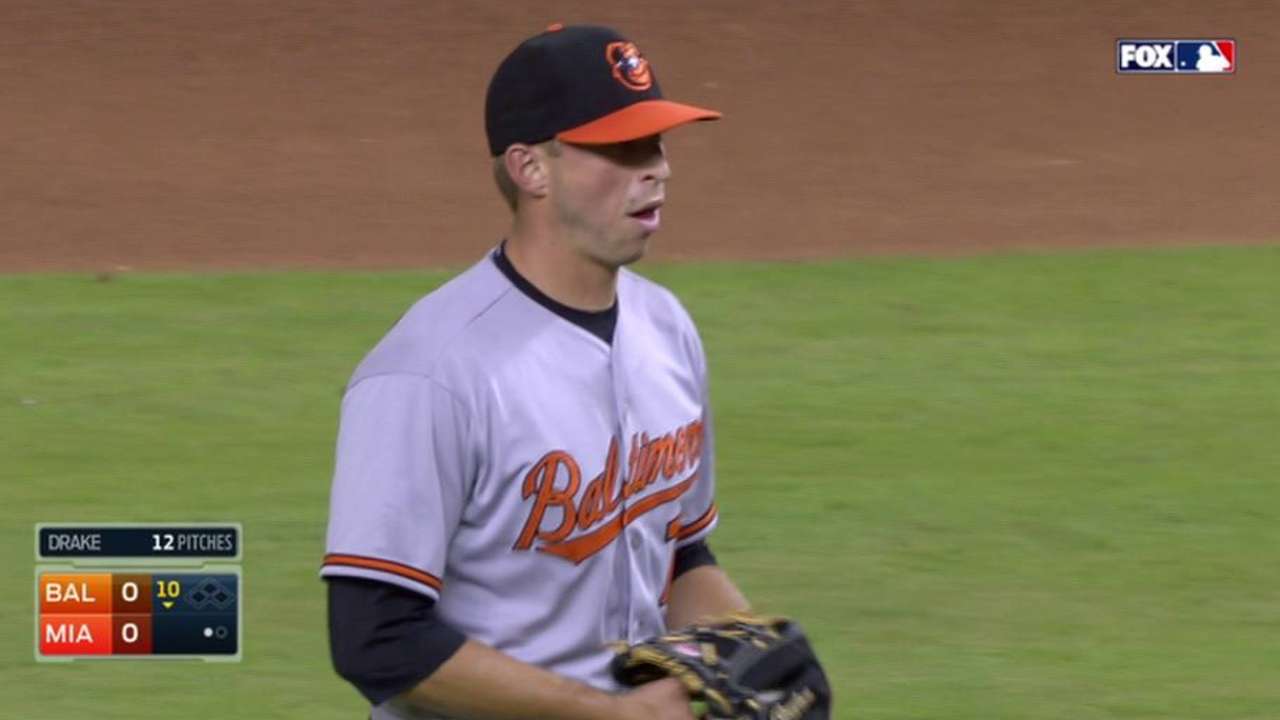 MIAMI -- Seeking bullpen help, the Orioles called up righty reliever Oliver Drake from Triple-A Norfolk prior to Saturday night's contest against the Marlins, and he certainly provided plenty of help in his Major League debut.
Drake, the 28-year-old former Navy pitcher and Baltimore's 43rd-round pick in the 2008 First-Year Player Draft, notched three scoreless frames from the ninth through the 11th innings on 36 pitches in the O's 13-inning, 1-0 loss. He allowed just two hits and struck out two.
"It was exciting," he said. "I was glad I was able to go out there and keep some runs off the board and keep us in the game. ... The adrenaline was really kicking. It had been a while since I'd gone that far."
In 16 appearances with Norfolk this season, the 6-foot-4, 215-pounder allowed just two runs in 18 2/3 innings (0.96 ERA). He struck out 30 and walked four. While he was initially put on Baltimore's 40-man roster in November 2011, he suffered a shoulder injury soon after that required surgery, which altered his career path. He was added to the O's 40-man roster again this past offseason.
Considering all he's been through, manager Buck Showalter described watching Drake's performance on Saturday as a "proud moment."
"Thinking about all the circumstances of him pitching -- a tie game on the road in his Major League debut -- if you can't pull something out of that," Showalter said. "Just think about the journey that Drake's been on. It's been a long journey and I was very fortunate to get to watch that."
In addition to his stellar pitching, Drake tagged out Adeiny Hechavarria at home plate in the 10th inning after a pitch in the dirt. The play sent the game into the 11th inning after being confirmed upon review.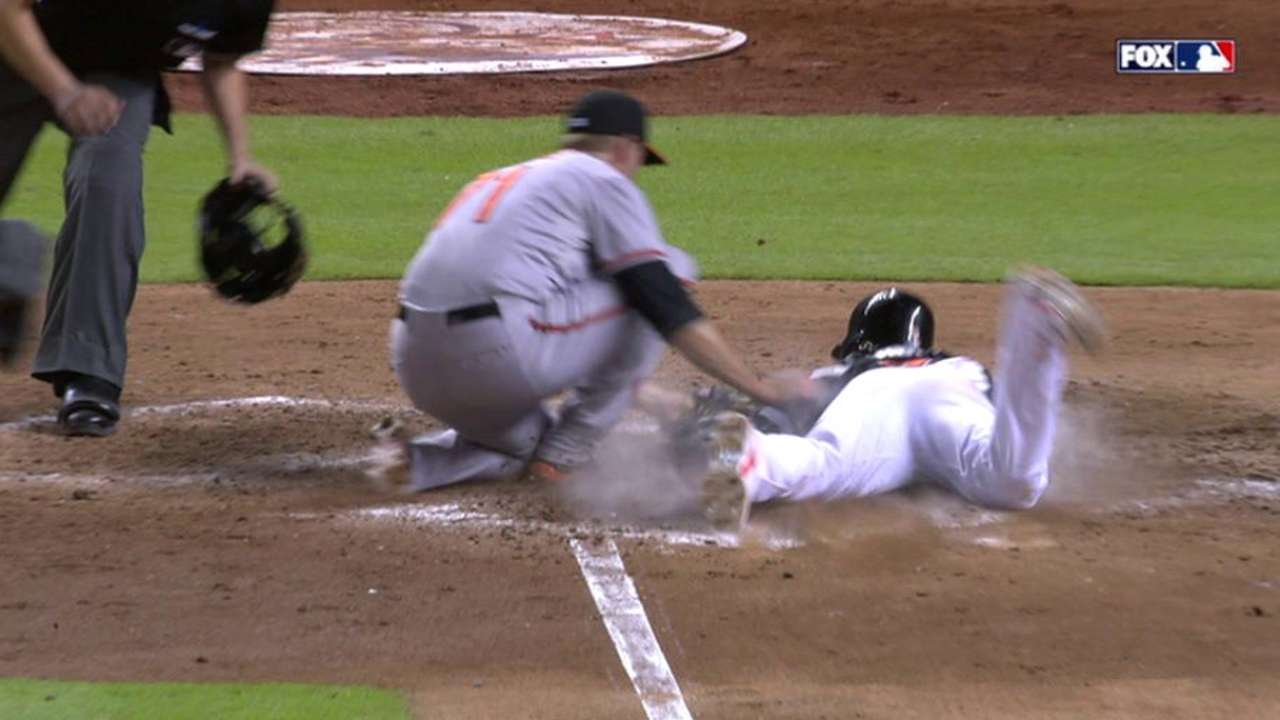 "That was awesome," Drake said. "It was just kind of a blur. I saw the ball, and Caleb [Joseph's] great. I had 100 percent faith in him throwing a splitter down. He blocked it, kept it close and when I saw the guy taking off from third, I just knew I had to get to the plate and got the tag on."
As a result of Drake joining the O's, Tyler Wilson was sent down to Triple-A Norfolk.
Wilson (1-0, 4.50 ERA) worked an inning of relief on Friday and allowed one run on three hits as he picked us his first career win. Showalter said Wilson will be in Norfolk "at least for 2-4 days" and will go right into the starting rotation.
"He's a starting pitcher prospect for us and who knows where he fits in the 'pen," Showalter said prior to the game. "He needs to get back on the horse."
Steve Wilaj is an associate reporter for MLB.com. This story was not subject to the approval of Major League Baseball or its clubs.