What to watch for in today's games
Cards-Royals series closes out; Rangers-Yankees in night action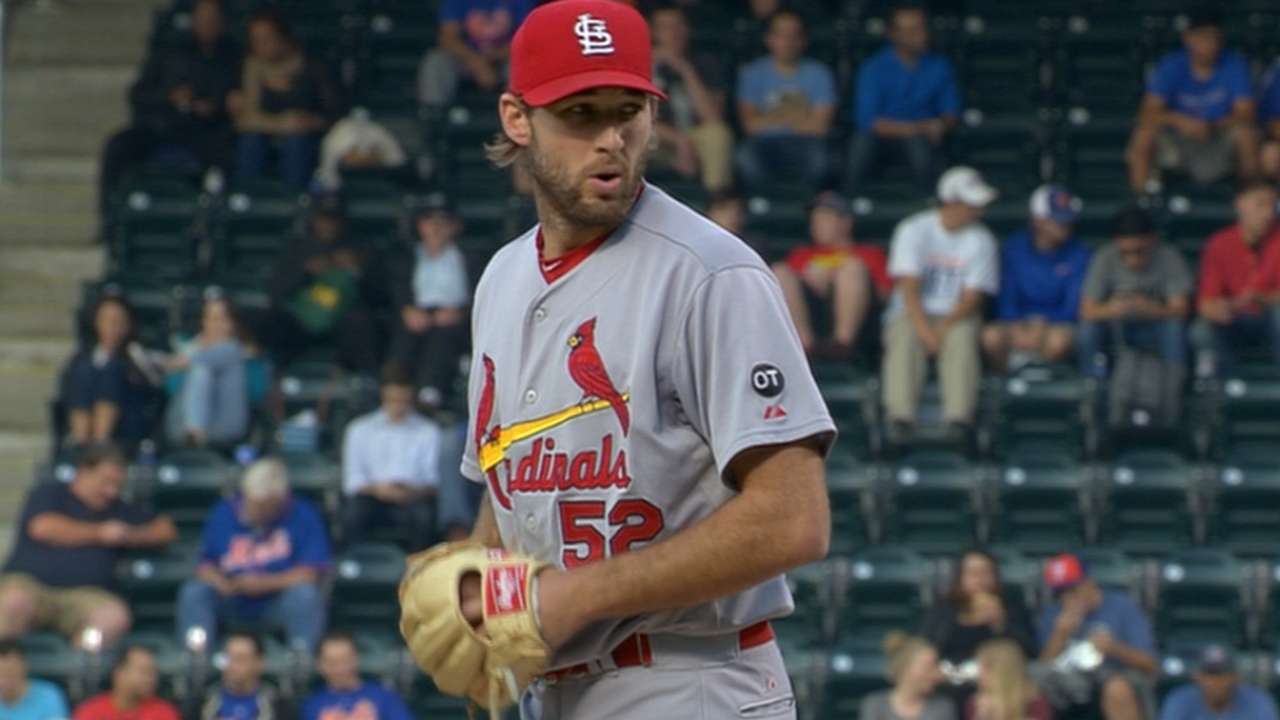 An exhilarating and entertaining series between the St. Louis Cardinals and Kansas City Royals will come to a close on Sunday afternoon when the two clubs finish out their three-game set at Kauffman Stadium.
The interstate rivals find themselves at the top of their respective divisions and among the early favorites to make it to the Fall Classic.
St. Louis hands the ball to right-hander Michael Wacha, who's been on quite the win streak. Wacha (6-0, 2.13 ERA) became the National League's second six-game winner with a quality start on Tuesday. He's allowed two or fewer runs in seven of eight starts and has yet to allow more than six hits in an outing.
Kansas City counters with young fireballer Yordano Ventura. The right-hander got his third win of the season in his last outing, allowing just four hits in seven innings to the Reds. In one career start against St. Louis, Ventura went six innings, allowing two runs on seven hits for the win.
Here are a few other games on tap for Sunday.
Righties Duel: OAK @ TB, 1:10 p.m. ET
Sonny Gray has proven he can be the ace of the A's staff, but he's looking to bounce back after his second loss of the season on Tuesday to Houston. He allowed three runs on seven hits in the game, marking just the second time in nine starts that he's surrendered more than two runs.
Erasmo Ramirez will make his fifth start of the season. The right-hander has combined to allow three runs on three hits in 10 innings while winning his last two starts.
Gray has done well on the road this season, going 2-1 with a 2.64 ERA in five starts. Meanwhile, Ramirez has thrived at Tropicana Field, going 1-0 with a 1.59 ERA in six games (two starts).
Rivals Revisited: PHI @ WSH, 1:35 p.m. ET
Veteran right-hander Aaron Harang continues to pitch well for the Phillies. He allowed three unearned runs in six innings on Tuesday to the Rockies, all of which came in the first inning. He surrendered just one hit in his final five frames.
Nats left-hander Gio Gonzalez was perfect through the first three innings of his last start against the Yankees, but struggled through the next two frames. The lefty took his second straight no-decision and hasn't been the pitcher of record since May 8.
Bryce Harper has pummeled Harang in the past, hitting .450 (9-for-20) with one home run. Meanwhile, Ben Revere has had his share of success against Gonzalez, hitting .409 (9-for-22) with two RBIs.
Late Shift: TEX @ NYY, 8:05 p.m. ET
The first two games of this series have had no shortage of offense. After a 10-9 win for the Rangers on Friday, the team picked up another win on Saturday, crushing the Yankees in a 15-4 victory.
Chris Capuano takes the hill as the Yankees look to avoid a sweep. The left-hander, who injured his right quad in Spring Training, will make his second start of the season. He allowed four runs on four hits in three innings for the loss last Sunday against the Royals.
Meanwhile, Yovani Gallardo gets the ball for the Rangers, having gone 1-5 with a 4.63 ERA in his last six starts. He allowed four runs on 10 hits in five innings for the loss on Tuesday against the Red Sox.
Quinn Roberts is a reporter for MLB.com. This story was not subject to the approval of Major League Baseball or its clubs.