Nervous Jones has scoreless pitching debut
Yankees veteran moves from first base to mound, records two outs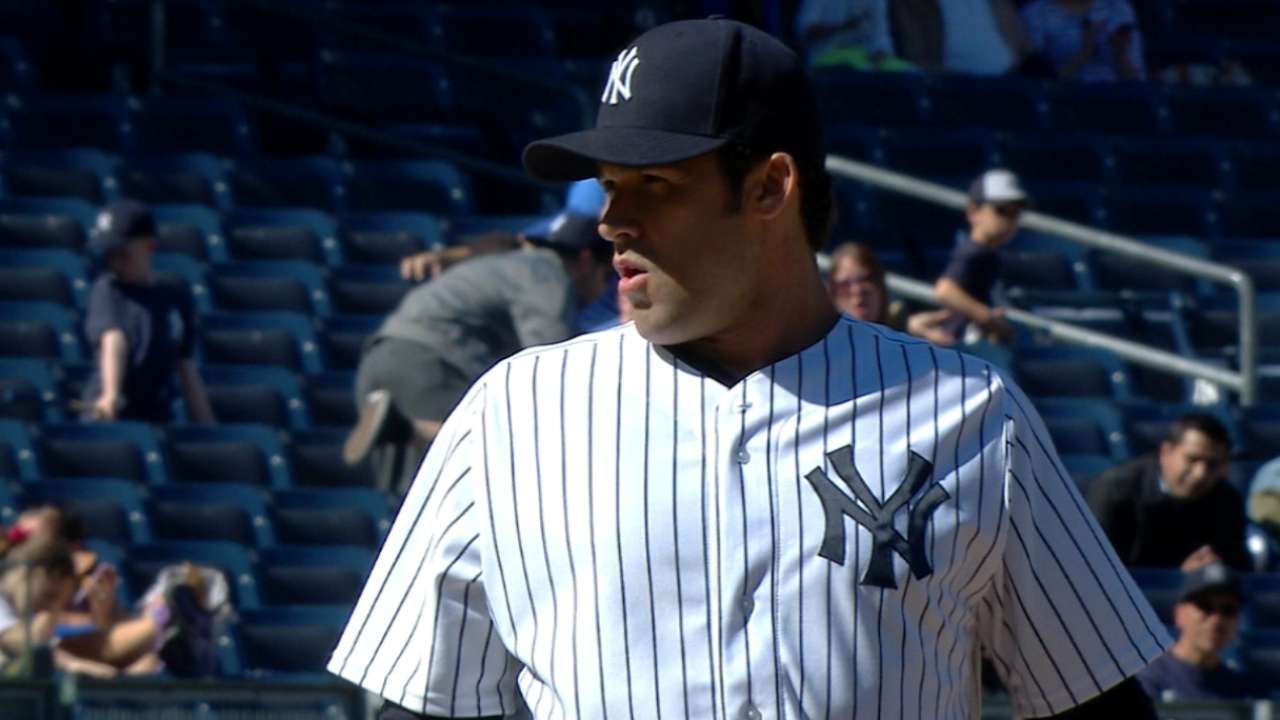 NEW YORK -- Garrett Jones finally got his chance to see what it feels like to be a pitcher in the big leagues, though it came under circumstances that he and the Yankees would have much rather avoided.
Jones abandoned first base and stepped on the rubber to get the final two outs of the top of the ninth inning in Saturday's 15-4 loss to the Rangers at Yankee Stadium, marking his first pitching appearance since he was a senior at Andrew High School in Tinley Park, Ill.
"I was a little scared and nervous," Jones said. "I tried to throw it over the plate and tried not to get a line drive hit right back at me, so it was fun. I was trying to compete at the same time, but I was just trying to put it over the plate and hoped they'd put it in play and get some outs."
Jones became the Yanks' first position player to pitch since infielder Dean Anna, who did it last April 19 in a 16-1 loss to the Rays at Tropicana Field. Yankees manager Joe Girardi said he wanted to save the bullpen after reliever Branden Pinder had already thrown 48 pitches over three innings.
This was a second crack of sorts for Jones, an outfielder and first baseman by trade who nearly pitched in the Yanks' 19-inning marathon loss to the Red Sox on April 10. At the time, he described his repertoire as having a "straight fastball and nasty changeup."
He showcased a new trick Saturday, snapping off some curveballs, including one that got Shin-Soo Choo to ground out to first base for the second out of the ninth.
"They actually felt pretty good coming out of the hand, so I threw mostly those and a couple of fastballs, and tried to two-seam it a little bit," Jones said. "It turned into, just throw it over the plate, pretty much."
Working from the mound was more challenging than Jones remembered. Though he fired one of his warmup pitches to the backstop, walked the first batter he faced and plunked pinch-hitter Leonys Martin, Jones escaped with a perfect 0.00 ERA by getting Thomas Field to fly out to center fielder Slade Heathcott.
"That's nice to go on the wall, for sure, to have a zero in big leagues," Jones said. "I never thought I'd pitch, but it's something to go on the resume. Any time they need me to pitch, I'll be ready."
Bryan Hoch is a reporter for MLB.com. Follow him on Twitter @bryanhoch, on Facebook and read his MLBlog, Bombers Beat. This story was not subject to the approval of Major League Baseball or its clubs.