Braves rookie delivers in 11th to sink Brewers
ATLANTA -- Shelby Miller bounced back from a rocky first inning and the Braves' bullpen held off the Brewers long enough for Jace Peterson to give Atlanta a walk-off single for a 3-2, 11-inning win Saturday.
Alberto Callaspo started the final rally with a one-out walk from right-hander Brandon Kintzler, and Andrelton Simmons followed with an infield single. After a groundout moved them to second and third, Peterson stepped into the box and drilled the first pitch he saw into left-center field for his first career walk-off hit.
"[Peterson] had a great at-bat," said Braves manager Fredi Gonzalez, whose club got back to .500 with its 21st win. "First pitch, got him. Base hit. When you play that long, especially at home, it's nice to win those games."
Miller allowed a run during the first inning for the first time this season and was far from the pitcher who came one out shy of a no-hitter against the Marlins on Sunday. Still, he managed to work around seven hits, two walks and a hit batter to limit the Brewers to just two runs over six innings.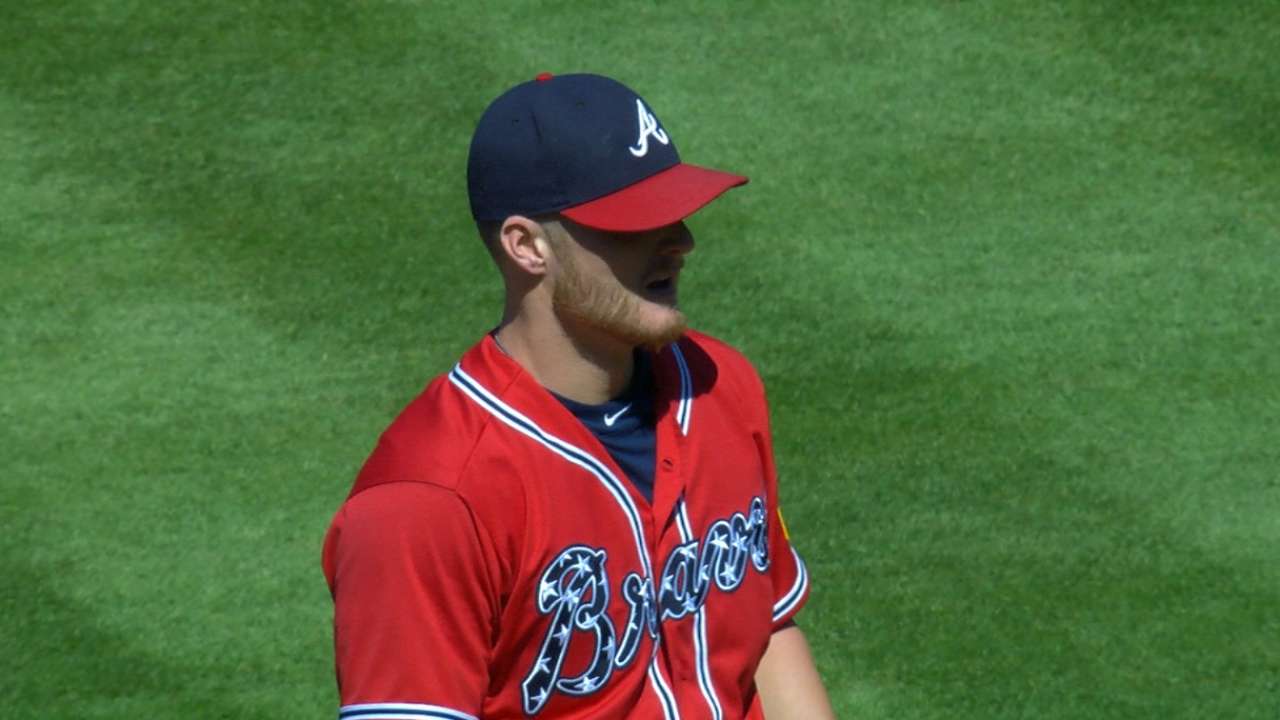 "It's always a grind," Miller said. "[Braves catcher A.J. Pierzynski] did a good job behind the plate, and I didn't have my sharpest stuff. At the same time, just try to go out there every inning and battle and put up zeros, and at the end of the day, we got a win, and that's the most important thing."
Brewers starter Mike Fiers showed well in his first appearance against the Braves, throwing five innings of two-run ball. He struck out five batters and walked just one but ran into trouble during the fifth inning, when Atlanta doubled three times and tied the game, 2-2.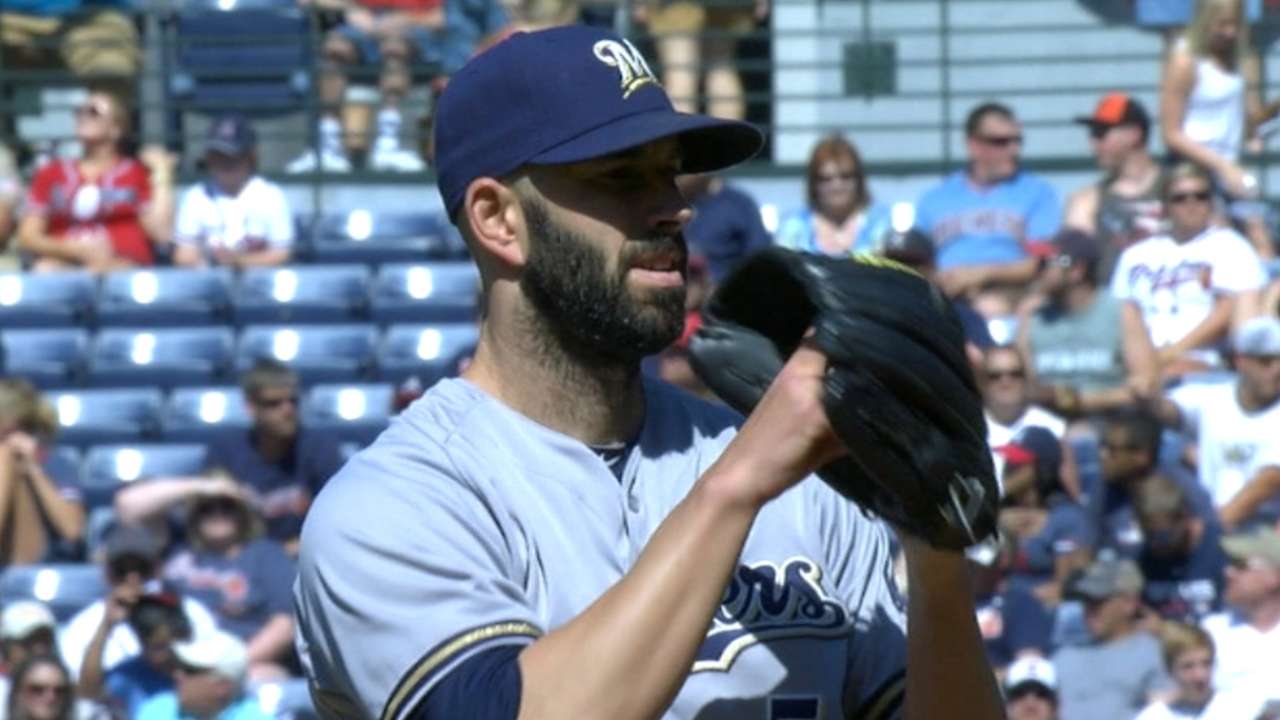 "I definitely did [give the team a chance to win]," Fiers said. "No one's been hitting that guy [Miller] for a month now, so it was good to get on the board early and pitch with a lead early on. It just helped me a lot knowing I could go right after those guys and make pitches and make them put it in play."
MOMENTS THAT MATTERED
Flashing the leather: Defense was huge for the Braves, with big plays bailing Atlanta out of jams on multiple occasions. Miller induced a 1-2-3 double play from pinch-hitter Khris Davis to end the sixth. Simmons caught Luis Sardinas rounding third with a perfect throw after cutting a ball from the outfield in the ninth. And Freddie Freeman started a 3-6-3 double play in the 10th to strand the potential go-ahead runner on third. More >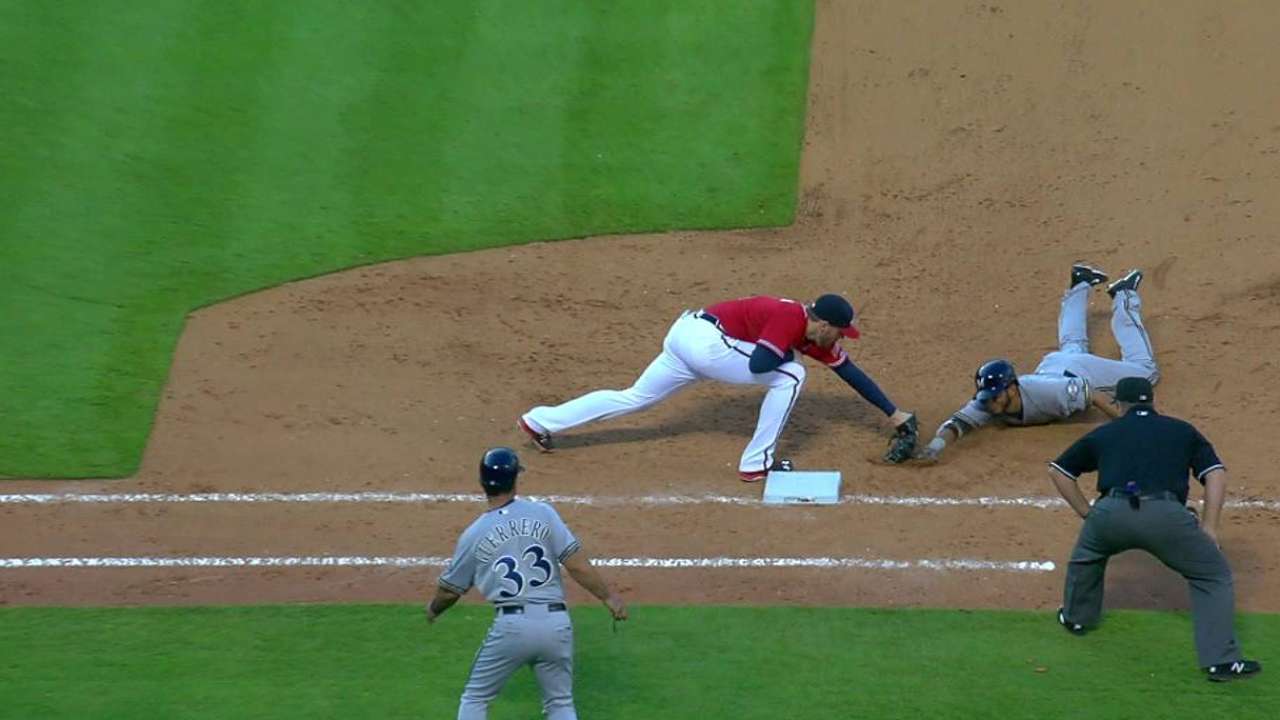 Miller time (at the plate): Miller showed he can hit a ball as well as throw one in the fifth inning, when he doubled down the left-field line and got the Braves' offense rolling. After Peterson flied out to left, Cameron Maybin and Freeman both notched doubles of their own to even the score at two apiece. The hit was Miller's first of the season and put Atlanta back in the game after trailing, 2-0.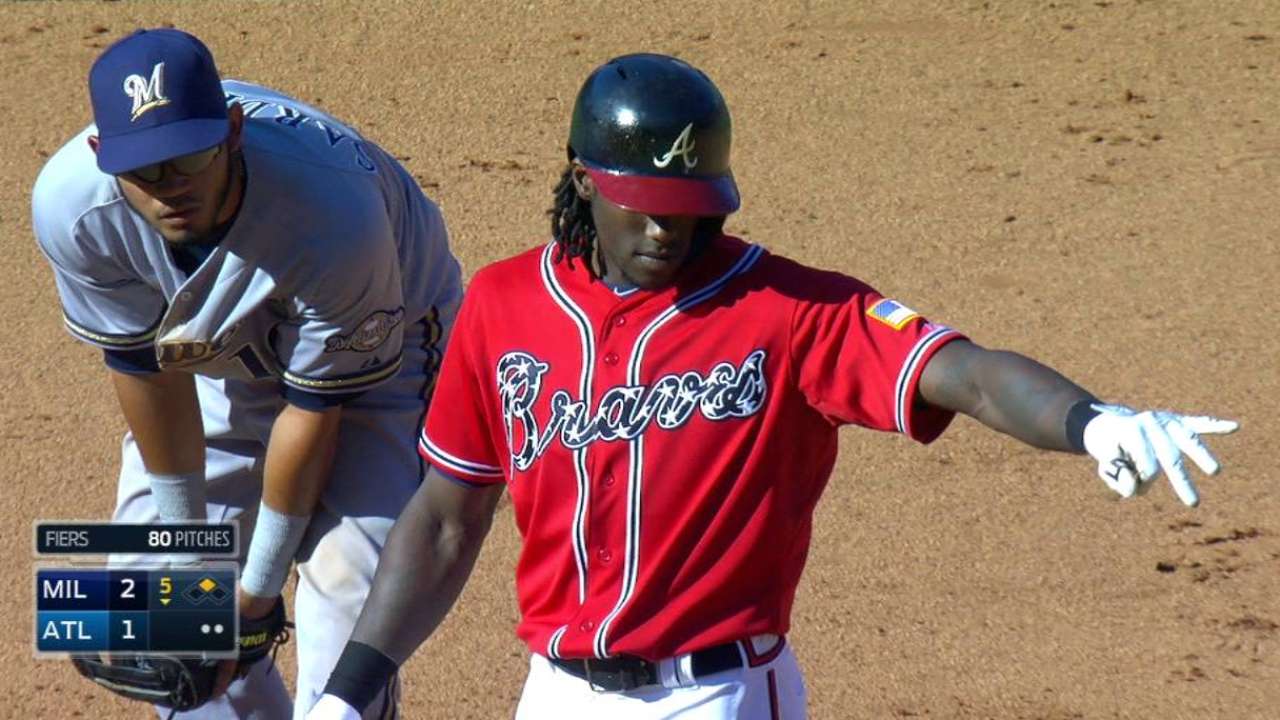 Crazy eights: Batting the pitcher eighth has given Milwaukee mixed results this series. On Friday night, right-hander Wily Peralta drew an important bases-loaded walk to spark a seven-run rally that put the game on ice. On Saturday, the spot drew a blank, as Fiers, who had the only hit out of the spot, flied out to end the fourth, stranding runners on second and third. In the sixth, Davis batted for Fiers and tapped into a 1-2-3, inning-ending double play. More >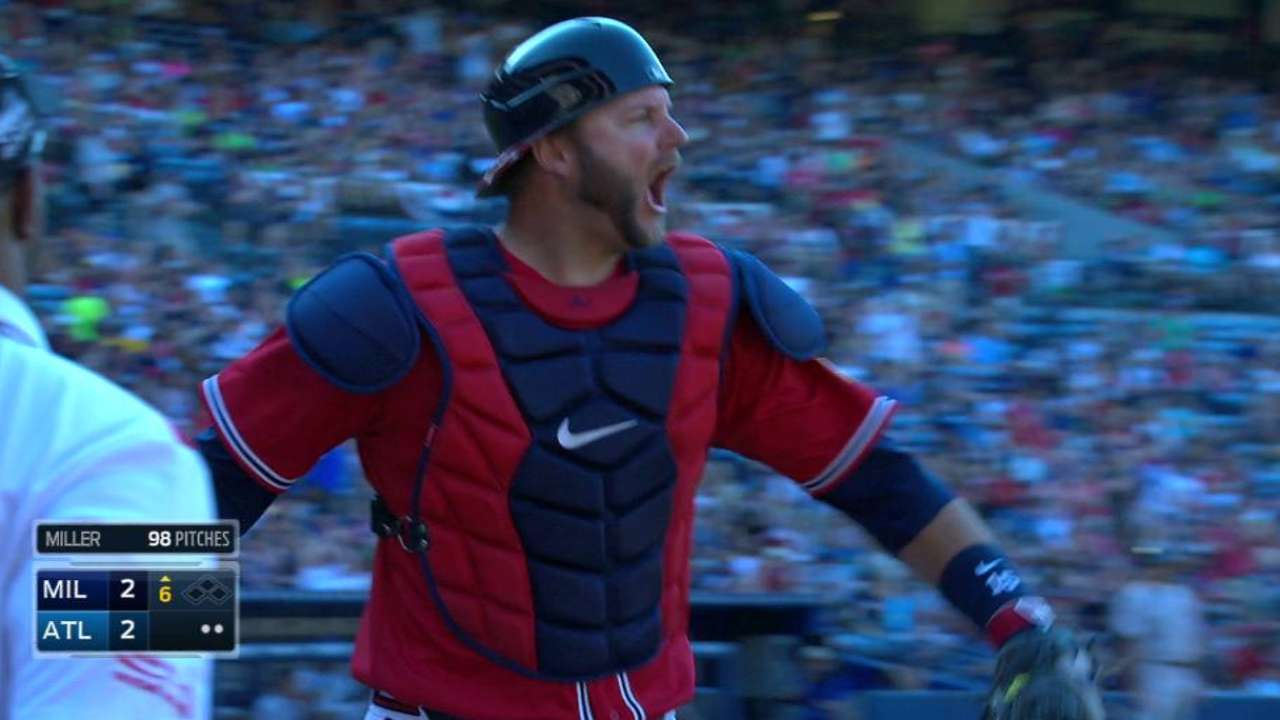 The best revenge: Reliever Will Smith, who pitched to one hitter on Thursday night before being ejected for use of an illegal substance, got the best revenge on Saturday. The lefty, a native of nearby Newnan, Ga., retired five of the six batters he faced, including striking out the side in the eighth to keep the game tied. More >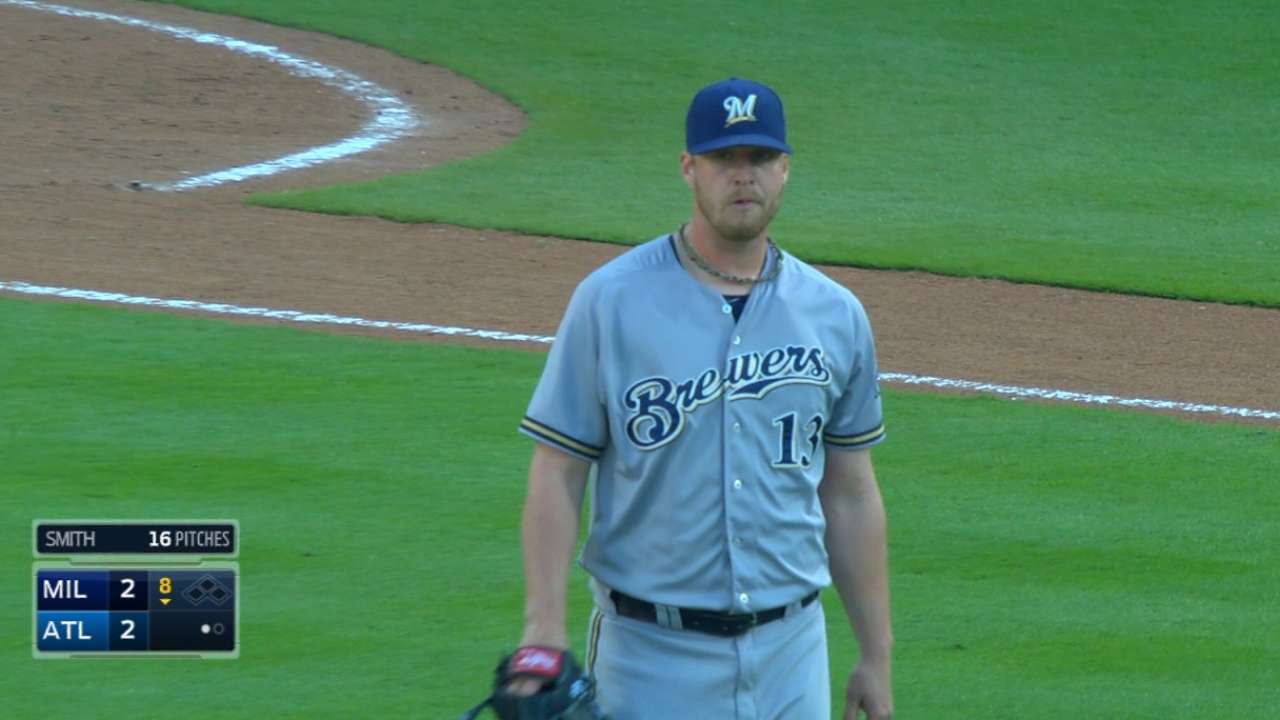 QUOTABLE
"It's awesome to be a part of a pitching duel like that. Shelby was awesome, bullpen was awesome, and [Peterson] started the game with a hit and ended the game with a hit." -- Freeman
"It was that kind of game. It was a game where you wish you would have had one out here, a ball placed in a different spot there, but it was a good baseball game. A good, hard-fought baseball game." -- Brewers manager Craig Counsell
INJURY REHAB UPDATE
C.J. set for rehab stint: Braves third baseman Chris Johnson (left hand fracture) is expected to take batting practice with the team at Turner Field on Sunday before starting a three-game rehab stint with Triple-A Gwinnett on Monday. If that timeline holds, Johnson would be available for the Braves on Thursday when they start a four-game series in San Francisco.
WHAT'S NEXT
Brewers: Milwaukee wraps up a 10-game road trip and four-game series in Atlanta on Sunday, sending right-hander Jimmy Nelson to the the mound. Nelson shut down the Tigers his last time out, allowing one run and three hits over eight innings of a 4-2 victory. Nelson, a University of Alabama product, is making his first career appearance at Turner Field.
Braves: Atlanta counters in the 1:35 p.m. ET start with rookie Mike Foltynewicz, who is searching for consistency at the Major League level after allowing five runs in five innings to the Rays on Tuesday. Foltynewicz's seven strikeouts in the outing leave room for optimism moving forward though, especially when taken with the progression he has seen with his curveball. "The last two games actually have been the best it's felt," he said Saturday. "It's come a long way since Spring Training."
Watch every out-of-market regular-season game live on MLB.TV.
Carlos Collazo is an associate reporter for MLB.com. Jon Cooper is a contributor to MLB.com. This story was not subject to the approval of Major League Baseball or its clubs.