Astros' triple play the turning point vs. Tigers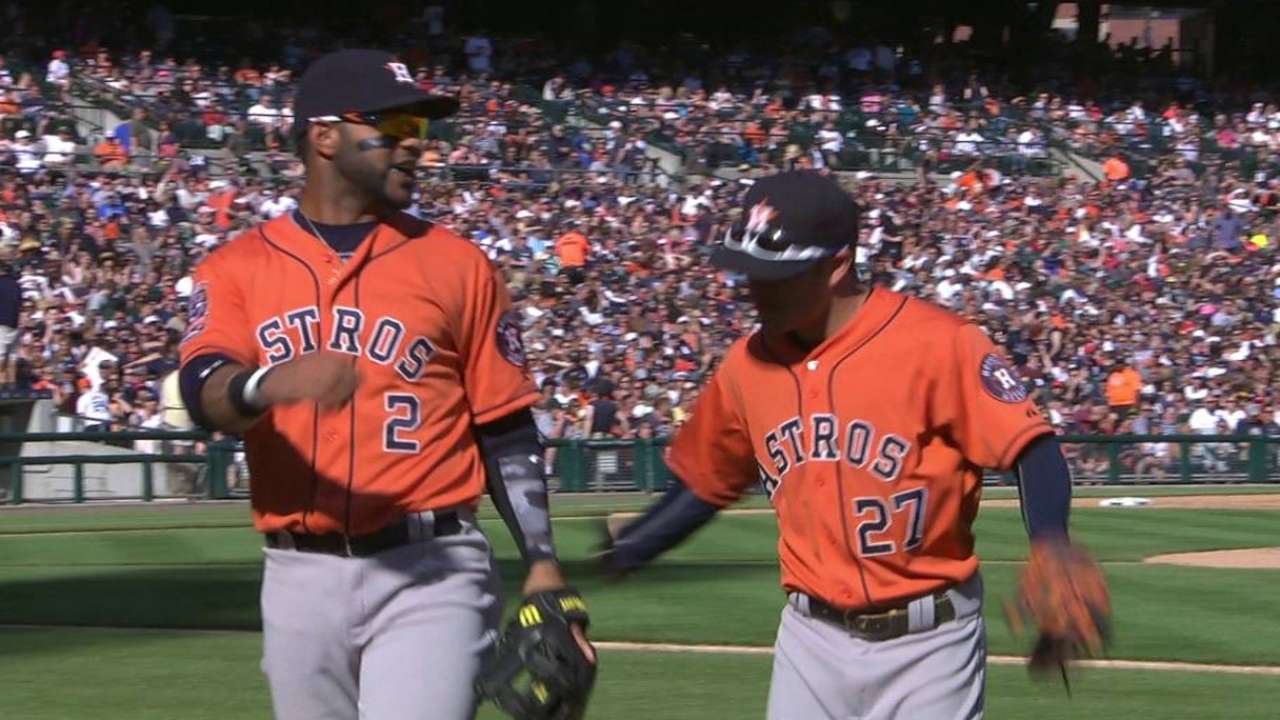 DETROIT -- When Jonathan Villar has children, the Astros' utility infielder is looking forward to telling them about the Saturday afternoon he started a triple play in a 3-2 win at Comerica Park.
He imagines describing the scene: runners on first and second in the fifth inning with no outs, and Tigers second baseman Ian Kinsler at the plate. Maybe Villar will remember how, in the moment before Kinsler swung at the 2-1 offering from Lance McCullers, he was itching for a ground ball to be hit to him.
"How can I describe it?" Villar said in Spanish. "I feel very proud of the play. It's something very emotional. … I was calling it like, 'Please give me a ground ball here, and I'll go to third base and we'll have a triple play.'"
And that's exactly how it happened. Villar fielded the ball, stepped on third, fired to Jose Altuve at second base, and watched as the relay to Chris Carter at first base beat Kinsler by half a step.
"I saw him turning to second base, and I said, 'Oh, we got it,'" Altuve said.
It was the first triple play turned by the Astros since Aug. 19, 2004, and it proved crucial to Houston's 3-2 win at Comerica Park on Saturday. Instead of allowing Tigers first baseman Miguel Cabrera the opportunity to hit with runners on base, the entire threat was neutralized, and the Astros scored twice in the top of the sixth to claim the lead for good.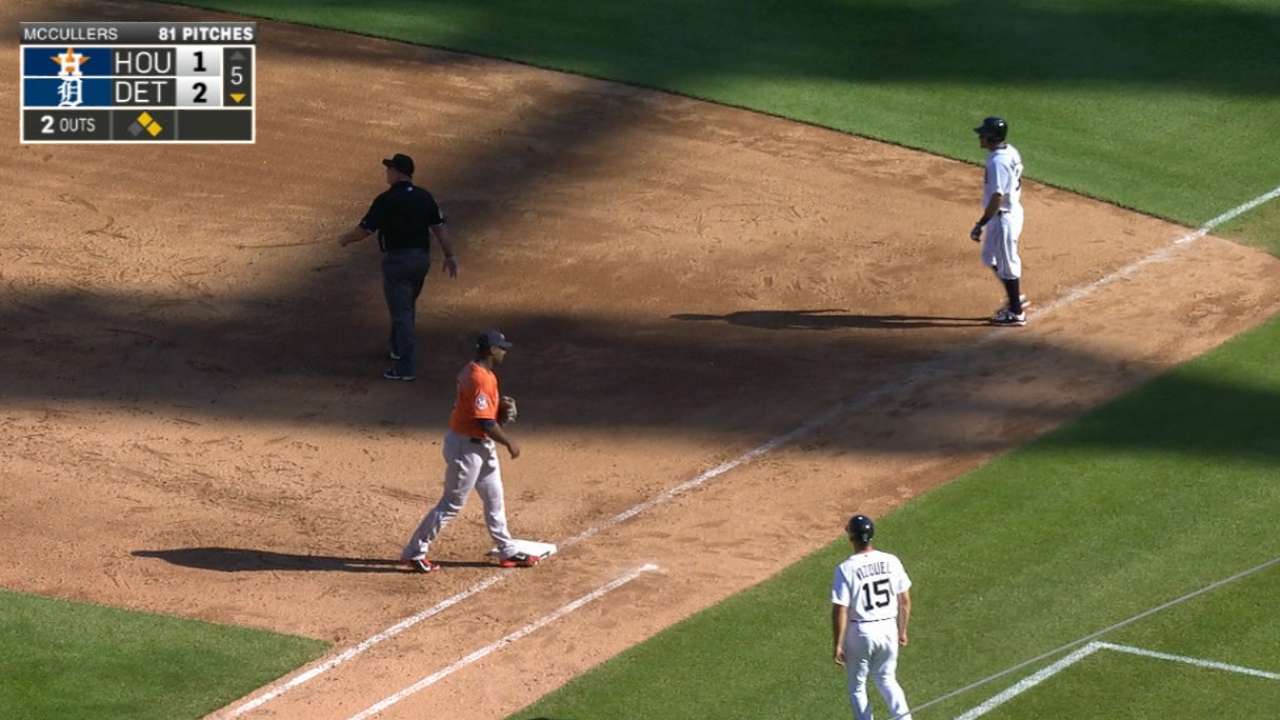 "The game's sort of in the balance there," said Houston manager A.J. Hinch. "... Kinsler hits it to probably the perfect spot for that type of play to happen, and we executed. It sort of shifted [momentum] -- a lot more smiles in our dugout after that, because we'd been grinding through a rough game for us."
Villar, Altuve and McCullers all said it was the first triple play they could remember being a part of, and it came at an opportune time for the rookie pitcher, who earned his first major league win.
The reaction wasn't quite as positive from Kinsler, who has now participated in the last two such feats at Comerica Park. In 2009, when the second baseman starred for the Rangers, he began a triple play by catching a Gerald Laird line drive.
On Saturday, he was on the wrong side of history, and he knew it might happen the instant he made contact.
"You hit it, you know what's happening in the inning," Kinsler said. "You know where the runners are. I was trying to beat it out."
Instead, Altuve avoided a strong slide from Anthony Gose at second base and connected cleanly with Carter to end the inning. Later, in the clubhouse, Carter would see a replay and exclaim, "That's me!" with a smile painted on his face.
For Villar, it's a sequence he might watch 100 times over.
Alejandro Zúñiga is an associate reporter for MLB.com. Follow him on Twitter @ByAZuniga. This story was not subject to the approval of Major League Baseball or its clubs.