Bloomquist delivers with bat, glove in Seattle win
Right fielder hits game-winning two-run double, nabs runner for key out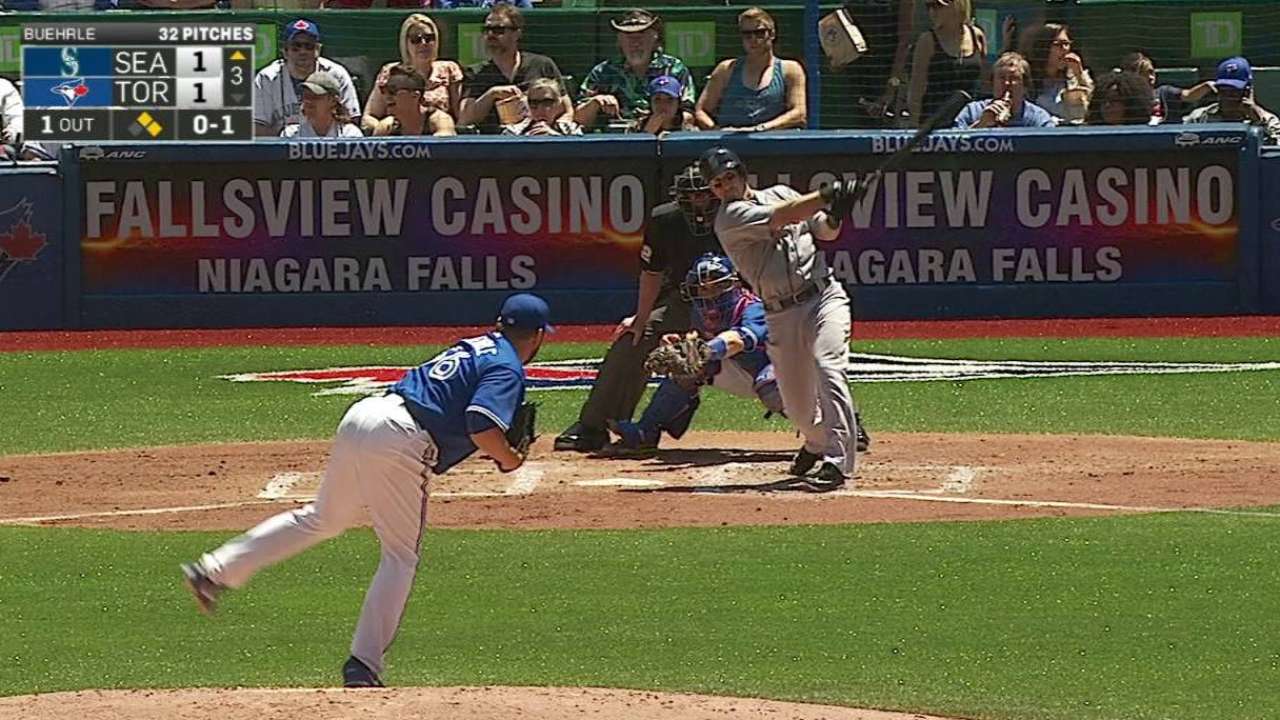 TORONTO -- The Mariners have had their "Boomstick" in right field much of the season with new slugger Nelson Cruz. But add "Bloomstick" to the mix after veteran utility man Willie Bloomquist stepped in for his first start in right this season, ripped the game-deciding two-run double and also threw out a runner at second in Seattle's 3-2 win over the Blue Jays on Saturday.
"I told Cruz, we found a power-hitting right fielder," said Mariners skipper Lloyd McClendon.
Returning from right knee surgery last August and competing on a roster with several other utility options, Bloomquist had been limited to 34 at-bats in the first 41 games. But he delivered when called upon to help Seattle beat veteran lefty Mark Buehrle.
"It felt great. I'm not going to lie," Bloomquist said. "It's been a little bit of a battle for me so far this year, but to come up with a big hit in a big situation right there was obviously that we needed today as a team. And for me, personally, it felt pretty good."
Bloomquist has hit just one homer in the last four seasons, but he came within inches on his opposite-field shot off Buehrle that bounced high off the wall in left field to drive in Chris Taylor and Rickie Weeks in the third inning.
"I don't hit too many of them, but I did think I got that one," said the 37-year-old. "I thought I got enough of it. But you hear the thump against the wall, and you're like, 'C'mon, really?' Then I watched the replay, and we're talking less than a foot. I'm heading to the weight room right now to get another set in."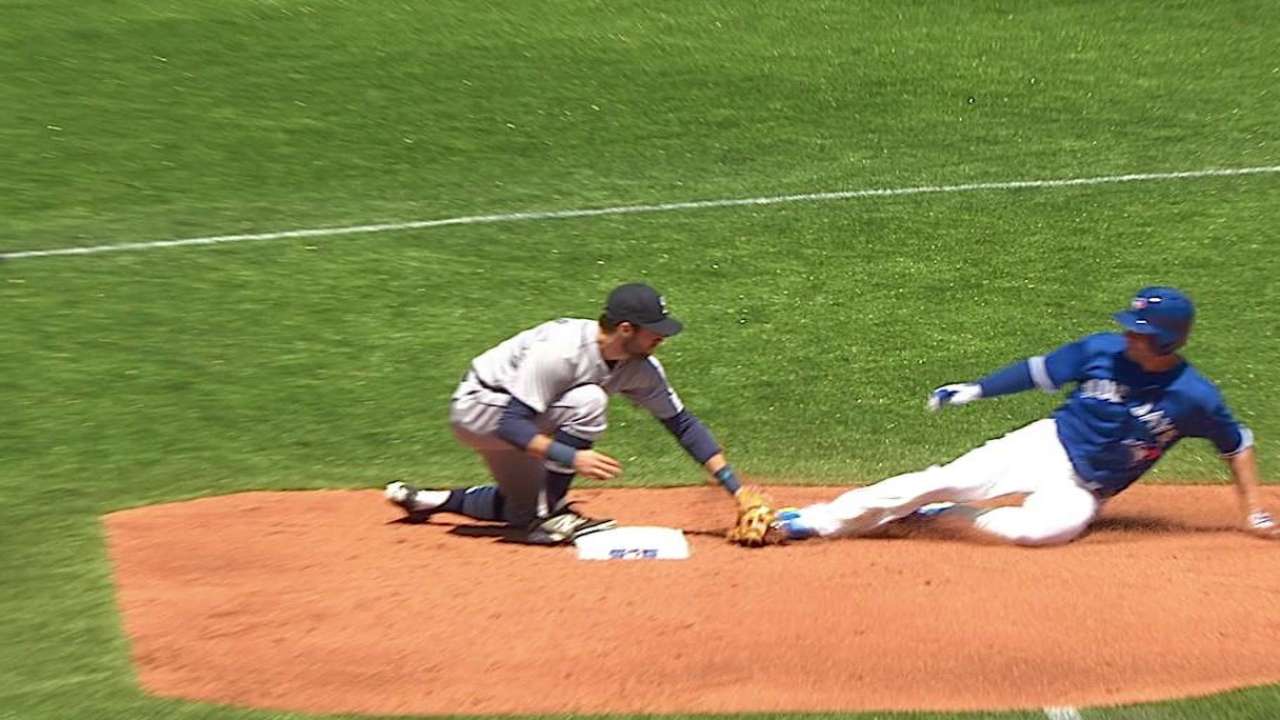 Bloomquist's defensive play turned out to be just as critical as he gunned down Danny Valencia heading for second after a one-out single in the fourth caromed off diving center fielder Justin Ruggiano. Bloomquist quickly fielded the bounce and fired a strike to Taylor at second. When Chris Colabello followed with a solo home run, that play loomed large as it kept the tying run off base.
"I saw [Valencia] going and knew he was going to go for it, so I was just trying to get a read on which way it'd bounce in case [Ruggiano] missed it," Bloomquist said. "It's tough to tell which way the ball is going to kick off this turf. It kind of took a tricky hop back to where it was at. I'm glad my ACL is still intact, but I was able to get it and make a good throw to second. That turned out big for us."
For Bloomquist, it was his first multiple-RBI game since June 7 of last year and his first extra-base hit since July 21. The 1-for-4 day leaves him hitting .184, but the frustration of a difficult season felt a lot lighter after this one.
"Just contributing positively to a team 'W' is huge for me at this point," Bloomquist said. "The at-bats are going to come. I understand the situation we're in as a team and me personally. It doesn't make it any easier when your swing doesn't feel quite right and you're trying to get your timing, but I'm going to keep grinding, keep battling and hopefully contribute when I can."
Greg Johns is a reporter for MLB.com. Follow him on Twitter @GregJohnsMLB, read his Mariners Musings blog, and listen to his podcast. This story was not subject to the approval of Major League Baseball or its clubs.