Buehrle keeps up rotation's solid run in loss to Seattle
Lefty turns in fifth quality start, giving up three runs in 7 1/3 innings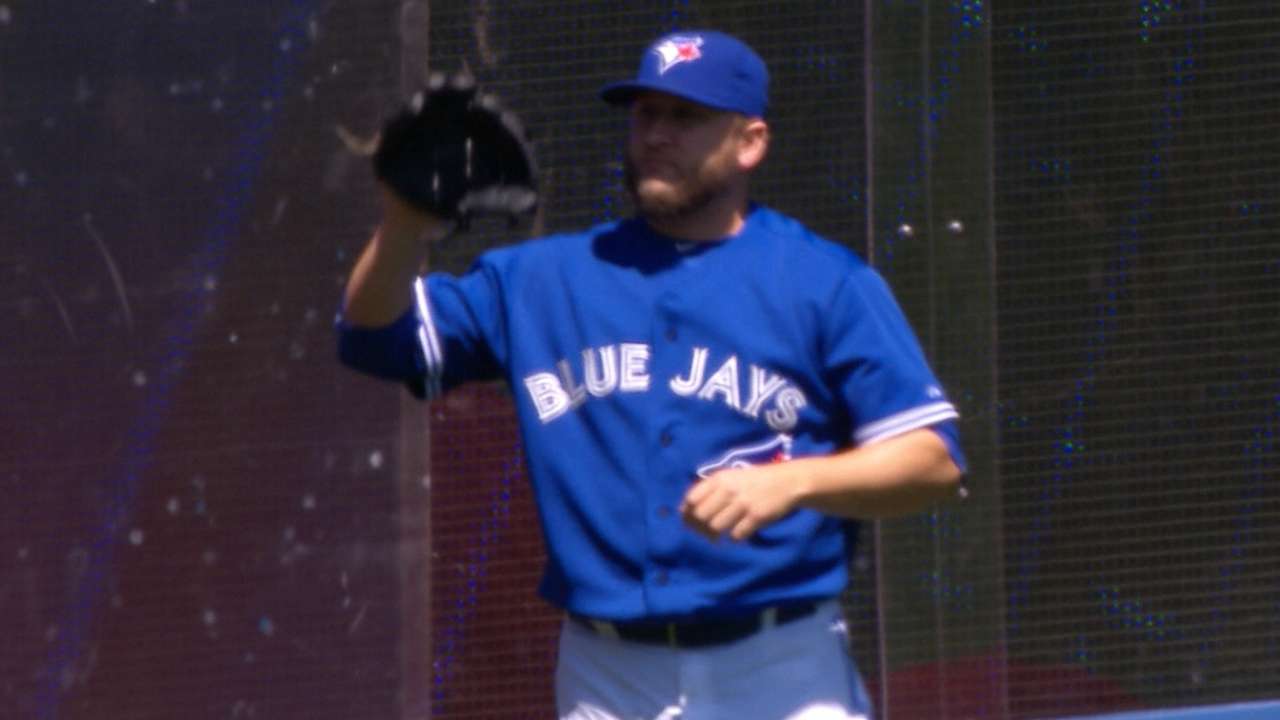 TORONTO -- The starting rotation has finally come around, though it hasn't exactly translated into victories for the struggling Blue Jays.
Mark Buehrle pitched 7 1/3 innings while allowing three earned runs, but was saddled with a loss despite throwing his fifth quality start as the Blue Jays fell to the Mariners, 3-2, on Saturday.
It marked the third consecutive game the Blue Jays have received a seven-plus inning outing from their starter, and sixth time in seven games they've gotten six-plus innings of out of the rotation. But wins haven't followed, and Toronto has dropped nine of the its last 11 games, and four consecutive one-run games.
"Early in the season, pitching wasn't doing good and hitting was here. Now the pitching's there, and the hitting's not doing so well," said Buehrle, who lost his second consecutive decision and the fourth over his last six outings. "We've run into some tough pitching right now. It's a long season, we need to try and get the pitching and hitting going at the same time, as well as the bullpen. Try to get all three aspects of the game going at once, hopefully turn us around."
Buehrle, the ever-dependable veteran lefty who's thrown at least 200 innings in 14 straight seasons, has put up four solid outings in a row after giving up a combined 24 hits and 13 earned runs over two starts in late April and early May. On Saturday, he threw into the eighth inning for the second consecutive game, and aside from allowing a second-inning homer to Kyle Seager, and a pair of doubles in the third, managed to navigate the Mariners' lineup without any great trouble.
"He's a master, really, of keeping them off-balance," Blue Jays manager John Gibbons said. "And when he's on, you go up there, he's not going to overpower you, but you have no idea what he's going to throw you. He can throw anything at you at any time."
With one out in the eighth, Buehrle turned the ball over to the steady hand of rookie Roberto Osuna. The hard-throwing right-hander delivered a scoreless two-thirds of an inning to extend his streak without allowing a run to 11 innings, the longest such streak on the club this season.
Jamie Ross is an associate reporter for MLB.com. This story was not subject to the approval of Major League Baseball or its clubs.